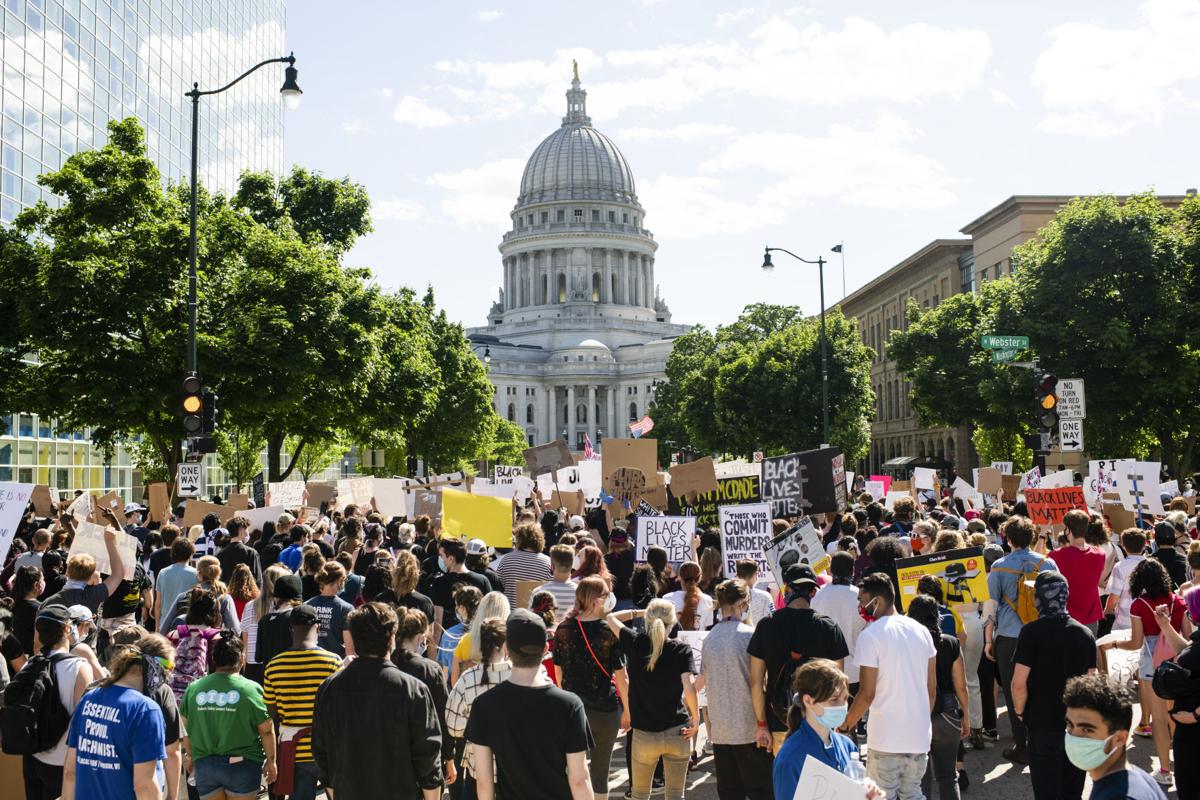 There can be no debate about the necessity of protests over the death last week of George Floyd while in the custody of Minneapolis police. What Americans saw in the cell phone video of police officer Derek Chauvin kneeling on the neck of George Floyd for more than eight minutes has been described by Cornel West as "a lynching at the highest level."
We cannot look away. Nor can we neglect all the other evidence that this country has failed to establish liberty and justice for all. This is the time, as Madison City Council President Sheri Carter says, for all of us to rally "hand-in-hand, shoulder-to-shoulder in solidarity to get this ball rolling and end this institutionalized racism."
What we are faced with, then, is not the question of whether there must be rallies, marches, protests and demonstrations. The challenge is to choose the most effective tactics and strategies for protests that will cause this city, the state and this nation to focus on the fundamental issues of police brutality and systemic racism. The most enlightened local officials have, in recent days, been outspoken in expressing their faith that sustained nonviolent demonstrations should be recognized as the most effective tools for keeping the focus on issues that have been too long neglected.
Madison witnessed an inspired demonstration on Saturday. Thousands rallied at the state Capitol and then marched to the Dane County Jail to support a call by Freedom, Inc. and its allies for community control of policing. Hours after it finished, however, violence erupted in downtown Madison, as police clashed with a comparatively small group of young women and men that moved up and down State Street for hours. Dozens of windows were broken, some businesses were looted and a police car was burned.
The focus of news coverage shifted immediately — as television stations provided live coverage of a violent Saturday night and the ensuing day when, answering the call of the Boys and Girls Club of Dane County, hundreds of Madisonians arrived to clean up the mess. Madison Mayor Satya Rhodes-Conway sought to put things in perspective when she said, during the Sunday morning clean-up, "I want to make sure everyone in the community and everyone in the media understands this is not a case of a protest turning violent. This was a case of a protest successfully concluding peacefully and a relatively small group of people coming in to cause violence and property damage."
Carter said, "The violence last night brought us together today," and she was right about the multi-racial, multi-ethnic crowd that arrived to clean up State Street. Unfortunately, the violence surged again on Sunday night.
At a time when small businesses in downtown Madison are hurting because of closures associated with the coronavirus pandemic and the stalling out of the economy, the damage was devastating. It was heartbreaking, as well, for people who know the history of many of those businesses, such as Goodman's Jeweler's in the 200 block of State Street, which was long owned by two of the community's most passionately engaged and socially conscious philanthropists, the late Irwin and Robert Goodman.
The Goodman brothers, we are certain, would have been moved the crowds that showed up for Sunday morning—people like Oscar Mireles, a member of the board of directors for the Overture Center Foundation and MMoCA's board of trustees, who scrubbed graffiti off the vandalized buildings, and observed, "These are the Madison people here. They have invested a lot in this city and I don't think they are going to ever stop investing the time and energy. … Sometimes tragedy is what brings us together."
Madisonians will keep on investing time and energy. Businesses will be repaired. Cultural institutions will be renewed.
What we fear, however, is the loss of a moment in which the country can be repaired and renewed.
As Rhodes-Conway said Sunday, "The violence does nothing to support the interest of social justice, nor police and criminal justice reform."
This is a critical juncture for Madison, for Wisconsin and for the whole of the United States.
This is a time when demonstrations are necessary. They must, in the best tradition of the labor movement of the 1930s and the civil rights movement of the 1960s, keep making demands until those demands are met.
Protest is not the problem. It is the solution.
"I thank God that we have people in the streets. Can you imagine this kind of lynching taking place and people are indifferent? People don't care? People are callous? You have just a few people out there with signs?" West said late last week. "I recall the moments in which, during the Reagan years, there was a few of us out there. In the '60s, you had masses out there. Now, you've got a younger generation of all these different colors and genders and sexual orientations saying, 'We won't take it any longer!'"
The crisis of police brutality is real, as is the need to transform policing in America. This newspaper has throughout its history argued that massive peaceful resistance to economic and social and racism oppression is a necessary part of our politics. This is why the First Amendment to the U.S. Constitution guarantees a right to assembly and to petition for the redress of grievances.
The grievances of this moment are overwhelming. Petitioning by nonviolent mass movements for fundamental change is vital. It cannot be overshadowed by the destructive actions of a few. We dare not allow attention to be drawn away from the urgent cry for justice.
Share your opinion on this topic by sending a letter to the editor to tctvoice@madison.com. Include your full name, hometown and phone number. Your name and town will be published. The phone number is for verification purposes only. Please keep your letter to 250 words or less.
Catch the latest in Opinion
Get opinion pieces, letters and editorials sent directly to your inbox weekly!