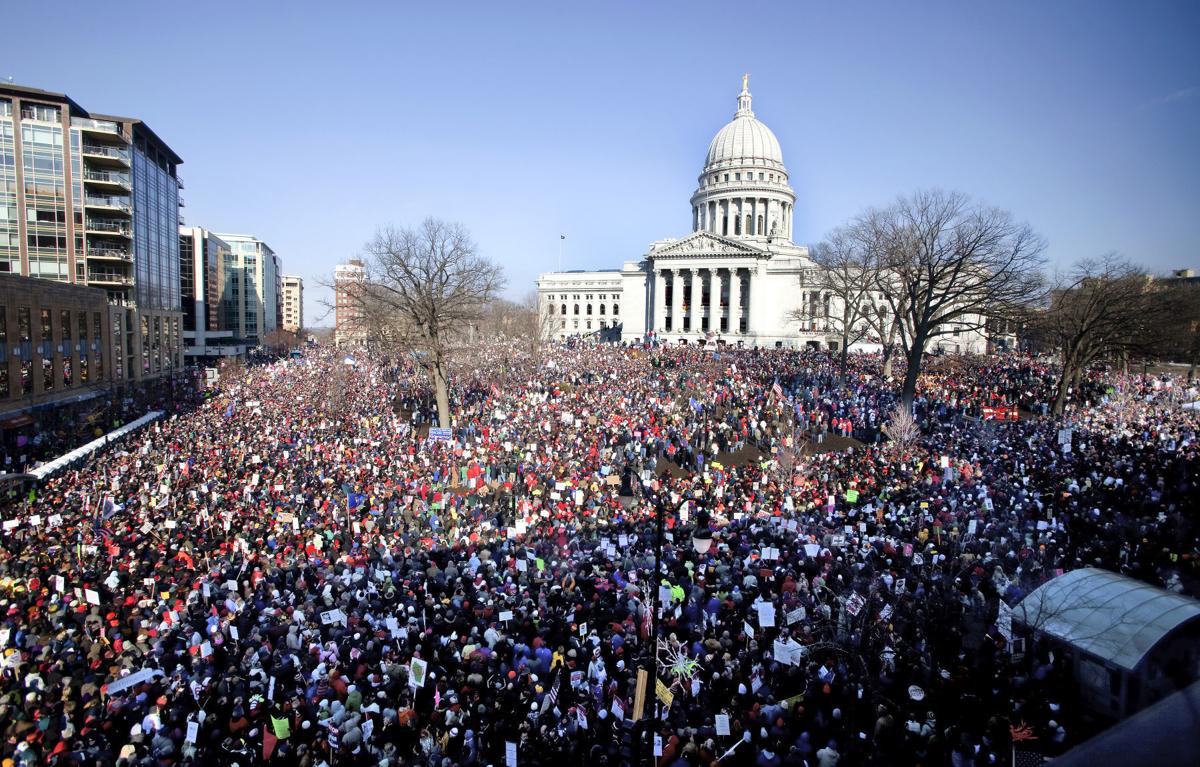 Leah Vukmir is a career politician whose name has appeared on 14 primary and general election ballots over the past 16 years — as a candidate for the state Assembly, the state Senate and now the U.S. Senate.
Vukmir has devoted so much time and energy to politics since she first ran for a Milwaukee-area state legislative seat that she should be good at it by now.
This year's U.S. Senate race has been a rough one for Vukmir, who has struggled to get her footing as a statewide candidate. Though she is hardwired into the GOP establishment in Madison and Washington, 51 percent of Republican primary voters signaled that they wanted someone else as their candidate.
Vukmir secured her party's nomination only because conservatives divided their support among several other candidates — most notably businessman Kevin Nicholson. Nicholson was a political unknown, but he came close to upsetting Vukmir — as least in part because his campaign raised concerns about whether the front-runner was ready for prime time.
Nothing that Vukmir has done since she secured the nomination has calmed those concerns.
Vukmir has run a desperate and often dishonest campaign that constantly goes for gimmicks rather than substance. Through it all, she has treated the voters of Wisconsin as if they are fools.
The vast majority of the Republican's attacks on her Democratic rival, U.S. Sen. Tammy Baldwin, have been identified by PolitiFact as "False," "Pants on Fire," "Mostly False" and "Half True."
Now Vukmir is spinning another fantasy.
In a breathless column circulated as the U.S. Senate rushed to confirm Brett Kavanaugh's nomination to serve on the Supreme Court, Vukmir attacked the women who went to Washington from Wisconsin and other states to call for more serious scrutiny of the nominee's troubled background.
To do so, she trashed on Wisconsinites who offended her in 2011 by utilizing their constitutionally protected rights to assemble and to petition for the redress of grievances.
Here's how the candidate began her screed for a Fox News website: "Senators walked out on hearings to create a media spectacle. Countless delaying tactics were employed to obstruct. Virtue signaling, smears and hyperbole caused widespread chaos. Paid protesters were instructed to corner and confront the so-called 'enemy.' You may think I'm talking about the latest in the saga of Supreme Court nominee Judge Brett Kavanaugh and how extremist Democrats are doing everything in their power to block his confirmation. You are correct. But what we're seeing today with the Kavanaugh nomination are the same intimidation schemes those on the left implements whenever their ideas don't win at the ballot box."
According to Vukmir, "In my home state of Wisconsin, we saw the full force of what liberals are willing to do when our state Capitol was under siege in 2011 during the debate over collective bargaining. When we Republicans proposed giving local government more flexibility over how tax dollars are spent — rather than caving to the public-sector unions — you would have thought we were proposing the end of the world."
Vukmir portrays the teachers and nurses, snowplow drivers and firefighters, retirees and schoolchildren who objected in 2011 to legislative assaults on public education, public services and public employees as violent and destructive. She recalls "belligerent" protests and "smear" tactics. It just sounds awful.
Were the protests against Gov. Scott Walker's Act 10 legislation really as wild and dangerous as Vukmir suggests? Or is this Senate candidate playing politics with history?
Certainly, there were tense moments during the weeks that saw mass demonstrations not merely in Madison but in communities across the state. To be sure, passions ran high on all sides. It was pretty intense when former Alaska Gov. Sarah Palin and other right-wing personalities flew in to lead a protest against the protests. And we are sure there were days when Vukmir felt every bit as frustrated and threatened as Palin was by so large and continual an expression of opposition to the Republican agenda.
Yet when the demonstrations were at their largest, when tensions were at their highest, Madison Police Chief Noble Wray said: "The men and the women of the Madison Police Department train for crowd situations where an agitator or provocateur may try to create safety risks for citizens and officers. During recent demonstrations around the Capitol Square no such situation has arisen. Crowd behavior has been exemplary, and thousands of Wisconsin citizens are to be commended for the peaceful ways in which they have expressed First Amendment rights."
Madison's mayor at the time, Dave Cieslewicz, complimented protesters for working with the police to maintain the peace.
Law enforcement leaders agreed.
On the day that activists left the Capitol, Dane County Sheriff Dave Mahoney said, "I think what we've seen over the last two weeks is a role model of democracy for the world, and a model of law enforcement working with the community to protect the safety of the people and to protect the right of people to express their views on both sides. We are protecting people and their rights to free speech and assembly and their access to their Capitol."
We understand that Leah Vukmir is running a political campaign, and that it is not going as well as she might like at the moment. We recognize that she is struggling to get some kind of traction for a challenge to an incumbent who is well regarded by Wisconsinites from across the political spectrum. But, with just a few weeks to go before Election Day, perhaps it is time for Vukmir to focus on actual issues rather than criticisms of Wisconsinites who dared to disagree with her.
Share your opinion on this topic by sending a letter to the editor to tctvoice@madison.com. Include your full name, hometown and phone number. Your name and town will be published. The phone number is for verification purposes only. Please keep your letter to 250 words or less.
Catch the latest in Opinion
Get opinion pieces, letters and editorials sent directly to your inbox weekly!