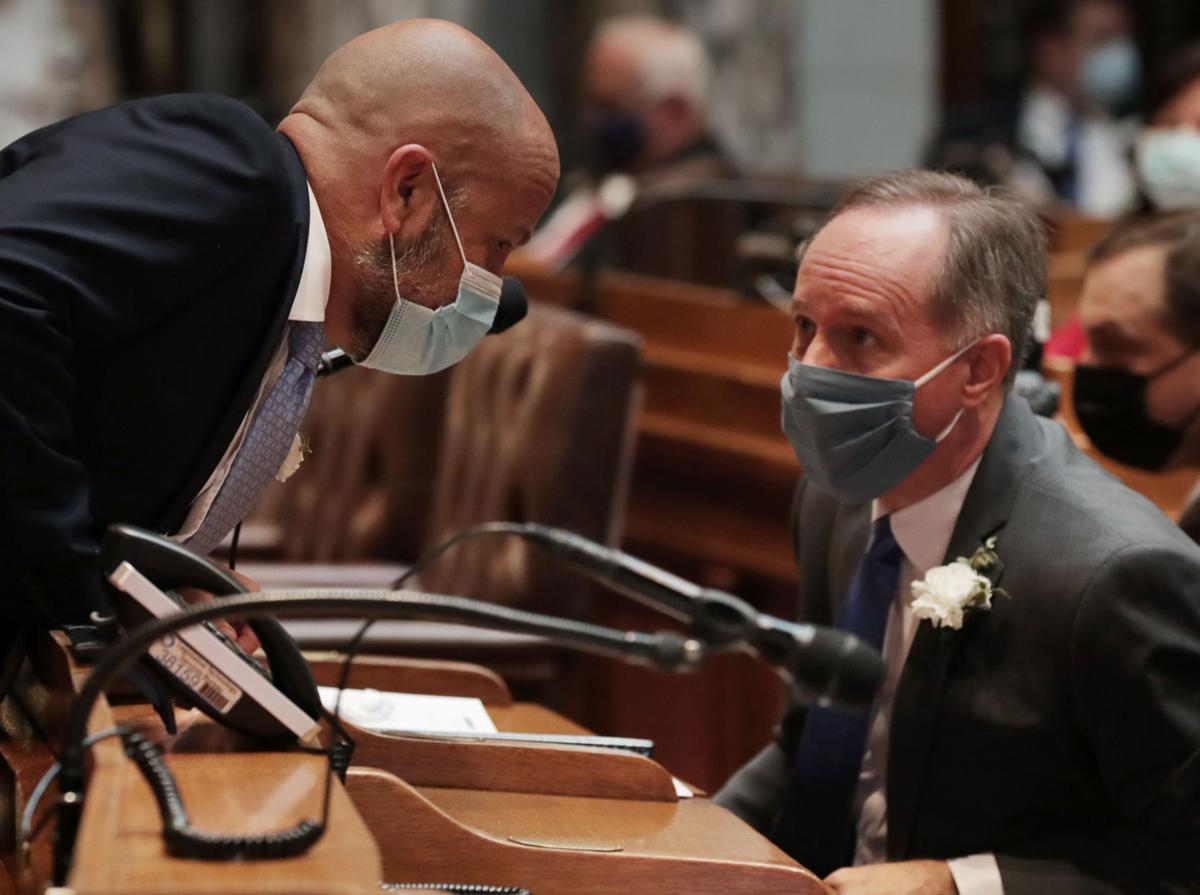 The Assembly Republican Caucus makes no bones about its rejection of civility.
After the 2018 election of Democratic Gov. Tony Evers and Democratic Attorney General Josh Kaul, Republican legislators "welcomed" the new statewide officeholders by quickly rewriting the rules of engagement in ways that made it dramatically harder for the Democrats to do their jobs. They then refused to cooperate with Evers as he wrestled with the coronavirus pandemic, mass unemployment, gun violence and police wrongdoing.
Evers proved to be more resilient than the Republicans, whose obstruction only served to confirm their irrelevance when it comes to getting things done for the people of Wisconsin.
Unfortunately, that hasn't stopped Assembly Speaker Robin Vos, R-Rochester, and his cronies from conspiring to make it harder for responsible legislators to do their jobs.
What's been truly striking about the behavior of Republican legislative leaders over the past several years is not their grand partisan gestures. It is the petty cruelty with which they treated Democratic legislators — especially those who raise objections to discrimination, racism and xenophobia.
And those with disabilities.
Vos's twisted response to legislators with disabilities became a national embarrassment for Wisconsin when the speaker ridiculed state Rep. Jimmy Anderson, D-Fitchburg, for seeking modest accommodations so he could better serve his constituents and cooperate with colleagues. After Anderson, who uses a wheelchair, asked if he could phone into committee meetings that were especially difficult for him to attend, Vos accused the Democrat of "political grandstanding."
Anderson cannot stand. He has been paralyzed from the chest down since a drunk driver slammed into his family's car, killing Anderson's parents and young brother.
It is safe to say that no one is going to provide an uglier example of vulgar recklessness than Vos has in his dealings with Anderson.
But Assembly Majority Leader Jim Steineke has been more ambitious than the speaker when it comes to rejecting civility and undermining the basic functioning of the chamber. That's because the Kaukauna Republican has inserted crude partisanship, and divisive sniping, into even the most routine interactions.
At the start of 2021, Steineke and his Republican colleagues refused to schedule a vote on an Assembly joint resolution to recognize February as Black History Month. That refusal drew criticism from members of the Wisconsin Legislative Black Caucus, which had introduced the resolution, and from others in the Assembly and Senate.
Steineke, a notoriously prickly politician, threw a tantrum.
The longstanding practice in the Assembly is for legislators who are proposing resolutions honoring individuals, communities and causes to contact the majority leader's office to request that the resolutions they had written be scheduled for floor votes. This spring, for instance, Democratic legislators have contacted Steineke's office seeking votes on resolutions recognizing LGBTQ Pride Month (AJR 45), Wisconsin Motherhood Month (AJR 51) and Gun Violence Survivor Day (AJR 55).
Instead of the respectful cooperation that Democrats and Republicans have accorded one another in the past, however, Steineke's office has responded with snarky notes that read: "Acknowledging receipt of your scheduling request. Please see the attached and consult with your leadership team with any questions you might have."
"In every case," note Assembly Democrats, "the attachment has been a copy of the May 11, 2021, statement by Rep. Francesca Hong, D-Madison, on the passage of AJR 48 recognizing Asian Pacific Islander Desi American (APIDA) Heritage Month. In her statement, Hong expressed appreciation for the passage of the APIDA Heritage Month resolution and also referenced Assembly Republicans' refusal to schedule the Black History Month resolution for a vote."
Hong's statement was measured and responsible. Yet, Steineke took offense and started punishing his Democratic colleagues.
"Part of our job as legislators is to encourage the healthy exchange of ideas without airing personal grievances against individual members," explains Assistant Minority Leader Rep. Dianne Hesselbein, D-Middleton. "Representative Steineke claimed he was being called racist and has now threatened to stop scheduling Democratic resolutions out of spite."
There will be those who suggest that this is just the latest example of our degenerating politics. Some may even imagine that there is "plenty of guilt to go around." But the blame-both-sides response is wrongheaded, and intellectually dishonest.
Wisconsin legislators have, historically, been able to disagree on issues and, yet, maintain the basic functioning of the Assembly. Conservative Republicans used to go out of their way to assure that proposals from liberal Democrats were heard, and honestly debated. Democrats did the same. Indeed, legislators as distinct as Republican Mel Laird and Democrat Gaylord Nelson — who served with one another in the state Senate in the 1940s and 1950s — would praise one another for their shared commitment to making the process work for Wisconsinites.
Now, Steineke is tossing aside past practice and, in so doing, making the Assembly a less collegial, and less functional, chamber.
"This response from Republican leadership aims to pit legislators against one another, which is sadly emblematic of their attempts to pit Wisconsinites against one another," says state Rep. Marisabel Cabrera, who requested the scheduling of the LGBTQ Pride Month resolution. "The Assembly as an institution cannot properly function under these oppressive and anti-democratic tactics. In effect, Republican leadership has rejected American democratic principles and representative government by attempting to suppress the voices of the members of the minority party and the people they represent."
What Steineke is doing sums up everything that is wrong with the Legislature at this volatile point Wisconsin's 173-year history. He needs to recognize that he is not just rejecting resolutions from individual legislators. He is rejecting the role of the Legislature itself, which is to debate and address the essential issues of our time.
Hong gets what Steineke does not.
"As state leaders," she says, "we cannot refuse to talk about this issue because it feels uncomfortable. Silencing this conversation disregards the lived experiences of Wisconsinites in every community."
Share your opinion on this topic by sending a letter to the editor to tctvoice@madison.com. Include your full name, hometown and phone number. Your name and town will be published. The phone number is for verification purposes only. Please keep your letter to 250 words or less.
"Representative Steineke claimed he was being called racist and has now threatened to stop scheduling Democratic resolutions out of spite."

Rep. Dianne Hesselbein