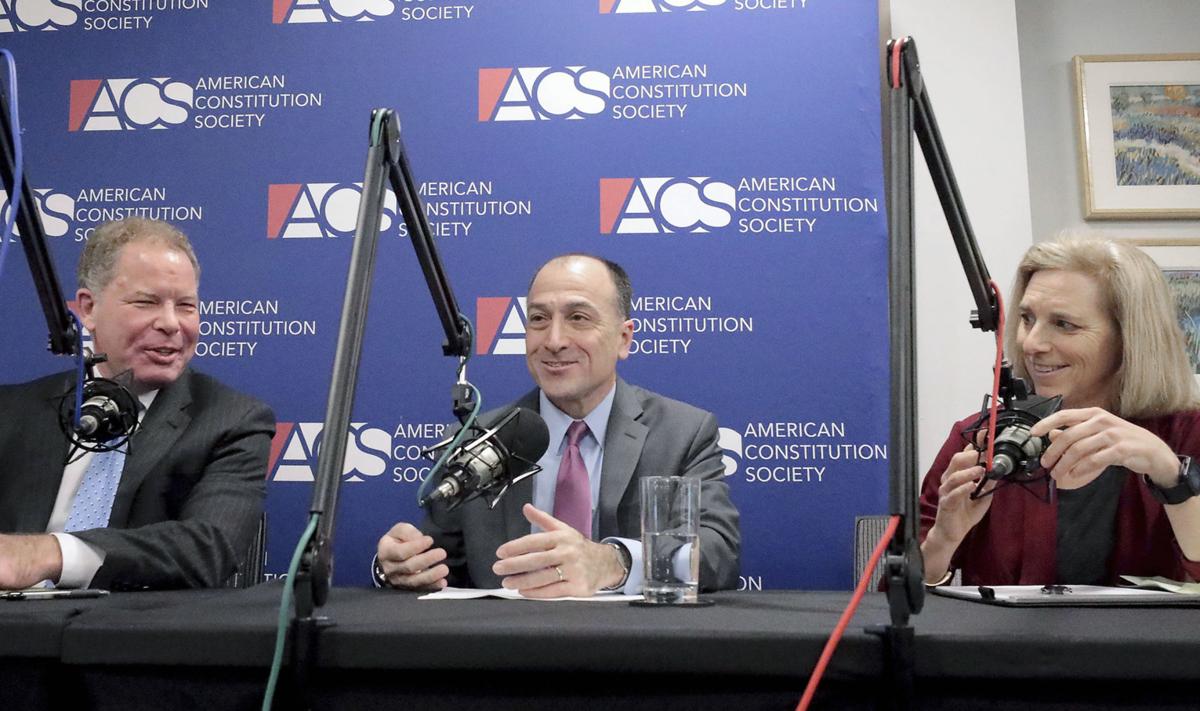 Wisconsin voters will go to the polls next Tuesday to choose two candidates for the state Supreme Court from a primary field of three contenders. Two of the candidates are credible contenders: Dane County Judge Jill Karofsky and Marquette University law professor Ed Fallone. Either would serve as an ethical justice on a high court where critical decisions are made regarding the future of this state and its citizens. Karosky and Fallone are different contenders with different backgrounds, but they both display the integrity and respect for the rule of law that is required to maintain a fair and impartial judiciary.
The same cannot be said for Justice Daniel Kelly, a scandal-plagued appointee of defeated Gov. Scott Walker. Like his political benefactor, Kelly is a reckless partisan running for a nonpartisan position. In December, the Wisconsin State Journal reported that, "Conservative-backed Supreme Court Justice Daniel Kelly is getting a hand from the Republican Party of Wisconsin in his run for a full term — marking the latest example of partisan involvement in elections for the state's highest court. Nomination papers being circulated by Kelly's campaign for the spring 2020 ballot include a return address that is the same as the Republican Party of Wisconsin's headquarters, where Kelly's campaign has rented office space."
As Mike Browne of the watchdog group One Wisconsin Now noted, "Dan Kelly has toed the line for Republicans and the right wing since he's been on the state Supreme Court. Now Dan Kelly is showing his partisanship on the campaign trail, right down to sharing an address with the Republican Party of Wisconsin."
Kelly has a long record of disregarding and disrespecting Wisconsin's commitment to a nonpartisan judiciary.
His political and ideological rigidity is such that, in 2008, Kelly co-authored an article that suggested that jurists should be permitted to lie in their election campaigns, and to benefit from misleading attacks on their rivals by special-interest groups. In that article, Kelly and his co-writers objected to an effort by the State Bar of Wisconsin's Judicial Campaign Integrity Committee to get judicial candidates to pledge to run honorable campaigns and to urge their supporters to do the same.
Kelly and his compatriots acknowledged that "the pledge seeks to prevent the candidates from engaging in speech that the eight-person committee believes is false, unfair or otherwise offensive. It also requires that the candidates monitor what others say on their behalf and, if the committee decides that speech is improper, the candidates must publicly disavow it."
But they urged judicial candidates to reject it."
No one wants the candidates or their supporters to engage in offensive speech. But it is inappropriate for the Bar to make itself the arbiter of when speech crosses the line," Kelly and the others wrote, "No matter how well-intentioned, the pledge will effectively prevent Wisconsin voters from obtaining the fullest information possible for deciding who is best-suited to serve on our highest court. Although it pays lip service to the First Amendment, the pledge will force candidates to choose between exercising their free speech rights as they see fit and facing a possible scolding by the committee."
By Kelly's twisted "logic," a scolding for lying is threat to free speech. It's not. President Trump lies all the time and is regularly scolded for it. Yet, he keeps speaking — and lying.
The Judicial Campaign Integrity Committee was simply trying to set a higher standard for judicial campaigns in Wisconsin.
But Kelly had a problem with that.
Voters should have a problem with Kelly. They should reject him on Feb. 18. Ideally, Karofsky and Fallone both would come through the primary and face one another on April 7. In all likelihood, however, just one of the responsible candidates will make it through. The Capital Times does not usually make endorsements in judicial primaries, and we will not do so this year. We will make our formal endorsement as the April vote approaches.
For now, we urge voters to begin their consideration of the primary competition with a perspective similar to that of the board of Citizen Action of Wisconsin, which voted to recommend both Fallone and Karofsky.
"Both Ed Fallone and Jill Karofsky would make excellent and impartial Wisconsin Supreme Court justices who give every case a fair hearing and render decisions based on rigorous legal interpretation not ideology," said Citizen Action executive director Robert Kraig. "Fallone or Karofsky would be a breath of fresh air on a Supreme Court where the majority regularly puts politics and ideology ahead of the fair interpretation of the law. Does any fair minded person doubt that the Supreme Court majority would have struck down the lame duck session laws, if the shoe was on the other foot and a newly elected Republican governor's power were curtailed by a Democratic Legislature?"
This is an exceptionally important election. We urge voters to turn out and cast their ballots for a fair and impartial nonpartisan judiciary — on Feb. 18 and on April 7.
Share your opinion on this topic by sending a letter to the editor to tctvoice@madison.com. Include your full name, hometown and phone number. Your name and town will be published. The phone number is for verification purposes only. Please keep your letter to 250 words or less.
Catch the latest in Opinion
Get opinion pieces, letters and editorials sent directly to your inbox weekly!