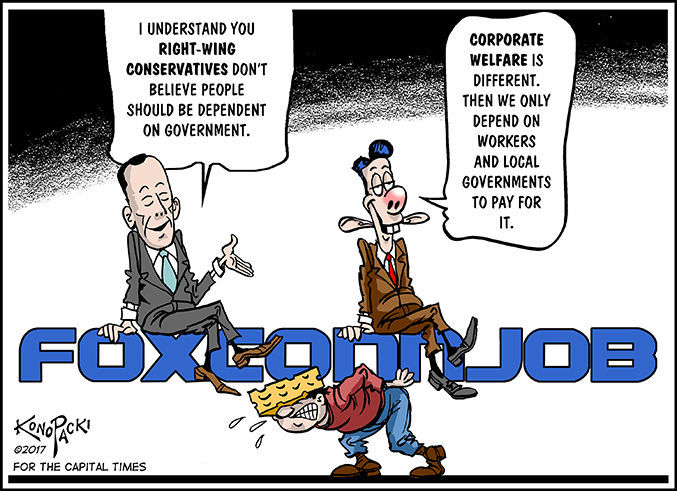 The Foxconn deal that the members of the board of the Wisconsin Economic Development Corp. are expected to vote on today is a travesty — a travesty shrouded in secrecy that could be revealed as an even more serious travesty.
No matter what final form the agreement takes, it can and should be opposed by Democrats and Republicans, liberals and conservatives. There are no partisan nor ideological "sides" in this debate. The division is between those who want to create jobs in a smart and responsible way that yields long-term benefits and those who propose to throw money at corporations that play states and nations against one another.
The Foxconn deal represents the worst form of crony capitalism — an agreement to transfer billions of dollars in taxpayer funds to a foreign corporation.
It locks Wisconsin into a semi-permanent relationship with a rogue organization that has an international reputation for treating workers poorly, harming the environment, and failing to follow through on agreements.
It undermines the ability of the state to focus on serious, future-oriented economic development for a quarter century — time in which Wisconsin will fall behind states that have adopted a more carefully plotted approach.
It has been promoted by a governor who has failed to keep job creation promises and bumbled economic development initiatives. Those failures, in combination with the governor's austerity policies, have been so severe that national scrutiny crushed Scott Walker's bid for the 2016 Republican presidential nomination. Donald Trump told campaign-trail audiences: "Wisconsin's doing terribly. It's in turmoil." And when voters examined Walker's record, his candidacy collapsed.
Unfortunately, Walker learned nothing from the experience.
That is evident from his enthusiastic embrace of Foxconn.
Walker offered the company a massive giveaway — discussions included a commitment to hand the Taiwanese corporation nearly $3 billion in taxpayer funds (if it meets hazy investment and employment goals), at least $150 million in sales tax exemptions, and permission to skirt environmental protections. The Republican-controlled Legislature provided minimal oversight and a blank check.
Honest observers who were not playing politics with the deal pointed out that it perpetuated and expanded on the worst of Walker's excesses. "Experts who have examined the proposed deal … have concluded that it won't begin to pay off for state taxpayers for more than two decades, if then — or ever," wrote Pulitzer Prize-winning Los Angeles Times columnist Michael Hiltzik.
Under Walker, Hiltzik noted, "Wisconsin has been something of a sinkhole in economic development schemes. After Walker privatized the state's main job development agency, it became ensnared in scandal after scandal while failing to make much of a mark on job growth. The defining job program of Walker's administration was a $6 million grant in 2014 to Ashley Furniture, which was allowed to lay off half of its 3,800 Wisconsin workers as part of the deal. A few weeks after the grant from the Wisconsin Economic Development Corp. was approved, Ashley's owners donated $20,000 to the re-election campaign of the development group's chairman, Gov. Walker."
Hiltzik concluded: "The Foxconn proposal boasts similar elements of a glittery political veneer concealing signs of rot from the inside out. One blow was landed in Madison on Aug. 8 by the Legislative Fiscal Bureau, which analyzes bills with budget implications. Among other points, the bureau pointed out that Foxconn would receive at least $1.35 billion and possibly as much as $2.9 billion in tax incentive payments even if it didn't owe any Wisconsin tax, that increased state tax revenue from job growth wouldn't offset the incentive spending until at least 2042 — and then only if the full complement of 13,000 jobs was reached and all went to Wisconsin residents."
We agree. This is a horrible deal.
We have opposed it from that start because it robs from the state's taxpayers in order to fund a dubious project, and because it takes money that could be used to fund education, health care and affordable housing — as well as expansion initiatives by Wisconsin-based small businesses and innovations that would stabilize and strengthen small farming operations.
But our opposition is not merely rooted in our concerns about the absolutely irresponsible economics of the Foxconn deal. It is also influenced by our objection to the secrecy that has surrounded the Foxconn negotiations from the start.
Only under pressure from Democratic and Republican legislators was a decision made to allow the members of the WEDC board to review the final agreement with the Foxconn Technology Group. Initially, the plan was to provide the board members with only a summary of the agreement.
We give credit to Senate Majority Leader Scott Fitzgerald, R-Juneau, state Sen. Tim Carpenter, D-Milwaukee, and other officials who argued that a more thorough review was required. But we share the concern expressed by Carpenter, a WEDC board member, that the board is not being given enough time to provide the oversight that is required for a $3 billion initiative.
To our view, the examination by the WEDC board should be the beginning — not the end — of due diligence regarding any final contract with Foxconn. We believe the completed agreement should go back to the Legislature for final consideration, in the same way that free trade deals must, after they have been negotiated, be agreed to by the U.S. House and U.S. Senate.
We are not naive. We know that Republican legislators are likely to do Walker's bidding — even on so dubious a deal as this one. But we also know that an arrangement so sweeping, so potentially definitional, as this Foxconn deal requires far more scrutiny than has so far been applied to what looks to be a debacle in the making.
Share your opinion on this topic by sending a letter to the editor to tctvoice@madison.com. Include your full name, hometown and phone number. Your name and town will be published. The phone number is for verification purposes only. Please keep your letter to 250 words or less.