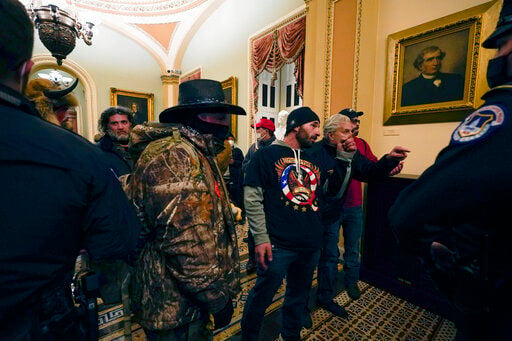 Wisconsin Attorney General Josh Kaul, the state's chief law enforcement officer and one of the nation's most ardent defenders of the U.S. Constitution, had the best response to the invasion of the U.S. Capitol by supporters of defeated President Donald Trump and the Republicans who have adopted Trump's anti-democratic agenda.
As the Trump mob stormed the Capitol, unleashing violence that would lead to death, destruction and a brief interruption of the process of certifying the election of Joe Biden as the nation's 46th president, Kaul said, "It's difficult to believe what we're seeing take place at the U.S. Capitol: a fascist riot incited by a lame-duck president desperately and illegitimately trying to cling to power based on absurd lies about the election that amount to voter fraud McCarthyism."
The attorney general concluded, "Those responsible must be held accountable for what appears to be a seditious conspiracy under federal law." He added, "Once Congress has fulfilled its duty of certifying the results of the presidential election, it should immediately begin proceedings to remove the president from office. Every day he remains in office is a threat to the republic."
Donald Trump is a racist, a xenophobe and foe of democracy who is prepared to use the power and prestige of the presidency of the United States to disrupt and destabilize the election process and the governing of the nation. He has disregarded his solemn oath to "preserve, protect and defend the Constitution of the United States." He is a clear and present danger to the republic, as has been proven again and again.
Kaul is precisely right when he says that Trump has incited a fascist riot. To describe the president's actions in any other way is to deny the reality of what we have all seen with our own eyes, and to miss the clear connection between Trump's approach and that of authoritarians throughout history.
As the chaos unfolded in Washington on Wednesday, U.S. Rep. Gwen Moore, D-Milwaukee, declared, "A woman is dead! The U.S. Capitol is under siege. Peaceful transfer of power has been disrupted. Trump has incited this chaos and violence. The 25th amendment must be invoked. If not, Congress must impeach and convict Trump. Thirteen days is far too long for Trump to remain in office."
We endorse Moore's urgency. Every avenue must be taken to disempower and remove a president who was rejected overwhelmingly by the voters on Nov. 3, and whose lawlessness since Election Day has torn the country apart.
If Cabinet members are prepared to use powers afforded them by the 25th amendment to the Constitution to remove Trump, good. Do it.
But if they do not act immediately, then Congress must step up.
Moore and Reps. Mark Pocan, D-Town of Vermont, and Ron Kind, D-La Crosse, voted to impeach Trump in 2019, and Sen. Tammy Baldwin, D-Madison, voted to remove the president in February of 2020. At the same time, Republican members of the delegation — Reps. Bryan Steil and Mike Gallagher, former Rep. James Sensenbrenner, and U.S. Sen. Ron Johnson — fully supported Trump and facilitated his continued wrongdoing.
The question, now, after Trump has incited a riotous assault on the Capitol where they serve, is whether the current Republican delegation from Wisconsin — Steil, Gallagher, newly-elected Reps. Tom Tiffany and Scott Fitzgerald, and Johnson — are prepared to defend the Constitution and the rule of law.
They cannot do so with self-serving statements distancing themselves from the president they have endorsed, campaigned with, defended and empowered over the past four years. They can only do so by supporting full accountability.
There is nothing radical about impeaching Donald Trump. It is the proper and necessary response to a president who incites mob violence against not just Congress but the rule of law.
This is a moment for choosing between fascistic violence and American democracy. Wisconsin's representatives in Congress must recognize the ongoing threat posed by the rioters who attacked the Capitol and the president who urges them on. There was never legitimate middle ground on the question of impeaching Donald Trump. Those who imagined that it existed a year ago were wildly wrong. If they choose to maintain the lie now, they are every bit as dangerous as Trump.
Share your opinion on this topic by sending a letter to the editor to tctvoice@madison.com. Include your full name, hometown and phone number. Your name and town will be published. The phone number is for verification purposes only. Please keep your letter to 250 words or less.