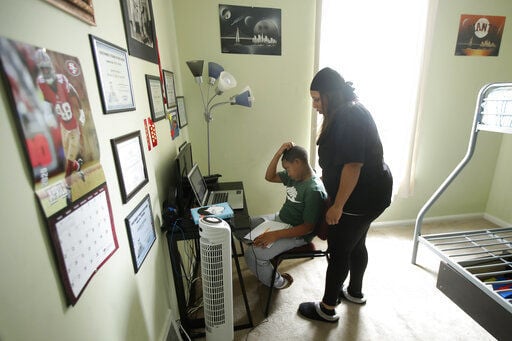 The coronavirus, and the resulting responses from state government, have disrupted the lives of most Wisconsin families in some way. Of particular importance has been the disruption of K-12 education, as families, teachers and schools adjust to home-based learning. But how well is this unprecedented system functioning? To answer that question, the Wisconsin Institute for Law & Liberty (WILL) conducted a statewide poll to paint a picture of the education environment in Wisconsin under the coronavirus. We found that, while overall satisfaction is high, a number of challenges remain, particularly for low-income families.
We polled 400 parents of school-age children. What we found reinforces the broad impact of the coronavirus. Forty percent of respondents to our poll had either lost a job, had their hours cut, or been furloughed. Among our lowest-income respondents, it was a majority. When asked whether they had had to spend money on educational materials, 30% of respondents said that they had. Once again, this number was even higher among low-income respondents. These expenses weren't always small, either. About 10% of our sample reported that they have had to spend $500 or more. For those who already operate within tight budgets, such expenses are difficult to manage.
The poll also raises concerns about the extent to which students will be prepared for a return to school next fall. About 40% of respondents said that their child is spending only 1-10 hours on education per week. When compared to the 30 or more hours that are spent during a traditional school year, this calls into question exactly how much learning is being lost. Perhaps even more concerningly, 16% of respondents said that their child hasn't been covering any new material since the outbreak, meaning several months of learning may be lost. Milwaukee was home to many of the parents reporting problems in these areas, reinforcing recent reporting on the struggle of the district to get distance learning started.
Given that Wisconsin already struggles with some of the biggest achievement gaps in the country, we wonder about the extent to which such trends will serve to expand those differences between families who can afford the resources and supplemental material to keep their child advancing, and those who cannot. One respondent in Racine highlighted the struggle in balancing jobs with school work that may be tough even for the parents: "We have four children and it is too much to handle because I'm working while my wife teaches our children a lot of subjects and she doesn't really understand (the) math, math is her weakness so I have to help our children with whatever math problem they are having trouble with."
What can policy makers do to mitigate these problems? One idea is to create an emergency Education Savings Account. Such an account could be used to divert a portion of the funding now going to districts directly to parents to pay for things like online tutoring, supplemental materials, and computers or tablets. Particularly for families that have lost income as a result of the pandemic, such funding could be vital to keeping kids on track. Another idea would be to extend Wisconsin's course choice program to include private schools. Currently, private schools are not allowed to participate in Wisconsin's Part Time Open Enrollment, meaning both that public school students can't take a class at a private school, and that private school students can't take a course at a public school. As we work to "catch up" after the coronavirus, offering students more potential venues for needed or desired classes is smart policy.
All news is not negative regarding education in Wisconsin. More than 80% of respondents expressed satisfaction with how their school is providing education to their kids, and a similar percentage reported that their child's teachers were accessible to them. In these unprecedented times, many people are being more understanding, and effectively grading on a curve. But while we can accept that things are tough, it does not mean we should not plan for the future. This poll points us towards some red flags that educators and policymakers should be proactive in addressing.
Will Flanders is the research director at the Wisconsin Institute for Law & Liberty.
Share your opinion on this topic by sending a letter to the editor to tctvoice@madison.com. Include your full name, hometown and phone number. Your name and town will be published. The phone number is for verification purposes only. Please keep your letter to 250 words or less.