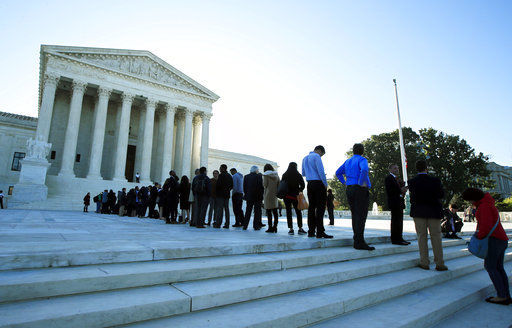 Legislative redistricting is one of the most important — and most contentious — issues in Wisconsin. Voters and democratic theorists alike are uncomfortable with the idea that lawmakers can choose their own voters in increasingly precise ways.
The current district lines are in the midst of a legal battle that went all the way to the Supreme Court, which declined to decide the case on technical grounds. A new case is currently awaiting a trial date.
At issue is what supporters of the lawsuit call the efficiency gap, the difference between the number of votes a party gets and the number of seats it wins in the state legislature. In Wisconsin, the gap is historically inefficient — evidenced by Republicans winning 46 percent of legislative votes and 64 percent of legislative seats in the 2018 elections.
Gov. Tony Evers, a Democrat, recently proposed that Wisconsin create a nonpartisan redistricting commission, suggesting an independent process for the drawing of legislative lines that looks more like Iowa's — a state often referred to by redistricting scholars as the "gold standard" in representational fairness.
Our Communication and Civic Renewal research team at the University of Wisconsin-Madison asked 1,015 Wisconsinites who they thought should control redistricting in our state: the state Legislature or an independent, nonpartisan commission. Fifty-three percent of adults said they preferred the nonpartisan commission while only 13 percent favored the idea of state lawmakers controlling the process themselves. The remaining third said they did not know what was best.
Perhaps not surprisingly, given that the current district maps benefit the Republican Party, 63 percent of Wisconsin Democrats want a nonpartisan commission to take over the drawing of representational lines. Fifty-six percent of independents side with Democrats while 39 percent of Republicans want to see a change to nonpartisan redistricting.
However, only 22 percent of Republicans want to keep things as they are, as compared to just 6 percent of independents and 9 percent of Democrats.
Of course, one reason redistricting is so complicated, and contentious, is that an equal number of voters must live in each district even though voters do not live in such a way that they are spread equally across the geography of our state. Even so, rural, suburban and urban Badger State residents favor a nonpartisan redistricting commission to the current policy in relatively equal measure.
We also asked people to think about what the results of a fair redistricting process would look like.
Specifically, we asked people to agree or disagree with the following statement on a five-point scale, where 1=strongly disagree and 5=strongly agree: "If legislative districts are drawn fairly, the party that gets the most votes in an election should have the most seats in a legislature."
The average response from Republicans, Democrats and independents alike was above the midpoint, suggesting that Wisconsin voters' sense of fairness is such that the party that gets the most votes should have a legislative majority. However, there were some differences in how much partisans agreed with this notion of representation.
Specifically, 66 percent of Democrats in Wisconsin were most supportive of the idea that the number of votes a party gets should directly translate into more legislative representation for the winning party, while 55 percent of Republicans and independents alike gave the same answer.
Geographic differences on this question did not show up in our data — the average difference across rural, suburban and urban adults in Wisconsin was 0.01 on that five-point scale.
One reason redistricting is so important is that the majority party in each legislative chamber has great power to determine how much voice the minority party has when it comes to legislating. Extending rights of participation to political minorities is crucial for the maintenance of democratic corms of government.
To that end, we asked Wisconsinites how important is it that electoral winners allow electoral losers to continue to have a voice in government. Wisconsinites strongly favored this idea as well — to the tune of 84 percent support. Notably, partisan differences on giving political minorities a voice diminished significantly. More than three-quarters of Republicans supported the idea; more than eight in 10 Democrats and independents did as well.
Once again, differences between rural, suburban and urban Wisconsinites were not present in the data. No matter where they live and what their communities are like, Wisconsinites have similar views about basic fairness in politics.
Regardless of what the courts eventually decide, Wisconsin voters favor a nonpartisan redistricting commission and lawmakers who will make sure that those in the political minority are not rendered voiceless by the majority.
The authors wish to thank Charles Franklin, director of the Marquette Law School Poll, for providing survey estimation weights for our analysis.
Michael W. Wagner is professor of journalism and mass communication at UW-Madison. Jiyoun Suk is a Ph.D. student in the School of Journalism and Mass Communication at UW-Madison. Lewis A. Friedland is Vilas Distinguished Achievement Professor of Journalism and Mass Communication at UW-Madison. Dhavan V. Shah is Maier-Bascom Professor of Journalism and Mass Communication at UW-Madison. Jordan Foley, Ceri Hughes and Josephine Lukito are Ph.D. students in the School of Journalism and Mass Communication at UW-Madison. Katherine J. Cramer is Natalie C. Holton Chair of Letters and Science and professor of political science at UW-Madison. Chris Wells is assistant professor of journalism at Boston University.
Share your opinion on this topic by sending a letter to the editor to tctvoice@madison.com. Include your full name, hometown and phone number. Your name and town will be published. The phone number is for verification purposes only. Please keep your letter to 250 words or less.