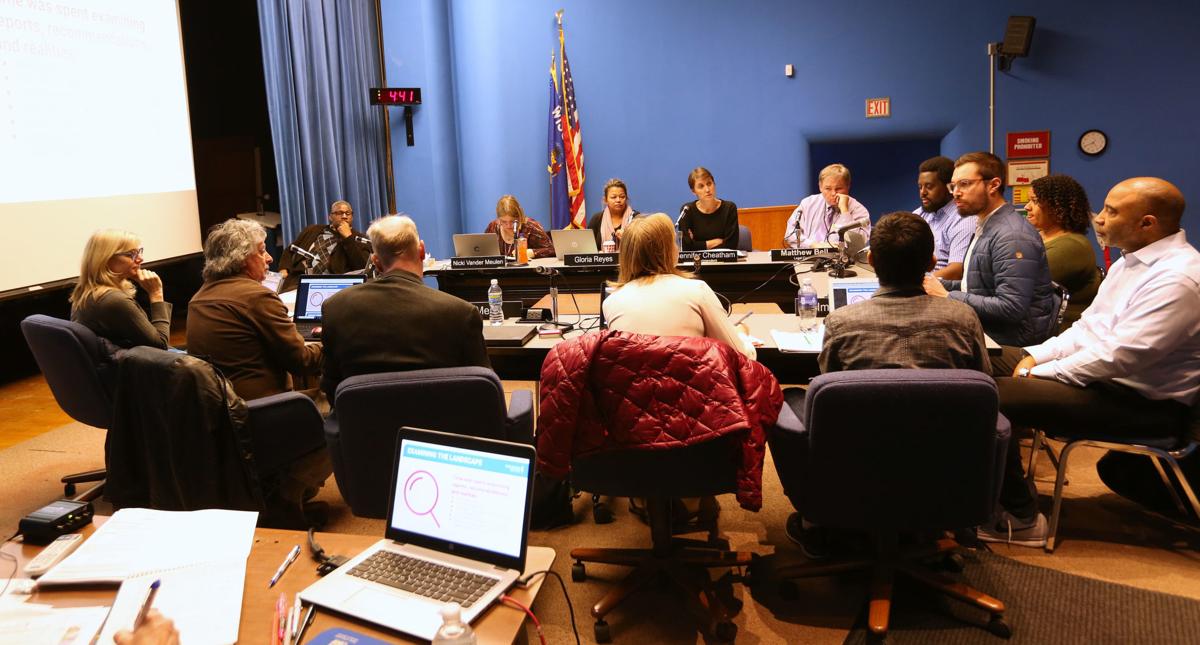 Madison, we find ourselves at a moment of reckoning. A racial reckoning.
We find ourselves at a moment not merely of change, but of evolution.
We find ourselves at a moment poised for progress.
This moment is the Feb. 19 Board of Education primary race (and the April 2 general election to follow) in which three people of color are running: Ananda Mirilli for Seat 5, Ali Muldrow for Seat 4, and Kaleem Caire for Seat 3.
I wrote a book about the public and private talk around Madison's K-12 racial disparities (the book covers roughly 2010-2016). I documented exactly how white progressives inadvertently dominate conversation in media platforms such that people who want to change the status quo get drowned out. To do this, I and my research team analyzed thousands of documents and conducted more than 120 in-depth interviews, focus groups, and community-event observations in Madison and four other, similarly progressive, cities (Evanston, Illinois; Ann Arbor, Michigan; Cambridge, Massachusetts; and Chapel Hill, North Carolina).
I listened to black and brown parents tell me the same stories involving what it was like to communicate about their kids (to the schools, administration, journalists, etc.) — discovering a startling repetition of marginalization that extended across the city (indeed, across all the progressive cities we examined). I recorded all the times black and brown voices spoke out, only to be dismissed or not heard at all, at least in the networked circles of power where policy happens. My tests showed how siloed dialogue in the city was, with lots of great deliberation about the disparities but little overlap between disparate groups.
The obstacles to inclusive deliberation include: the segregated routines of our public/private talk about race; the long-time protocols in place for meetings, hearings, news stories, etc.; whom we trust for information about schools; and the incomplete narratives we tell ourselves about the disconnect between our identity as "progressive" and the reality of stark racial disparities in our home city.
The evidence demonstrated how our political and communication institutions of the city — from the local press to our schools to Progressive Dane — are perpetuated by our habits of information exchange — from what we post on social media to how we are networked.
And it showed how these massive structures with their entrenched norms — created more than a century ago — invisibly undermine any change to the status quo, which is not adapting to the evolving demographics of our city.
For example, when we say the problem with the racial disparities between black and brown students and white kids is a result of "poverty, pure and simple," as several public officials told me, we immediately stymie productive dialogue. Such pronouncements do not leave open opportunity for improvement at any level, for the task seems too daunting, the problem unsurmountable.
But here we are at this moment: An election that would fundamentally alter the Board of Education. An election where we can realize the part we are all inadvertently playing in these cycles of inertia and unproductive conversation, committees and reports that Madison has earnestly produced to try to close these persistent opportunity gaps.
Candidates Mirilli, Muldrow and Caire are more than qualified to take on these challenges. During their tenures in and around the schools here, they each have approached this wicked problem doggedly and uniquely. Perhaps their tactics have not always seemed to reflect traditional progressive values. But read their platforms: All three are most assuredly progressive — pro-teacher, pro-public education, pro-reform toward egalitarian principles, pro-child.
The schools are no longer made up of mostly white children, who now make up only 43 percent of the district's K-12 population. These three candidates know Madison and its schools inside and out. And they know these kids and understand their needs. And as community leaders, they each understand the bureaucracies, legalities, and system-based obstacles they will face in such a complex problem.
Race factors into everything they do, just as race factors into the everyday of these students of color. And, race needs to factor into every single decision being made on the board.
It is the moment for white progressives to share power in the education of all our children.
It is the moment to embrace systemic scrutiny upon which the century-old progressivism was founded, in part by Wisconsin's own Sen. Robert "Fighting Bob" La Follette.
Madison is not a color-blind place, much as many would like it to be. It is full of color. And it is time the School Board reflected that.
Sue Robinson is a journalism professor at the University of Wisconsin-Madison and the author of "Networked News, Racial Divides: How Power & Privilege Shape Public Discourse in Progressive Communities" (Cambridge University Press, 2018). Disclosure: She is volunteering as a consultant on Ananda Mirilli's campaign for Board of Education and has donated to her campaign.
Share your opinion on this topic by sending a letter to the editor to tctvoice@madison.com. Include your full name, hometown and phone number. Your name and town will be published. The phone number is for verification purposes only. Please keep your letter to 250 words or less.
Catch the latest in Opinion
Get opinion pieces, letters and editorials sent directly to your inbox weekly!