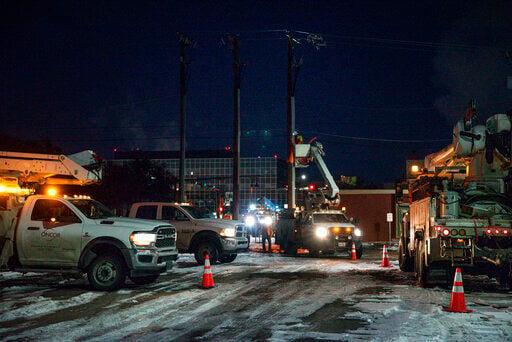 February's winter storm in Texas caused a collapse of that state's electrical and water systems, widespread suffering and 200 deaths. It wasn't really the weather that caused that tragedy — it was the incompetence and ideology of the Republican-led government.
We should remember what happened in Texas because it epitomizes the failure of Republican policy and politicians. Here are some key elements of Republican governance responsible for the Texas mess:
Extreme antigovernment ideology: The Republican antigovernment mantra, especially the federal government, played a major role in the Texas disaster. As one legislator put it, "Regulation is a four-letter word in this (Capitol) building." To avoid federal regulations, Texas severed its connection to the national electrical grid. Their go-it-alone grid meant that Texas couldn't draw power from other states despite there being plenty of electricity available outside Texas.
Prioritizing corporate profit: Republicans usually profess a deep devotion to corporations. A Texas Republican legislative leader rued, "We're victims of our own attempt to let free market forces work." By letting corporations do what they will, Texas allowed for-profit utilities to neglect winterizing their facilities, which left coal piles and gas power plants to freeze and became inoperable. Also, utilities weren't required to maintain a supply buffer to insure continued service, a routine requirement in other states, including Wisconsin. Texas allowed the corporations to decide, and they decided to skip the expense in order to increase profits.
The Texas disaster wasn't a disaster for everyone. During the crisis, Gov. Abbott's appointed utility regulator phoned corporate investors to reassure them that they could continue to profit off of the misfortune of the average Texan. The CEO of one such corporation, Comstock Resources, chortled, "Obviously, this week is like hitting the jackpot."
Disdain for the truth: Texas Republicans reacted to their mess by following what has become a tried and true tactic of their party — ignore reality and invent a scapegoat to fit their ideology. Abbott and other Republicans parroted the talking points of fossil fuel lobbyists and blamed green energy for the blackout, not the foolishness of their deregulatory policy. The facts are quite different. Wind energy was not the problem. Frozen wind turbines accounted for only 5% of the electrical demand and the only reason that wind power was shut down was that, like gas and coal facilities, there was no requirement to winterize. Properly winterized wind turbines work just fine in much colder conditions — in Wisconsin and even in Siberia.
Republicans have come to believe that they are insulated from truth and accountability because of the unquestioning support of right-wing media and unabashed sycophants. A prime example is the effort to defend Sen. Ted Cruz, who abandoned Texas during the crisis to jet off to a luxury resort in Cancun. Fox News and other rightists actually praised him for his fatherly devotion for taking his family to Mexico.
Normalizing corruption: Corruption and conflicts of interest are nothing new in politics, but they became common and rationalized during the Trump administration. In Texas, anticorruption laws are minimal. Regulators routinely profit from investments in the energy corporations they are supposed to oversee. For example, the family of a commissioner on the board that "regulates" energy companies just last year received more than half a million dollars from an energy corporation. Dozens of elected Republicans have big financial stakes in energy companies and repeatedly take actions to benefit those interests.
The key lesson of the Texas fiasco was summed up well by former San Antonio Mayor Julian Castro: "Don't ever put people who don't believe in government in charge of government."
Spencer Black served for 26 years in the state Legislature. He was chair of the Assembly Natural Resources Committee and the Assembly Democratic leader. Since leaving the Legislature, Black has been vice president for conservation for the national Sierra Club and adjunct professor of planning at UW-Madison.
Share your opinion on this topic by sending a letter to the editor to tctvoice@madison.com. Include your full name, hometown and phone number. Your name and town will be published. The phone number is for verification purposes only. Please keep your letter to 250 words or less.