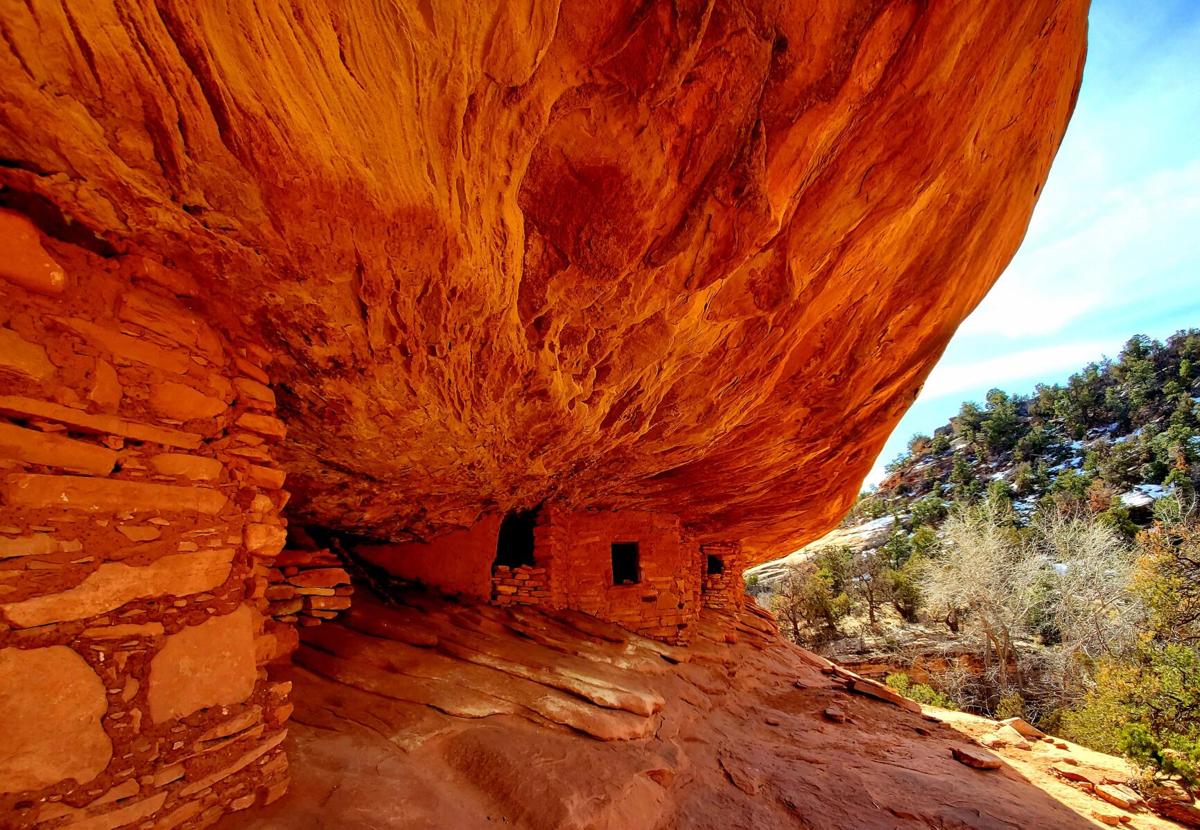 The remote red rock canyon country of southern Utah is an area I love to explore almost as much as I enjoy roaming Wisconsin's lush and varied landscape.
In February of 2020, before the pandemic kept us close to home, I hiked in Bears Ears National Monument. The recently designated national monument is a wonderland of colorful erosional features, including natural bridges and arches as well as oasis-like desert streams and a deep gorge of the Colorado River. In addition to the hauntingly beautiful natural landscape, the new national monument encompasses more than 100,000 cultural and archaeological sites.
President Barack Obama used his authority under the Antiquities Act, a law originally created by Teddy Roosevelt, to establish and protect 1.35 million acres as Bears Ears National Monument. Two prominent buttes which resemble bears ears give the area its name. The designation of the monument came after a spirited campaign by a large coalition of conservationists and 25 southwestern Native American tribes, including the Hopi, Zuni, Navajo and Ute. Native Americans have lived in the area for millennia, and their villages from 1,000 years ago are still visible and relatively well-preserved in the desert dryness. On one of my hikes, I spotted an ancient village on a cliff side with dwellings intact and a turkey pen that appeared still ready to contain birds.
As much as I might have wanted to leave thoughts of politics behind as I enjoyed the magnificent scenery, I couldn't. Donald Trump reduced the area of Bears Ears National Monument by 85% at the request of oil and mining companies.
Fortunately, the story does not end there. Joe Biden became our president on Jan. 20. On the very day that he took office, he issued an executive order requiring the secretary of interior, whose jurisdiction includes the lands of southern Utah, to conduct a review of Trump's decision to shrink Bears Ears.
Importantly, the review of Trump's decision to decimate this ecological and archeological treasure is being undertaken by Deb Haaland, the new secretary of interior. Haaland, the first Native American ever appointed to the cabinet, is a member of the Laguna Pueblo and a committed conservationist. When she represented New Mexico in Congress, she amassed a 100% environment voting record according to the League of Conservation Voters. She has already spent days at Bears Ears and listened to varied points of view about the monument's future.
Native American leaders are actively lobbying to not only have the monument restored to its original size, but to have it expanded. While advocates for our outdoors were delighted with Obama's designation of the monument, there was some disappointment that it was not as large as hoped. Now the Bears Ears Inter-Tribal Coalition is asking that the monument, which was 1.3 million acres pre-Trump, be expanded to 1.9 million acres to protect adjacent lands embodying our natural and human heritage.
Southern Utah is a national treasure both for its beauty and its human history. America's Redrock Wilderness Act has been introduced in Congress (cosponsored by our Sen. Tammy Baldwin) to permanently protect Bears Ears and the other incredible natural wonders in that region. There is no place on Earth like southern Utah. We shouldn't allow Bears Ears and the nearby wild lands to be decimated for the profit of mining and fossil fuel corporations, nor should we deprive future generations of the chance to be inspired by that unique and amazing landscape.
Spencer Black served for 26 years in the state Legislature. He was chair of the Assembly Natural Resources Committee and the Assembly Democratic leader. Since leaving the Legislature, Black has been vice president for conservation for the national Sierra Club and adjunct professor of planning at UW-Madison.
Share your opinion on this topic by sending a letter to the editor to tctvoice@madison.com. Include your full name, hometown and phone number. Your name and town will be published. The phone number is for verification purposes only. Please keep your letter to 250 words or less.