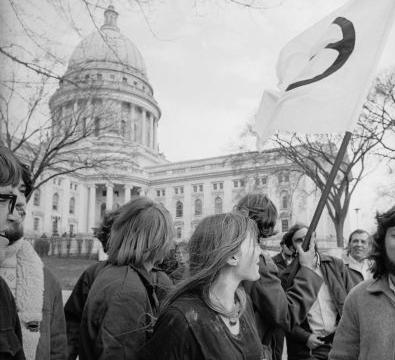 Wisconsin is home to some notable firsts. On the culinary front, the first hamburger (Seymour, 1885) and the first ice cream sundae (Two Rivers, 1881). I'm pretty sure we're the first state to wear a piece of cheese atop the head to a sporting event!
There's another Wisconsin first that might be even more significant. The first Earth Day, which was celebrated on April 22, 1970, was the brainchild of former Gov. and U.S. Sen. Gaylord Nelson. This Thursday marks the 51st anniversary of that day, when more than 20 million people joined together in nationwide events to launch the modern environmental movement. Much has been accomplished in the intervening years, yet we have far to go.
It's easy to be despondent about the state of the environment when the news so often tells of new threats to the health of our planet. While we certainly shouldn't downplay those threats, it's essential that we also celebrate the progress that has been made since the first Earth Day. The demands of those tens of millions of citizens who marched and rallied more than half a century ago has led to cleaner air, less polluted water and more protected wild lands.
The establishment of the Environmental Protection Administration, the passage of the Clean Air and Water Acts, the enactment of the Endangered Species Law and the protection of tens of millions of acres in national parks and monuments and wilderness areas can be directly linked to the energy generated back in 1970. Like almost all environmental progress, these steps forward didn't just happen. They happened only because of the massive political pressure of millions of citizens who cherish our outdoors. That's why, when we are discouraged (and it's easy to be so), we must recall what has been accomplished.
On this 51st Earth Day, there is new hope because we have new leaders. After four years of an administration that rolled back many environmental safeguards and ignored the climate crisis, we now have a president who is committed to not only reversing the damage caused by the Trump presidency, but moving forward with strong action to address climate disruption. In Wisconsin, after eight years of Scott Walker's abysmal record on conservation, Gov. Evers has proposed significant initiatives to preserve natural areas, clean up water pollution and promote clean energy.
Some environmental issues motivating the people attending Earth Day 1970 remain: clean air and water, and protection of wild lands and wildlife. But the present overriding concern about disruption of the climate was likely not mentioned at that first Earth Day. Even before the Civil War, scientists were predicting that coal burning would cause global temperatures to rise. However, comprehension of the full range of the consequences of higher global temperatures is more recent. In the past few years, we have experienced the impacts of a warmer planet — severe storms and hurricanes, wild fires, changing weather patterns and sustained droughts.
A popular slogan during the halcyon period following that first Earth Day, printed on T-shirts and placards, was "Think Globally — Act Locally." In reality, the focus of advocacy tended to be more local or regional, such as protecting a favorite natural area or cleaning up a nearby river. Now, we have to not just think globally, but act that way as well. The peril we face is not just regional or national, but quite literally an existential threat to our entire planet.
That first Earth Day showed that citizens, united and energized in appreciation of our environment, can truly make a difference. Fifty-one years later, we need that energy more than ever.
Spencer Black served for 26 years in the state Legislature. He was chair of the Assembly Natural Resources Committee and the Assembly Democratic leader. Since leaving the Legislature, Black has been vice president for conservation for the national Sierra Club and adjunct professor of planning at UW-Madison.
Share your opinion on this topic by sending a letter to the editor to tctvoice@madison.com. Include your full name, hometown and phone number. Your name and town will be published. The phone number is for verification purposes only. Please keep your letter to 250 words or less.