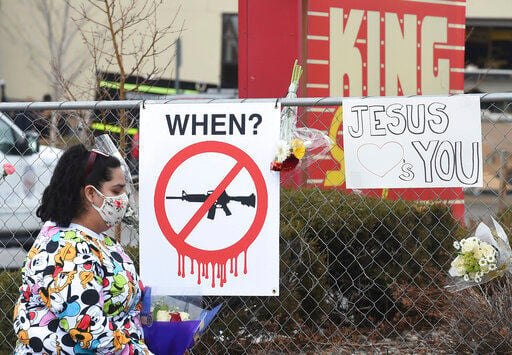 Gun violence is a persistent vein of fear running through communities across our country, and has been for decades. Frightening questions linger in the background of our everyday lives. When will the next mass shooting occur? Where will it happen? Will one of my loved ones be among those hiding in terror or worse?
In recent weeks, we have all watched as deadly mass shootings in Oconomowoc, Atlanta, Boulder and Orange County have yet again brought gun violence back to the forefront of our national consciousness.
Going to the grocery store, work or a place of worship should not create anxiety or a fear for one's safety. We should not have to worry when dropping our children off at school out of concern that the next mass shooting incident could occur. This is a uniquely American problem. This does not occur in other countries at anywhere close to the same rate, and it is past time to take steps to free ourselves from this gun violence epidemic. It's time to stop talking and start doing. Commonsense gun safety reform must be a priority for public servants in Wisconsin.
It's common sense to prevent domestic abusers and felons from purchasing weapons using the "gun show loophole." That's why we need universal background checks for all firearm purchases. It's common sense to temporarily remove firearms from those who are at risk of harming themselves or others. That's why we need to implement extreme risk protection orders. And it's common sense for individuals to have a brief waiting period before purchasing a weapon to lower incidents of crimes of passion. That's why we need to reinstate the 48-hour waiting period that was in place until Republicans repealed it in 2015.
It's clear that our friends and neighbors across our state want these pragmatic gun safety reforms. Public approval in Wisconsin, and nationally, shows overwhelming support for all of these measures to close loopholes and address America's lax gun laws.
The fact is, the only place that addressing gun violence is a partisan issue is in the Capitol. The people of Wisconsin know that those who skirt our gun laws using loopholes do a disservice to responsible gun owners everywhere. Extreme Republican politicians, beholden to the gun lobby, are blocking the will of the people they represent. The NRA is in disarray amid corruption and bankruptcies — it's time for Republicans to come back to reality and cut ties with this group that promotes violence. It's time to set aside hyper-polarization and work to prevent ordinary people from needlessly dying in mass shootings.
This past week, I was proud to join Attorney General Josh Kaul and Sen. LaTonya Johnson, D-Milwaukee, in calling on Republicans to keep commonsense provisions in Gov. Evers' state budget that would begin the process of creating comprehensive gun safety reform. If Republicans choose to remove these items from the state budget, we're ready to re-introduce standalone legislation. This is an urgent matter and we should treat it as such. I'm ready to work with anyone of any party to address this public health crisis.
I cannot, and will never, treat gun violence and mass shootings as inevitable. Inaction is an admission that this is our fate as a state and nation. It's not complex — we know what to do to save lives. Too many senseless deaths and too much unfathomable grief has occurred. Let's work together to make this a safer state for all Wisconsinites with simple but effective gun safety legislation. I know, with these steps, we can reduce gun violence, slow illegal gun sales and create safer communities, all while still protecting the rights and liberties of responsible gun owners.
Sen. Melissa Agard, D-Madison, represents Wisconsin's 16th Senate District.
Share your opinion on this topic by sending a letter to the editor to tctvoice@madison.com. Include your full name, hometown and phone number. Your name and town will be published. The phone number is for verification purposes only. Please keep your letter to 250 words or less.