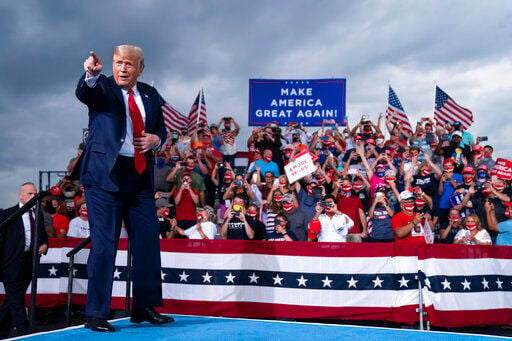 The 2020 presidential election will be forever etched in our collective memory as the moment when America almost fell. It is not yet fully apparent how close we've come to this unthinkable result, but the signs are all around us. President-elect Biden is projected to win 306 electoral votes, and has received over 5.5 million more votes nationally than his opponent, Donald Trump. Despite this, the president has refused to concede. He, along with his allies in the Republican Party, is attempting to take our democracy down with him.
With a pattern of behavior that can best be described as a computer virus for fact-check machines, Donald Trump has time and again lied to the American people, spread provably false information on Twitter and at press briefings, and has forced staff members to engage in meritless lawsuits in multiple states in an attempt to overthrow the results of this election. He's done this all in the open, and didn't even wait until polls had closed to begin.
Before the first vote was even cast, he said the only way he could lose is if the election was rigged against him. He sowed chaos in the Postal Service to delay processing of absentee ballot mailings. He urged his supporters to vote in-person and cast doubt as to the integrity of absentee ballots, a method he himself uses to vote in nearly every election (including this one). His authoritarian instincts are well-documented, and at this point nothing he does is surprising.
What is surprising, even shocking, and previously unthinkable in American politics, is the degree to which elected Republicans have gone along with these fascist whims. Right here in Milwaukee County, Rep. Joe Sanfelippo suggested that the will of 3.2 million Wisconsin voters be overturned without a shred of evidence as to why. Assembly Speaker Robin Vos has called for an official investigation of the election despite also having no evidence of wrongdoing.
The peaceful transition of power, and free and fair elections are at the very foundation of our government. For one party to overthrow the results of an election simply because their candidate didn't win is nothing short of a coup. If they are successful, that is the end of American democracy. If Trump were just a single state away from victory, the likelihood of that success would be frighteningly close to reality. Georgia's Republican Secretary of State, for example, reported strong-arm tactics being used by members of his own party to try to get him to throw out legal votes.
Thankfully for all of us, Trump is not one state away from victory. In fact, by Trump's own description when he himself won 306 electoral votes in 2016, his margin of defeat is beginning to look like a landslide. The American people have spoken loud and clear in giving Joe Biden almost 79 million votes — easily the most votes ever received for president in our nation's history.
We may never know how close we came to the fall of American democracy, but one thing is for certain — when it comes to our elections, we need both political parties to come together and trust that the will of the people is the law of the land. One man cannot bring down our government all by himself. That one administration has come so close means there is plenty of blame to go around. We would do well to remember those who enabled him, most of whom are still in power. While we know that Trump will eventually be forced to leave, the political monster he created is very much alive, and that should be of grave concern to all of us.
The erosion of democracy we're experiencing in 2020 is just a test run. Next time, we might not be so lucky.
Sen. Chris Larson, D-Milwaukee, represents Wisconsin's 7th Senate District.
Share your opinion on this topic by sending a letter to the editor to tctvoice@madison.com. Include your full name, hometown and phone number. Your name and town will be published. The phone number is for verification purposes only. Please keep your letter to 250 words or less.
Catch the latest in Opinion
Get opinion pieces, letters and editorials sent directly to your inbox weekly!