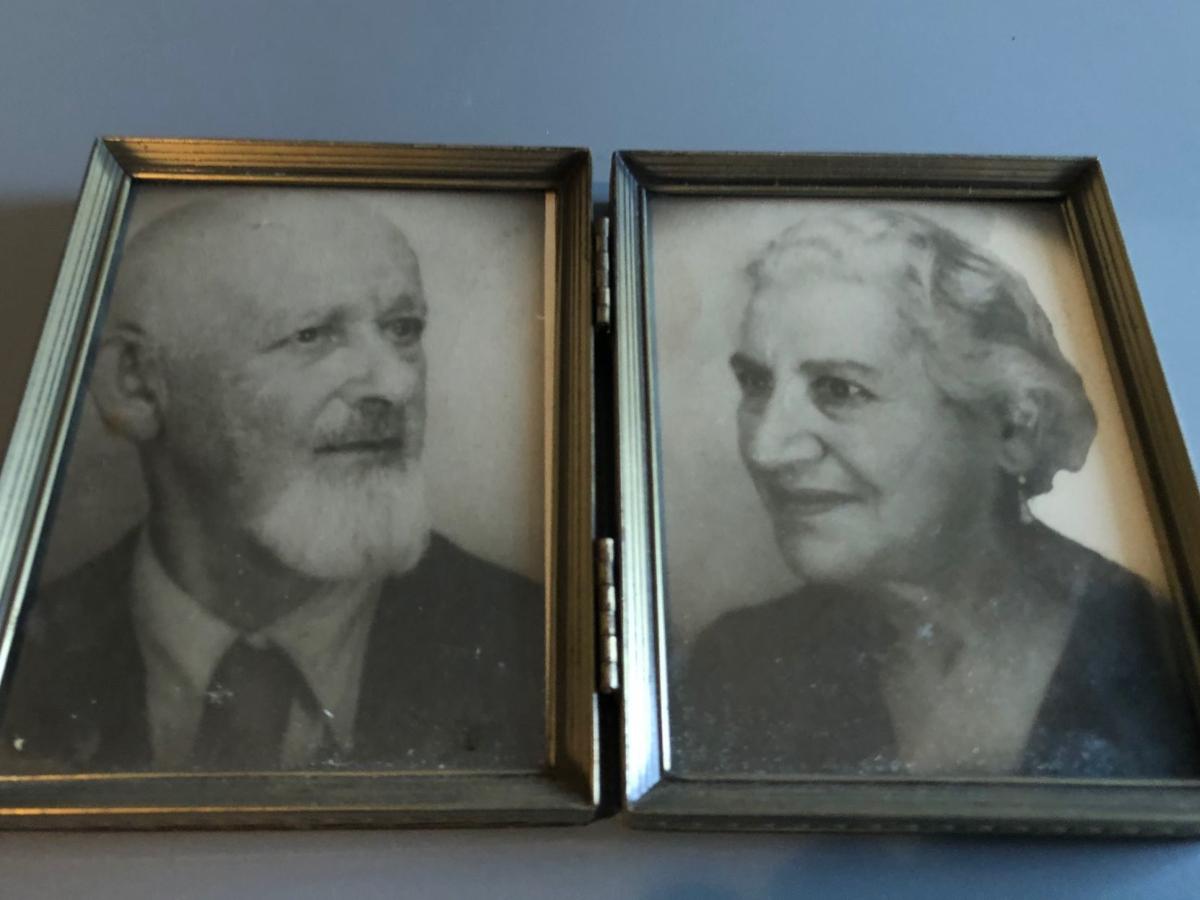 I've been wearing my grandmother's pearl-drop earrings, now that we are all shuttered in, at home. I've never put them on for long, always worried about them falling off since they're not for pierced ears. These last several weeks, however, have given me the opportunity — strange to be talking about opportunity during a cataclysm, when tens of thousands worldwide are already dead.
Each earring's pearl is circled by a string, almost a lasso, of shiny stones. Zirconia most likely, the poor man's diamond, since my grandparents didn't have much money. Still, as these tiny bits of starlight dangle just at the level of my jaw, they have an elegance to them, and set me to wondering how they came to be handed down.
My grandparents, Ida and Nathan, were German Jews, deported to the Treblinka concentration camp in 1942. Very little remains of their lives — no tombstones, no memories since I never met them, not many stories since my father couldn't bear to speak of them. Some letters, yes, a few photos, a handful of fishing columns Nathan wrote, a sampler Ida sewed when she was a girl, some monogrammed silverware. These last belongings were spirited away by friends and returned to the family after the war. Probably the earrings, too.
No doubt, my grandparents began to suffer acutely with the imposition of Hitler's series of racial laws, beginning in 1933. A national boycott of Jewish businesses must have cut back on Nathan's tailoring, even though he worked out of his own home in Berlin. In one letter, he writes about business being quiet again. By 1935 and the enactment of the Nuremberg Laws, my grandparents were stripped of their citizenship, losing their legal rights. Like other Jews, their movements became circumscribed — it was difficult to shop, to worship, even to go for walks in their beloved Tiergarten, a popular city park. They were segregated from the rest of the town, became invisible, as if they didn't exist.
Until this March, I understood but didn't feel a particular kinship with their troubles, grieving for them among millions of Jews, and for my family's very particular loss. But I had no real idea of what it meant to be marginalized, kept apart, kept indoors.
Please understand, I don't mean to compare their situation, their distress, their panic in the face of sure extermination — they knew what was coming — with my own "social distancing." Obviously, they're not the same. What I mean to say is that I have felt closer to them these last several weeks. If they could manage such terrifying seclusion, could be so brave, then I, in my splendid isolation, with more than enough comforts, can muddle through.
I feel closer, too, to my father. I remember the story he told me about how he and his younger sister and brother as children contracted diphtheria, and were quarantined in one room. They recovered, but their canary died.
Perhaps that insecurity surrounding illness and disease made an impression on him and so many others of his generation. My father was always careful, when I was growing up, to make me wash my hands, to steer me away from other people who looked ill, coughed; he frowned on those cavalier enough to spit on the pavement instead of into a handkerchief. He knew contagion, physical and political — how it rips through homes, neighborhoods, and nations with devastating accuracy and absence of care.
He protected me once. May his and my grandparents' memory protect me and my loved ones now.
Ronnie Hess is a poet and essayist who lives in Madison.
Share your opinion on this topic by sending a letter to the editor to tctvoice@madison.com. Include your full name, hometown and phone number. Your name and town will be published. The phone number is for verification purposes only. Please keep your letter to 250 words or less.
Catch the latest in Opinion
Get opinion pieces, letters and editorials sent directly to your inbox weekly!