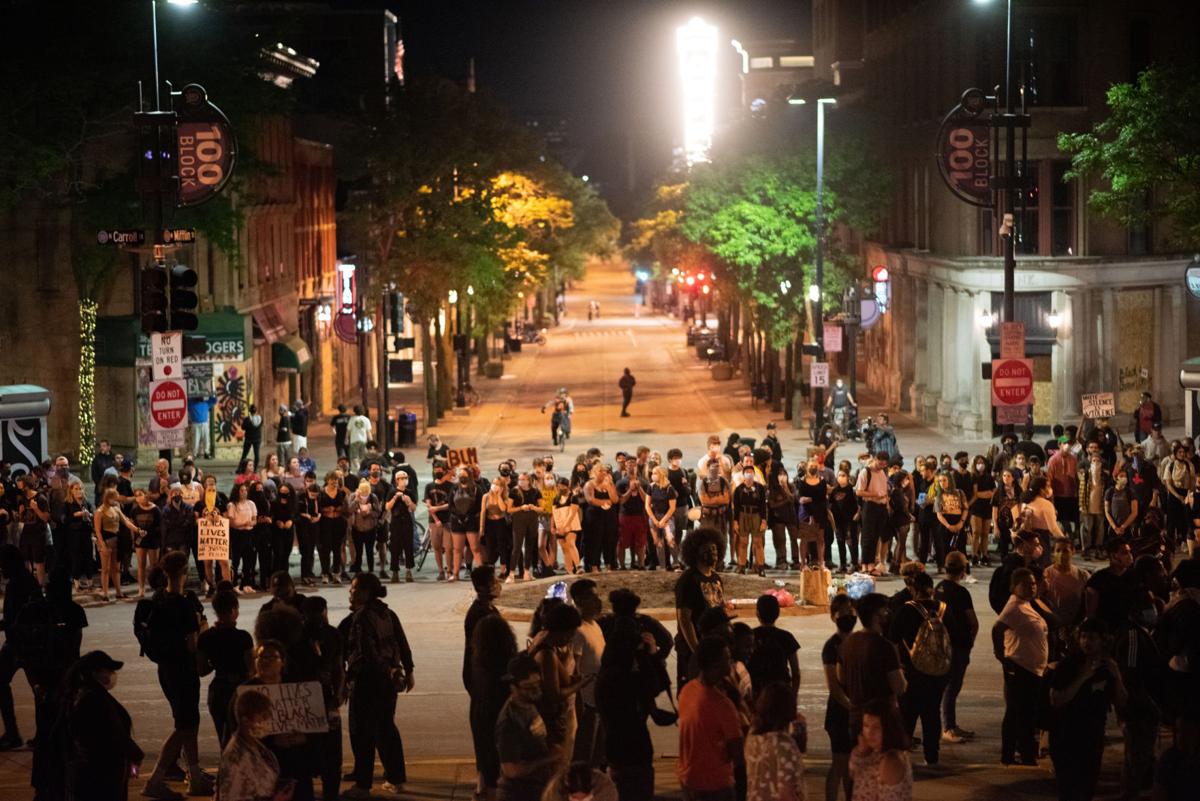 "As a former woman in blue, let me begin with my brothers and sisters in blue: What in the hell are you doing?" — Rep. Val Demings, D-Florida
On May 25, George Floyd was killed in Minneapolis. Many have viewed the horrific scene on the internet. He died with a policeman's knee on his neck, while crying out for help with "I can't breathe," and bleeding visibly from his nose. Multiple bystanders implored the officer to stop. Other officers were present on the scene, doing nothing to stop the killing.
Rep. Val Demings wrote an op-ed published May 29 in the Washington Post. She is a black woman, and the former chief of the Orlando Police Department. She wrote: "As law enforcement officers, we took an oath to protect and serve. And those who forgot — or who never understood that oath in the first place — must go."
Her words are forceful; they speak to one way that America oppresses people of color. While government agencies have started the process of investigating this particular killing, we as white Americans have a responsibility to investigate a much larger issue: white supremacy. It has devastating impact, oppressing people of color, economically, and in the multiple recent tragic deaths we have witnessed.
White supremacy comes in many forms; whether conscious or unconscious, it is an attitude that denies humanity to people of color. With those who identify as white being the dominant political force in the country, we are "the victors" who get to write the history. The history books, with tragic consequences, use massive denial to turn their focus away from the evil perpetrated that is based squarely on white supremacy.
To this day, Christopher Columbus gets honored, despite the fact that he took indigenous people as slaves almost as soon as he arrived in the Caribbean. Genocide — physical and cultural — has been carried out for centuries against native people living on the U.S. mainland, with forced removals from their home communities, and their sons and daughters abducted to boarding schools for indoctrination into European values and religion.
Slavery was legal from 1609 to 1865, meaning that for more than two-and-a-half centuries, black and brown people in our country were denied status as human beings, relegated instead to being property, and subjected to continued unspeakably horrific terror. Lynchings and state-enforced racial segregation lasted into the 1960s. The list of racist atrocities goes on and on; we've now added the death of George Floyd.
America has never come to grips with the racism and violence of our history. We take pride in our Constitution and Bill of Rights, but use massive denial to forget how their principles of equality were completely obliterated for people of color. Until we fully accept the moral evil inflicted by white Americans on others, we will continue to oppress people of color.
Accepting the reality and enormity of evil perpetuated by one's country is hard work, but it can be done. I recently finished reading Dr. Susan Naiman's "Learning from the Germans: Race and the Memory of Evil." Naiman lived part of her life in the American Deep South, but for most of her adult life she has lived in Berlin. She is Jewish, and she raises the question of to what extent her two countries — Germany and the U.S. — have faced and owned up to genocide perpetrated by official government action. Her answer is very different for the two countries.
She documents ways in which the majority of Germans are now very vigilant and quick to confront when racism raises its ugly head. Displaying swastikas or denying the Holocaust are both punishable offenses in Germany. German political figures in high places have emphasized this message: the Holocaust was a series of evil actions undertaken by Germany, the massive and rapid killing of innocent civilians unlike any other the world has seen. Under pressure from the outside world, some reparations have been paid by Germany to Holocaust survivors. Germany has also done some important anti-racism work.
Getting to the point of vigilance against racial hatred took Germany two decades, Naiman writes. The immediate reaction of most Germans after World War II was to see themselves as victims of the war, not active perpetrators of the Holocaust. The process of moving from there to accepting that their country carried out massive genocide from 1933 to 1945 took at least two generations, but, Naiman says, she believes it has taken hold firmly.
This active anti-racism work has had tangible benefits. While other nations turned their backs on asylum seekers from Syria and other war-torn areas in the Middle East, Germany has taken in over one million refugees. There has been a racist anti-Muslim pushback, but Naiman indicates it has been kept in check by the German majority.
Naiman recently returned to visit the Deep South. She was dismayed and angered by what she saw. Awful symbolism abounded: monuments honoring Confederacy generals, displays of Confederate flags, and symbols designed to give support to the "Lost Cause" myth that denies that human bondage was the central issue of the Civil War. Looking at the killing of unarmed black men in recent years, she sees how deeply entrenched white supremacy is in America, and not just in the South.
The U.S., Naiman writes, has moved in the opposite direction from Germany, with active voicing of racial hatred and violence-encouraging rhetoric now coming from the White House.
How can it not have an impact when President Trump, six months into office, told a meeting of law enforcement officials that throwing suspects into a police wagon "rough" was good, and providing an example of having arrestees' heads bang against the wagon roof? How can it not further racism and violence when the neo-Nazi rally in Charlottesville that ended a life and injured others was followed with Trump's shout-out: "You also had people that were very fine people, on both sides." And then on May 29, the president fired off a dangerous tweet in the wake of George Floyd's death, encouraging shooting as the response to looting.
We cannot take responsibility for the actions of others. But, as contemporary white Americans, we have to acknowledge how deep and intense racism remains today, and the privileges that we hold that are denied to people of color. I, as a white male, can move forward in my life without being prejudged, shop without being trailed by a store detective, go about my daily chores without worrying about taking abuse for my skin color, experiencing police violence or being killed by an officer.
We as white people need to use our privilege to fight back against white supremacy and racial hatred. I highly recommend to white people the book "Waking Up White," by Debby Irving; it opened my eyes to how even well-intentioned white people treat people of color as people who are "less than," in a myriad of ways. Also, I also recommend support for Campaign Zero, which grew out of the Black Lives Matter movement. This campaign aims to make policing a joint community/police responsibility, replacing the police versus community militarized approach we now see.
And while we look for a way to fight back against the immoral and evil attitude of white supremacy, conscious and unconscious, let us mourn the loss of yet another black American whose life was ended tragically by police violence.
Ron Malzer is a retired psychologist and freelance writer who lives in La Crosse. He can be reached at ronsaturday@gmail.com.
Share your opinion on this topic by sending a letter to the editor to tctvoice@madison.com. Include your full name, hometown and phone number. Your name and town will be published. The phone number is for verification purposes only. Please keep your letter to 250 words or less.
Catch the latest in Opinion
Get opinion pieces, letters and editorials sent directly to your inbox weekly!