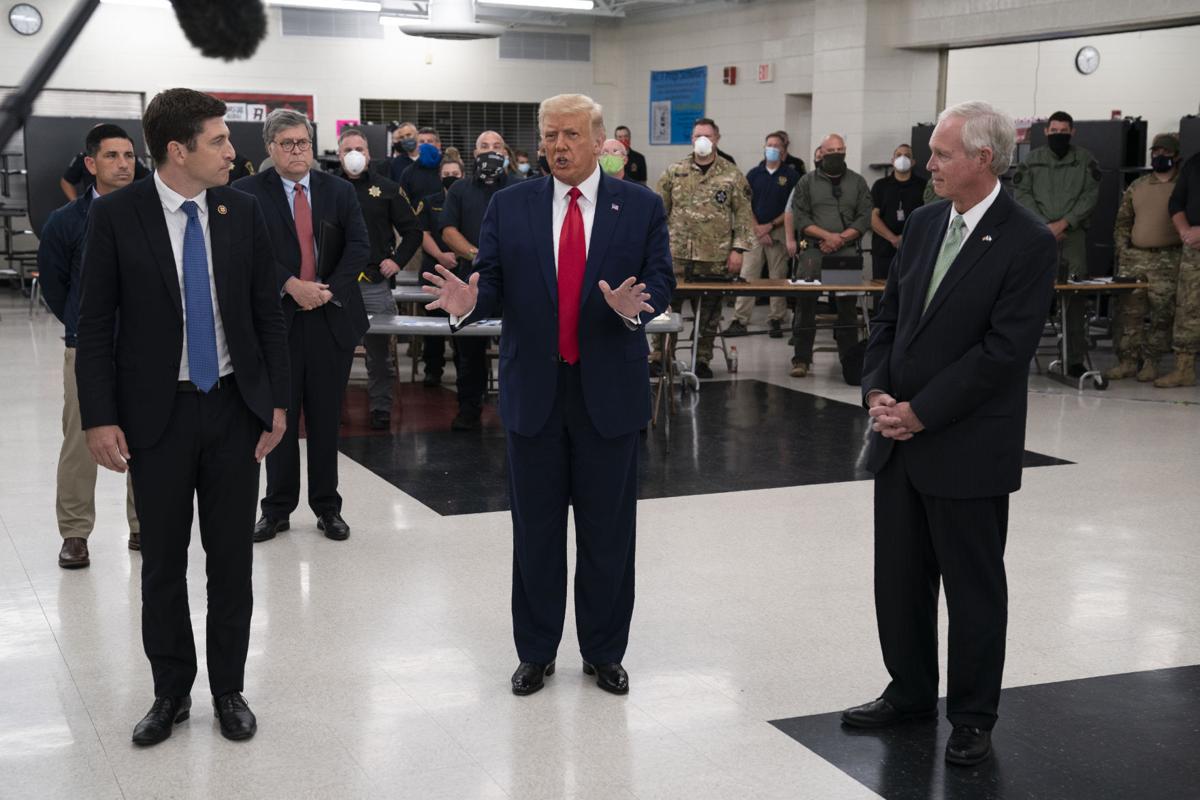 Is Ron Johnson running for a third term? We can decipher a great deal about his political strategizing from his decision to vote on Jan. 13 to find disgraced former President Donald Trump not guilty of "high crimes and misdemeanors by inciting violence against the government of the United States."
Let's start with Johnson's statement in October 2016, definitively ruling out the possibility of running for a third term. He told the Baraboo News Republic that, if elected to a second term, it would be his last, articulating his determination to avoid becoming a "career politician."
That may very well turn out to have been a bait-and-switch election campaign pledge. Johnson, now 11 years into taxpayer-funded political service, is mulling the possibility of again seeking reelection and becoming a Washington fixture.
If he does run, Johnson will be touting to "the base" his unwavering loyalty to Trump.
Johnson voted on Feb. 9 for the "January exception" to the Constitution, a created-out-of-thin-air life preserver tossed to those who don't believe Trump should be held accountable for his actions.
Johnson publicly advocated for the specious argument by Trump's lawyers that the Constitution prohibits the trial of a former president. The Senate, by a decisive majority vote, quickly dismissed this call for a January exception as both nonsensical and dangerous. What the Constitution states is unequivocal: "The Senate shall have the sole Power to try all Impeachments." 
We had all witnessed, on Jan. 6, the first-ever bloody coup attempt launched by an American president seeking to unlawfully stay in power. Johnson's vote to prevent the Senate from even trying the U.S. House-voted impeachment case was unconscionable.
And then on Feb. 13, Johnson, having taken an oath to be an impartial juror, voted Trump "not guilty" of inciting the bloody attack on our Capitol, one that clearly threatened the lives of our 538 elected legislators and hundreds of law officers. He closed his eyes to the overwhelming evidence that Trump had incited an insurrection that included mayhem and murder in the seat of our democracy.
Johnson's vote came as no surprise. Faced in January 2020 with similarly damning evidence — a word-for-word transcript itemizing Trump's Ukraine shakedown operation seeking political dirt — Johnson voted "not guilty." Responding to the fact that four White House officials stonewalled congressional subpoenas, Johnson voted Trump "not guilty" on this blatant obstruction of justice.
In November, Johnson reportedly provided his real beliefs to Wisconsin former Republican Party official Mark Becker: "Yeah, Donald Trump is an ass----", but that to oppose Trump would be "political suicide." Johnson has employed a two-faced solution, energetically promoting — in public — Trump's conspiracy theories, no matter how bizarre and untrue, while almost always avoiding any utterance of Trump's name.
The perfect example: Johnson's response to Trump's falsehood-filled jeremiad seeking overturn of the Nov. 3 presidential election results. Becker said Johnson had told him on Nov. 14 that he knew Joe Biden had won a free and fair election. One month later, Johnson staged Senate hearings investigating voting "irregularities." On the taxpayers' dime, he gave a global megaphone to the Trump lawyer whose lawsuit sought to discard the votes of more than 220,000 Wisconsin citizens.
Last month, Johnson collaborated with Ted Cruz and nine other Republican Senators, joining what CNN anchor Jake Tapper called the "Sedition Caucus." Johnson advocated, contrary to his duty under the Constitution, for blocking certification of the state-certified results from swing states.
Johnson is perfectly comfortable promoting bizarre conspiracy theories, battling against science and undermining public health initiatives. He told Milwaukee's WISN-TV "We literally have tens of thousands of people (die) on the highways every year, but we don't shut them down. " He continued: "We accept the risk. We lose tens of thousands of people to the normal flu, yet we're not putting up the body count on a weekly basis." It was left to  Dr. Anthony Fauci to denounce these comments as being a dangerous "false equivalency."
Advocacy for the brutal "survival of the fittest" school of economics is part of Johnson's stock-in-trade. In September 2017, he told a Milwaukee-area audience that there was no right to food, clothing or shelter. He further pontificated that health care should be a "privilege," not a human right.
Johnson never challenged Trump's approach to our most serious existential threats, or Trump's admiration for leaders of brutal autocracies and murderous dictatorships.
Following a trip to Russia, Johnson minimized the well-documented Kremlin-based disinformation campaign intrusion into our 2016 election. He criticized his congressional colleagues for passing sanctions against Russia, dismissing this response to an outrageous violation of our election by saying: "We've blown it way out of proportion." In 2017, we witnessed Trump's leaking of "highly classified information" to the Russian foreign minister and Russia's US ambassador, the highest-level security breach in modern times. Johnson refused to hold hearings on this.
If he does run for reelection, how will Ron Johnson defend the indefensible? We learned this in October 2019, when NBC's Chuck Todd posed to him a direct question about his role in the Ukraine scandal. Johnson refused to answer, ranting incessantly instead against Todd and "the biased media." He followed that, incredibly, by offering a list of distinguished career national security professionals whose disclosures about Trump and Russia he absolutely refused to trust or accept.
When Trump called the tune, Ron Johnson danced. If he decides to run for reelection, his road to climb would be steep. He would be forced, every step of the way, to try to explain away the damage he has done to our national security, to our standing in the world, to the environment, to the health of our country and to our democracy itself.
Ron Malzer, a retired psychologist, is now a board member at-large of the La Crosse County Democratic Party.
Share your opinion on this topic by sending a letter to the editor to tctvoice@madison.com. Include your full name, hometown and phone number. Your name and town will be published. The phone number is for verification purposes only. Please keep your letter to 250 words or less.