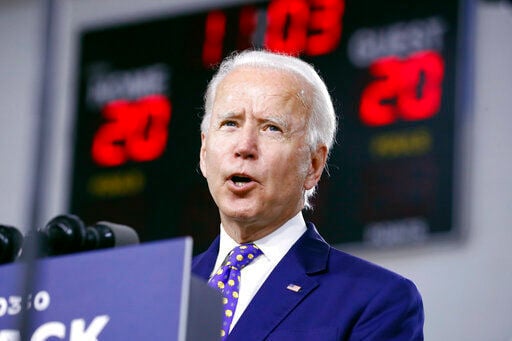 Anyone who's spent nearly half a century in national politics is bound to have taken a few bizarre or embarrassing positions over the years. Few have been on the wrong side of history more frequently than Joe Biden, though.
Joe Biden is the epitome of an establishment politician. He aims to be all things to everyone, and more often than not over his nearly five decades in Washington, he has succeeded. That affability, however, comes at the expense of honesty and consistency.
Today, Joe Biden has made the centerpiece of his campaign "revolutionary institutional changes" to "rip the roots" out of America's supposed "systemic racism." Biden the Social Justice Warrior, however, is a character of very recent vintage. It is a persona Biden only recently adopted in order to run against President Trump, whom Biden, his party, and the media have smeared with baseless racism accusations for the past five years.
During the first several decades of Biden's long political career, he sung a very different tune when it came to matters of race. As has already been covered ad nauseum, Biden had no problem protecting de facto segregated schools against the "racial jungle" and defending the right of "many fine people" to proudly fly the Confederate flag when he was campaigning for Senate in mostly-white Delaware.
The point of revisiting Biden's past positions is not merely to point out that a septuagenarian politician once held views that fall outside the mainstream of contemporary society. Rather, the intention is to underscore just how fake and disingenuous Joe Biden has always been. It is through that lens that one should see his frequent and laughable claims about his supposed role as a civil rights leader.
Running in a Democratic primary that he could only win with significant numbers of black votes, suddenly Biden was bragging about getting arrested by Apartheid-era police in South Africa while trying to visit Nelson Mandela and leading civil rights sit-ins. Both stories are — as has so often been the case throughout Biden's public career — complete fabrications.
The same goes for his recent anti-police hobby horse. It's an absolute farce. During the 1970s, '80s, and '90s, Biden tried to build a national name for himself as Mr. "Lock the S.O.B.s Up." As honest liberals acknowledge, the policies that contributed to the "mass incarceration" and tough policing that Biden once championed — and now claims to oppose — were broadly popular at the time among voters of both parties.
That, more than the actual nuts and bolts of the "1994 Crime Bill" that Biden helped write, ought to color how you look at Biden's sudden disavowal of three decades as a law-and-order hardliner. The only reason he's now condemning the same law enforcement agencies he previously championed as "systemically racist" and in need of "revolutionary" changes is that he feels the winds of popular opinion blowing in a different direction.
Biden's craven inconsistency isn't limited to hot-button issues of the moment such as race and policing, either. It extends right down to the economic policy beliefs that used to be considered the fundamental determinants of political ideology in this country.
In the 1980s, when the free markets and small government were all the rage, Biden was practically a Reaganite. In those days, he twice voted for President Ronald Reagan's landmark tax cuts, which served as a blueprint for the historic middle-income tax cuts passed by President Trump in 2017. With Biden's enthusiastic backing, the top income tax rate came down to 28% and the Reagan economy started going gangbusters.
Biden himself summed up his political calculus in 1977, saying, "All of us can take the heat from the special interest groups if we've got the support of the middle-class guy."
Fast forward 30 years, however, and Joe Biden's constituency is no longer made up of the working Americans who thrived under Reaganite economics. Now, Biden is beholden to the special interests and establishment elites who hated Reagan as vehemently as they now despise Trump. Today, Biden is trying to do exactly what he himself warned fellow liberals at the 1986 NAACP conference was impossible — "pit the Rainbow Coalition, blacks, Hispanics, poor whites, (and) gays, against the middle class."
That cynical, divisive strategy means higher taxes and bigger government. Suddenly President Trump's tax cuts are an "irresponsible sugar-high" that "reward wealth" rather than "work." Today's Biden rails against common-sense pro-growth policies such as the 2017 Tax Cuts and Jobs Act, which has put thousands of dollars into middle-class American households and helped deliver three years of record-setting economic growth that put the pathetic Obama-Biden economy to shame. President Trump's tax rates, however, are actually significantly higher than the rates Biden voted for in the 1980s. Trump's "unfair" top rate is 37%, yet Biden thought 28% was perfectly fair back then.
The explanation for Biden's flip-flopping is not moral or economic or even ideological; it is simply that Joe Biden will always say what he thinks his audience wants to hear. Throughout his 47-year career in Washington, that is the one and only thing on which Joe Biden has ever truly been consistent.
Robert W. Kasten is a former U.S. senator from Wisconsin.
Share your opinion on this topic by sending a letter to the editor to tctvoice@madison.com. Include your full name, hometown and phone number. Your name and town will be published. The phone number is for verification purposes only. Please keep your letter to 250 words or less.
Catch the latest in Opinion
Get opinion pieces, letters and editorials sent directly to your inbox weekly!