Paul Fanlund: Working together — a nascent political trend?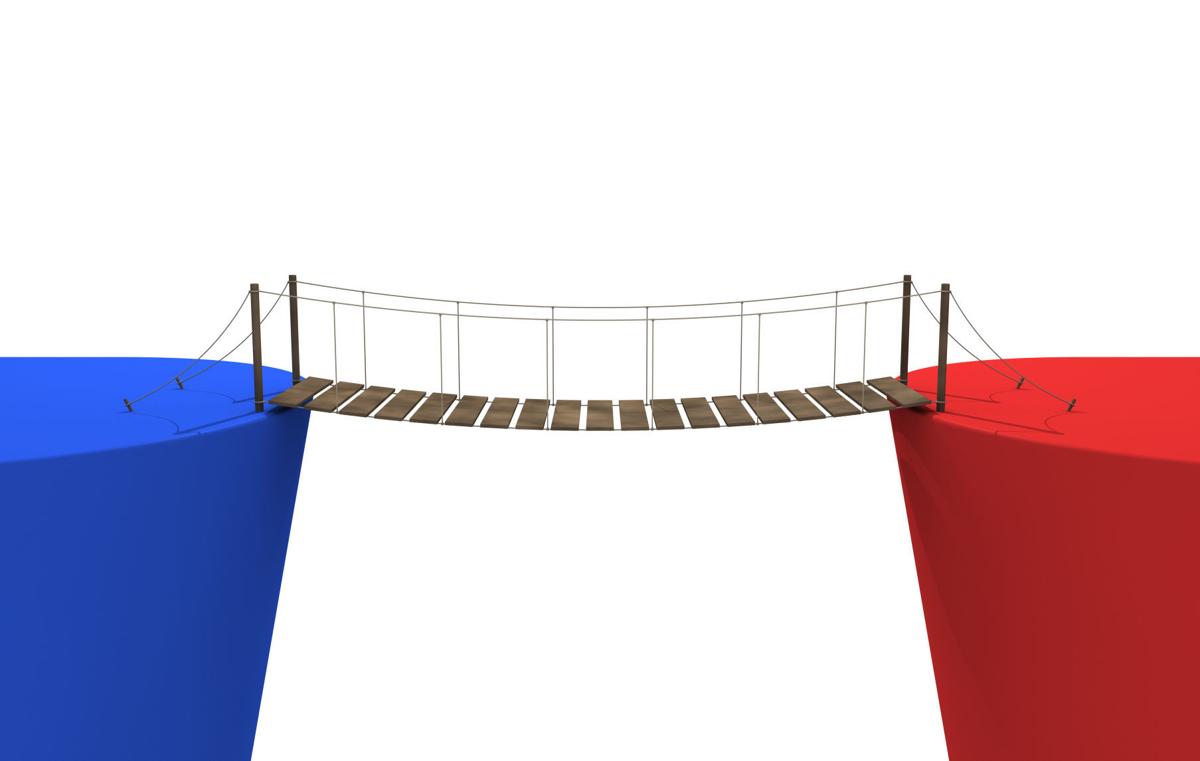 The 25th state Senate district in far northwestern Wisconsin is shaped like a lower-case "n." Bounded on the north by Lake Superior, it is fully 300 miles from the epicenter of state politics here in Madison.
Yet it caught my attention and even has me wondering about a possible trend. Here's why: In a pair of radio ads, the district's Republican candidate, James Bolen, cites his business credentials and then adds: "We know the value of community and the power of people working with each other on the issues that bring them together rather than against each other on the issues that divide them."
Imagine my surprise, because for eight years, Gov. Scott Walker's Republican Party has been demonizing foes and governing as if only Republicans and those who finance them deserve any say in the future of Wisconsin.
Yet here was Bolen, a resort owner and head of the Cable Area Chamber of Commerce, repeatedly and rhythmically invoking the word "together."
"Together, we can build a stronger and sustainable economy that works for all of us," he says. He does not mention his party affiliation in either advertisement.
Nothing in there at all about how Democrats are pawns of union bosses or that they are reckless spenders and somehow less moral, hard-working and patriotic than the rest of Wisconsin.
It may sound Pollyanna-ish, and the 25th may be an outlier as a Democratic-leaning district, but one wonders whether the politics of resentment and division, the model practiced with such ruthless effect by Wisconsin Republicans, maybe, just maybe, showing some cracks.
If it is, one accelerant might be the widespread revulsion at the daily venom from President Trump aimed at a collection of enemies that is as infinite as it is implausible — NFL players one day, the nation's military and national security leaders the next. The poll numbers on Trump's character and integrity have been dropping like a rock.
That said, Walker had a six-year head start on Trump in dividing people, and he apparently knows no other way. He and his deep-pocketed funders are using their usual toolkit against Democratic nominee Tony Evers, state Superintendent of Public Instruction.
The problem for Walker is that the negative ads against Evers feel more laughable than credible. Evers is an earnest, unflappable and fairly apolitical figure not prone to bombast or overstatement. And he is difficult to caricature.
The idea that it is Evers who has failed to narrow the racial achievement gap in K-12 schools, as the Walker campaign charges, is especially ironic. It is Walker who has underfunded public schools since he was sworn in as governor. And he aimed special financial malevolence at Milwaukee and Madison — the cities with the greatest achievement-gap issues — apparently because they are outside his base.
Evers' campaign this week cleverly issued an "evergreen" statement to reporters saying they could use it as his standard response to Walker's "increasingly desperate and transparent Twitter rants, past, present and future."
It reads: "Tony Evers is focusing his campaign on bringing people together and finding commonsense solutions to invest in our schools, fix our roads, and ensure Wisconsin families have access to quality, affordable health care. Scott Walker is welcome to continue to try and distract from his record, govern by tweet, and divide and conquer like a typical politician, but Tony will continue to talk about his positive vision for the state."
A major recent Politico story has to cause concern among Walker's brain trust. Its headline: "Scott Walker fatigue haunts Republicans … Signs that the Wisconsin governor is ripe to be taken down are everywhere."
The story catalogs for its national audience several factors working against the two-term incumbent, including damage from his failed 2016 presidential primary campaign, when he campaigned as a resolute right-wing extremist. Ever since, he's been flying around the state at taxpayer expense to reintroduce himself as something other than a calculating career politician.
Could people be growing tired of the cultural wars and instead just want political leaders who focus on better schools, roads, health care and jobs, more than some minuscule tax cut?
As for Evers, there was lots of handwringing during the Democratic primary about whether he would bring adequate fire to a ferocious general election. But maybe, just maybe, Wisconsin is weary of politics as blood sport, especially given the daily deluge from Washington, D.C.
Evers, a humble lifelong educator, is no one's idea of a slick politician. He came to mind recently as I reread a prescription by author Andrew Levison in last month's Washington Monthly. The article is headlined: "What Democrats Still Don't Get About Winning Back the White Working Class."
Levison scolds Democrats for still being ensnared in the centrism-versus-progressivism squabble that dominated 2016. Election results are constantly analyzed through this prism, he complains, and that "obsesses the media and dominates the elite debate within the Democratic coalition."
Instead, whether a candidate leans moderate or progressive, Levison writes, "the success of all the new Democratic candidates will ultimately depend on whether they can win recognition and acceptance as sincere and authentic representatives of their predominantly working-class districts, rather than any differences in the exact details of their policies and platforms."
The bespectacled Evers comes across as authentically Wisconsin, a well-meaning everyman who, happily, is not from Madison. Towns such as Plymouth, where he was born, Tomah, Oakfield, Verona and Oshkosh dot his resume.
A small-town Wisconsin theme appeared at the conclusion of the Politico story. After noting that the GOP would have a spending advantage (always the case), it mentioned how Democrats had run especially well in recent special state legislative elections (not always the case).
The article ended with Walker's campaign bragging that he would continue to dominate voting in Wisconsin's least populous counties. "Scott Walker and Wisconsin Republicans have earned the support of hard-working families in rural parts of the state because they've stood up for them and delivered results," a senior campaign adviser told Politico. "Democrats lost touch with these voters a long time ago and they're not likely to win them back."
Well, yes. With its one-party control, the GOP has "stood up for" underfunding schools, roads and health care for all of this decade.
Simply fixing Wisconsin by working together? Quite the concept.
Share your opinion on this topic by sending a letter to the editor to tctvoice@madison.com. Include your full name, hometown and phone number. Your name and town will be published. The phone number is for verification purposes only. Please keep your letter to 250 words or less.