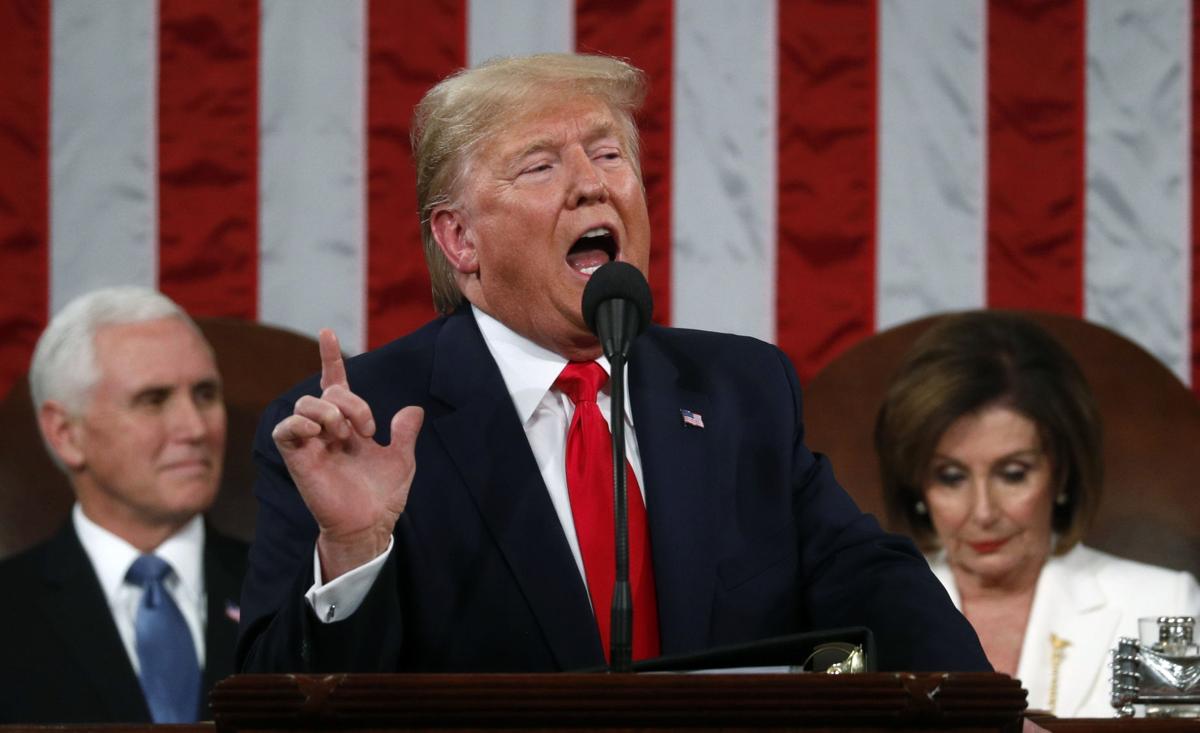 "I can tell you I have the support of the police, the support of the military, the support of the 'Bikers for Trump' — I have the tough people, but they don't play it tough — until they go to a certain point, and then it would be very bad, very bad," the president said.
It doesn't take much to infer that, were Trump replaced, he thinks some of his "tough people" might pull out assault weapons and murder the rest of us. Some of them may be the "Second Amendment people" Trump talked about in 2016 when he implied they might assassinate Hillary Clinton.
The private Trump, if anything, seems to be worse.
"A Very Stable Genius: Donald J. Trump's Testing of America," a new book by two Washington Post reporters, reconstructs scores of private meetings where Trump's maniacal ego, malignant narcissism and boundless cruelty are on display. Authors Carol Leonnig, an investigative reporter who spoke at last fall's Cap Times Idea Fest, and Philip Rucker, the Post's White House correspondent, meticulously detail episodes from the first three years of the Trump presidency.
None is more noxious than a meeting at the Pentagon. Six months into his presidency, the experienced leaders in Trump's cabinet — all of whom have since been replaced by sycophants — deluded themselves into thinking that Trump could be educated about national security through a "tailored tutorial."
Silly them. The concept of getting Trump to appreciate America's traditional role in the world was a fool's errand.
An excerpt from the book published in the Post starts with scene-setting: "There is no more sacred room for military officers than 2E924 of the Pentagon, a windowless and secure vault where the Joint Chiefs of Staff meet regularly to wrestle with classified matters. Its more common name is 'the Tank.' The Tank resembles a small corporate boardroom, with a gleaming golden oak table, leather swivel armchairs and other mid-century stylings. Inside its walls, flag officers observe a reverence and decorum for the wrenching decisions that have been made there."
Trump was brought into the Tank for the tutorial, and after listening impatiently for a bit, told the collected military leaders — the best and bravest the country has — that they were all "losers." He added, "I wouldn't go to war with you people. You are a bunch of dopes and babies."
The authors explored the irony there, of course. "This was a president who had been labeled a 'draft dodger' for avoiding service in the Vietnam War under questionable circumstances," they wrote.
"Trump was a young man born of privilege and in seemingly perfect health: six feet two inches with a muscular build and a flawless medical record. He played several sports, including football. Then, in 1968 at age 22, he obtained a diagnosis of bone spurs in his heels that exempted him from military service just as the United States was drafting men his age to fulfill massive troop deployments to Vietnam." (A doctor who owed Trump's father a favor reportedly wrote the bone spurs note.)
The idea that Trump could summon the courage and selflessness to "go to war" with anyone is laughable, but the authors said those present in the meeting were unamused. The authors wrote that Trump's was the "greatest insult he could have delivered, in this sacred space."
The authors depicted the Tank meeting as a turning point in the Trump presidency — one that proved to his first set of seasoned advisers that he would never listen and thus they could not survive in their jobs.
And, of course, they didn't.
Michael Bloomberg, the billionaire Democratic presidential candidate, has recently exploited this account by airing an ad showing medal-adorned military leaders being called dopes and babies. Bloomberg calls for an end to the "arrogance, ignorance, chaos" of Trump's presidency.
How in the world could Trump's jingoistic base be OK with this?
Perhaps it is because they see the nation's military leaders as just so many "insiders," while they always regard Trump and themselves as outsiders.
A Real Clear Politics commentary on that insider-outsider theme by a pro-Trump pundit made exactly that point. In it, Steve Cortes cited his favorite book as a teenager, "The Outsiders," about rival gangs divided by socioeconomic status. The gang from the book he likens to Trump backers is the lower-class "greasers," pitted against the "socs" — short for "socials" — the upper class gang.
There was the "practicality trumps morality" theme, referring to the country club Republicans who know better but covet the eased regulations and lower taxes that Trump has ushered in. Another theme was that Trump is simply entertaining, and that people love to be entertained. Still another was that he taps into the collective narcissism and even the bigotry of many white people.
But another theme seemed to tie things back to the greasers: "Relative deprivation — a misguided sense of entitlement."
"Relative deprivation," wrote Bobby Azarian, a cognitive neuroscientist, "refers to the experience of being deprived of something to which one believes they are entitled. It is the discontent felt when one compares their position in life to others who they feel are equal or inferior but have unfairly had more success than them."
That explanation could cover resentments directed at urban professionals and people of color in general.
It apparently doesn't matter that Trump was born into a life of privilege. He has tapped into the inner grievances of tens of millions of voters self-identified as outsiders.
They apparently love that instead of delivering a dignified, unifying State of the Union address, Trump turned it into a political rally filled with lies, punctuated by awarding the Presidential Medal of Freedom — the country's highest civilian honor — to radio hatemonger Rush Limbaugh.
So Trump's insults directed at military leaders are no big deal because his base would regard them as insiders, the so-called socs.
And Donald Trump is all about the greasers.
Share your opinion on this topic by sending a letter to the editor to tctvoice@madison.com. Include your full name, hometown and phone number. Your name and town will be published. The phone number is for verification purposes only. Please keep your letter to 250 words or less.
Catch the latest in Opinion
Get opinion pieces, letters and editorials sent directly to your inbox weekly!