Paul Fanlund: Why the story of Serena Williams at the U.S. Open was about more than tennis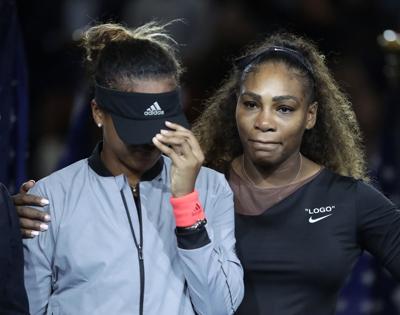 It's been two weeks since Serena Williams' conflict with a chair umpire ignited a storm of controversy during the women's final at the U.S. Open tennis tournament.
I've been startled by the passions and the staying power of this story. Players and sports commentators have staked out positions on whether Williams was unfairly treated. She was first penalized a point and later a game for code violations in the match, which she eventually lost.
Just days ago, Carlos Ramos of Portugal, the chair umpire who penalized Williams, made news again all the way from Zadar, Croatia, for issuing a similar code violation when a male Croatian player smashed his racket during a Davis Cup match.
That same day, Williams, the greatest female player of all time, appeared on an Australian talk show to again argue that the umpire had treated her unfairly based on gender. "I just don't understand," she told the interviewer, "if you're a female you should be able to do even half of what a guy can do."
So why am I writing about a national sports story that has — in most every respect — been exhausted for angles?
In part because tennis is my hobby, but more because I am intrigued by how reasonable people can look at the same set of facts and have such polar-opposite reactions.
For those who neither watch nor read about tennis, here's what happened: Williams was cited by Ramos for three violations during her 6-2, 6-4 loss to Japan's Naomi Osaka, who won her first major singles title.
Ramos first warned Williams after seeing her coach use hand signals urging Williams to change her court position. (Coaching is illegal in top-tier tournaments like the U.S. Open. It was unclear if Williams even saw her coach's gesture.)
She took the warning as an accusation of "cheating" and vehemently protested. In the second set, Williams broke her racket in anger after losing a lead, which led to a point penalty due to the prior warning. Finally, after a lengthy confrontation in which Williams called the chair umpire a "thief" for deducting the point, she received still another code violation, which cost her a game.
Williams insisted on having tournament officials come out so she could plead her case. They insisted she had no choice but to accept the game penalty. By this time, the stadium, filled with pro-Williams fans, was ringing with boos.
In truth, the incident did not seem to affect the outcome. Osaka, a 20-year-old emerging star from Japan, dominated the match and overpowered Williams at her own power game. But the controversy ruined what should have been a glorious celebration for Osaka. The lusty booing continued during the awards ceremony. Osaka was tearful and hid her face.
In the days since, most women and African-Americans have supported Williams, generally describing her as a strong woman of color who refuses to be intimidated. And they point out how, to her credit, she asked for quiet during the awards ceremony.
Typical was this reaction from Yamiche Alcindor, a reporter who covers the White House for The NewsHour on PBS, who tweeted: "I ugly cried during Serena & Naomi's match and took a day to process. Serena was every woman I know standing up for themselves, having to point out misogyny, having to get the job done, and then making sure the woman coming behind you is supported despite the discrimination faced."
"It's difficult to know, and debatable, whether Ms. Williams could have gotten away with calling the umpire a thief if she were a male player," she wrote. "But we cannot measure ourselves by what we think we should also be able to get away with. In fact, this is the sort of behavior that no one should be engaging in on the court. There have been many times when I was playing that I wanted to break my racket into a thousand pieces. Then I thought about the kids watching. And I grudgingly held on."
Meanwhile, professional umpires, angry that Ramos was not explicitly defended by tennis authorities, have discussed unionizing or boycotting Williams' matches.
Williams and sister Venus revolutionized the country club sport of tennis after coming from the public courts of Compton, California. Serena is a talented and ferocious competitor who has inspired a generation of girls, including Osaka, to take up the sport.
But Williams has a history of on-court confrontations. In 2009, she was behind in another U.S. Open final when a line judge called a crucial foot fault, which is when the server steps on the baseline before contact. As Shino Tsurubuchi, the line judge, sat stoically, Williams walked toward her and a microphone caught her words: "I swear to God, I'm f---ing going to take this f---ing ball and shove it down your f---ing throat, you hear that? I swear to God."
In 2011, she was penalized for yelling mid-point and distracting her opponent, so the umpire awarded her foe a point. "You're nobody," Williams told the umpire. "You're ugly on the inside." Later, she shouted at the umpire: "You're totally out of control. You're a hater and unattractive inside. What a loser."
Because of such outbursts, for all her success and trailblazing, it has been hard for some to root for Williams, though her backers would argue that plenty of people cheered for bygone male hotheads like John McEnroe or Jimmy Connors.
I've never experienced the racial animosity or misogyny that Williams has. That's why I've tried to listen to the reactions of those who viewed the entire episode through a different lens.
Perhaps it can serve as a "walk-in-their-shoes" moment. We could use more of those on topics more consequential than tennis.
Share your opinion on this topic by sending a letter to the editor to tctvoice@madison.com. Include your full name, hometown and phone number. Your name and town will be published. The phone number is for verification purposes only. Please keep your letter to 250 words or less.