Paul Fanlund: What to expect from the Cap Times this year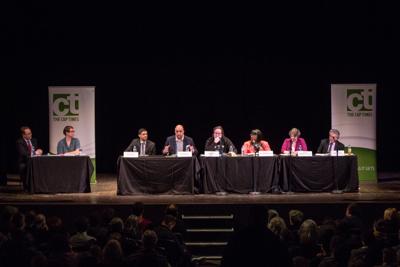 If you were among the 640 or so who braved the first arctic blast of winter to hear from the six candidates for Madison mayor Wednesday night, you saw the Cap Times of 2019 in action.
Thoughtful and informed journalists — in this case Cap Times editors Jason Joyce and Katie Dean — moderating a forum that included incumbent Paul Soglin and all of his challengers. Ours was the first major mayoral forum leading up to the city's Feb. 19 primary and the Barrymore Theatre was packed.
Wednesday night was big, but our biggest and splashiest event of the year is Cap Times Idea Fest in the heart of the University of Wisconsin-Madison campus in the fall. But we host events all over the city throughout the year. A mayoral forum guided by journalists who strive to understand which issues are most pertinent is what you should expect from us. We'll also host forums on Madison School Board races and a post-election podcast recording about the mayor's race.
As we have developed and grown our events these past four years or so, we have discovered there is a big local appetite for authentic and entertaining live experiences. And we know how to pull them off.
We are, after all, a century-old, Madison-centric media institution — one built on exceptional local journalism, provocative progressive opinion and a deep commitment to local philanthropy.
So, you might be thinking, where is he going with this?
To start 2019, I wanted to pull together various threads about what you can expect from the Cap Times this year.
Foremost, we will deliver creative, smart and thorough journalism from a team immersed in Madison's communities, be they philosophical, geographic or ethnic. We will have experienced journalists covering key public affairs topics such as the statehouse and city hall, but we will also focus on social justice and have respected writers covering arts and entertainment.
As we've said over time, the Cap Times gets Madison. We are coming off a year when our staff won 24 awards from the Wisconsin Newspaper Association and the Milwaukee Press Club, an exceptional showing based on our small staff size.
Next, you can save the dates for Cap Times Idea Fest, which will be Sept. 13 and 14 — a Friday night and Saturday — on the UW campus. This fall will be our third festival, and intensive planning is already underway. This event features a couple dozen distinctive sessions.
We are hugely gratified that last year's presenting sponsor, UBS — The Burish Group, has agreed to be our presenting sponsor for the next three years as well, cementing a partnership around civic engagement with a respected and locally focused financial management organization.
Since last September's Idea Fest, we've received lots of constructive criticism — some of it sharply delivered — about how we could be better. We've taken the input to heart in the spirit of reflecting the high expectations people have of us. So you can expect future programs to reflect that input around gender, age, racial makeup and political ideology.
Elsewhere, we will continue to deliver provocative, insightful progressive opinion and will be looking for opportunities to expand our editorial sensibilities with new voices. Stay tuned.
We would also ask you to notice the ongoing community contributions of the Evjue Foundation, the Cap Times' charitable arm created by the will of founder William T. Evjue. We give money to myriad efforts each year that we think are vital and that resonate with fans of the Cap Times. Through time, that monetary tally is $60 million and growing.
Many people, not just our friends, tell us they love the Cap Times and ask what they can do to support it.
In early 2019, I can think of two things.
One, you can become a member of the Cap Times when we kick off our three-tiered membership program in late winter or spring. Costs will likely range from $8 per month down to $3 per month.
Membership benefits will include free admission to live recordings of our highly regarded podcasts. A week after Tony Evers was elected governor, for example, his campaign manager (now his chief of staff) was joined by a top Scott Walker strategist on our Wedge Issues podcast moderated by noted political reporter Jessie Opoien.
There will be members-only events involving Cap Times staff, and half-price tickets to Idea Fest will be included.
Other benefits will include a restaurant discount card, and, at the highest levels, an autographed copy of the recent book by our own Dave Zweifel and John Nichols: "The Capital Times: A Proudly Radical Newspaper's Century Long Fight for Justice and for Peace."
Members can also choose a digital-user experience we are calling "ad-lite," meaning they will encounter far fewer online advertisements, particularly non-local ones.
Benefits aside, we hope many of you will be drawn to membership by the satisfaction of supporting high-quality local journalists.
There is something else you can do right now to support what we do.
We are currently fielding a survey for Cap Times devotees that has a prize drawing associated with it. It is done by a company called Pulse Research. If you are inclined to help us, please consider completing it. It is anonymous, meaning it won't be used to target future advertising to you personally.
To be candid, it will give us more information about our most important readers, which will in turn help us better connect our advertising efforts to consumer preferences and tastes. It does take some time to complete — upwards of 30 minutes based on your answers. That said, in this era when we are striving for ways to pay for the kind of quality journalism that I suspect you want, this seems a benign but consequential way to help us.
This week, our board of directors hosted its annual Cap Times shareholders meetings, which helped lead me to write this column.
Given that you're reading this, I consider you to be an important kind of Cap Times shareholder too. I hope you feel the same way.
Share your opinion on this topic by sending a letter to the editor to tctvoice@madison.com. Include your full name, hometown and phone number. Your name and town will be published. The phone number is for verification purposes only. Please keep your letter to 250 words or less.