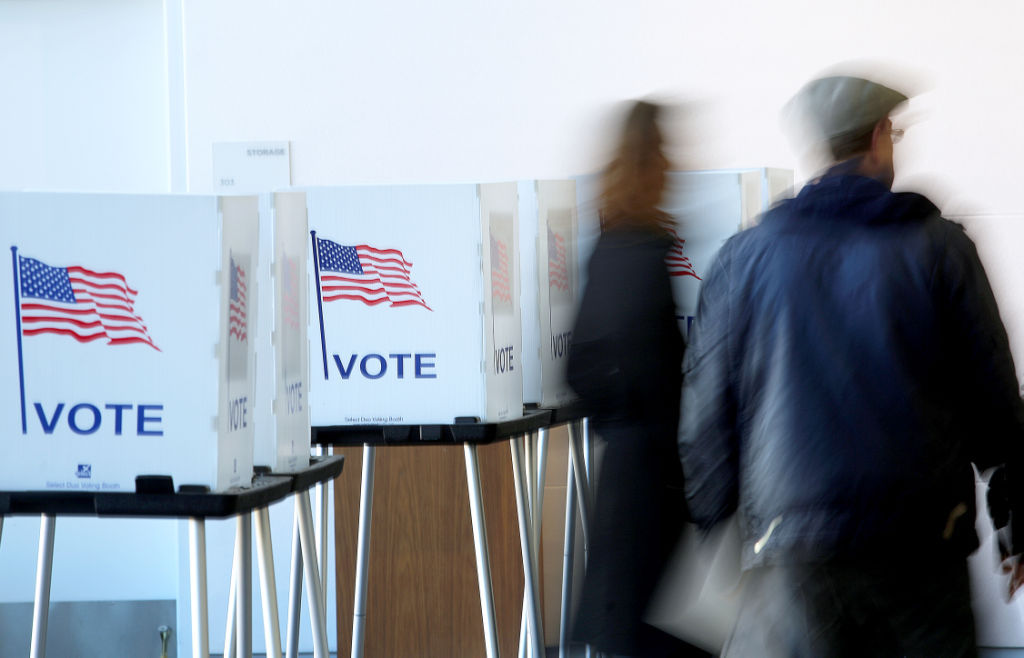 Anson Kaye is a credentialed Democratic operative. He had a senior role in Hillary Clinton's paid media operation and in the past worked in Wisconsin for familiar names — Jim Doyle, Shirley Abrahamson and Mary Burke.
Yet his recent column for U.S. News & World Report began with a comparatively nonpartisan suggestion: that voters, current and future, need to better grasp the limitations of their government.
Voters, he wrote, are the only participants in November's outcomes who have mostly escaped the spotlight. "This is about something bigger" than campaign tactics, he wrote. It is about "how poorly we prepare people to participate in the political process, and how those chickens are coming home to roost in a bigly way."
Kaye, a partner at GMMB, a Washington, D.C.-based advertising firm, explained: "People are angry and insecure, and they've come to measure the success or failure of government by whether its actions make them feel better. But here's the problem: no matter the good work government's engaged in, it's not set up to reach into your life and make you feel better about the things that keep you up at night. That's just not what our system was built to do.
"If you're in an industry that's in decline by virtue of automation or global forces, there probably isn't much government is going to be able to do to save it. It shouldn't promise to save it, and we shouldn't expect it to."
Kaye suggested educating future voters, for example, by having students follow a specific regulation or proposal to understand the real forces at work. He also said there should be internships not only in legislative bodies, but in public libraries, transit systems, police stations and parks so young people understand how public dollars are spent.
His analysis resonated with me, having watched through the years how so many citizens seem perpetually angry at our politicians. My work connects me with elected officials at every rung, and, as I have often written, most seem earnest and selfless. Their meetings are long, the constituent relations difficult and — unless they go to Washington — the money unattractive.
Kaye argues that voters inadequately grasp the limits of what government can do, even by capable, well-intentioned elected officials.
The elephant in the room — an appropriate metaphor here — is that the Republican Party has long fostered the myth that regardless of what ails you, government is the disease.
After his column appeared, I chatted with Kaye by telephone to ask about that. How do you better educate voters about government when the GOP succeeded in marketing this fiction?
Why, I ask, are the voters who struggle mightily in non-urban Wisconsin so prone to blame Democrats — Clinton included — while supporting Scott Walker, even as the state economy has slipped further under him and fellow Republicans in the Legislature?
"It's a complicated question," Kaye said. "I think the Republicans and conservatives have done a better job connecting culturally with many of the folks we're talking about, and so that's a factor.
"But I think there's a real kind of accepted wisdom that government is terrible, and it's such an easy way to say that those things you're feeling pain about in your life are because government has failed you in some way.
"And I think people have been sort of pre-conditioned to believe that. … If you're Scott Walker and you're able to connect kind of culturally with voters who are struggling, and you're also able to suggest, 'Boy, a lot of the problems you're having could be handled if government didn't spend so much of your money,' I guess that has proven to be fairly successful."
To me, the grand GOP plan — here and nationally — has always been remarkably transparent. Foremost, top Republicans want to help "job creators" preserve their wealth and make even more money unfettered by pesky regulations, wage laws or labor unions. That's not a great blue-collar message, so the obvious marketing alternative is their perpetual war on government.
In Wisconsin, what that has wrought is crumbling roads, degraded natural resources and diminished education from kindergarten to college. Nor is there a strategy for transforming the Wisconsin economy built on manufacturing and agriculture. Instead, we just have the fomenting of resentment toward Dane County for the sin of being economically vibrant and the seat of government.
In Washington, we see obscenely wealthy white guys put in charge, a sense that we are normalizing racism, sexism and coarseness, and a frightening feeling of disarray that worsens by the day.
In the end, Kaye's thoughtful notion of better teaching might seem Pollyanna-ish. After all, one can easily imagine far-right Republicans in the Wisconsin Assembly wailing that such instruction is tantamount to socialism.
Kaye's notions may be unsatisfying for many, as when he describes what voting for a Democrat actually means, and what it does not: "It does not mean that if your factory closes tomorrow you will be able to walk across the street the next day and get a job building a wind turbine. But it does mean that we are more likely to shape an economic system in our country where people who may not have the same resources as those at the top are accounted for.
"Voting for a Democrat won't mean that rich people magically pay more taxes and you get to pay less. But it will mean there are people fighting to shape a more equitable economic system, and to make sure that values other than simply enriching the rich are represented in our free markets.
"Voting for a Democrat won't mean racism goes away. But it will mean there are people who believe racism exists and that the ramifications of such should be addressed in our public policies. And voting for a Democrat means that once in a great while, when all the stars align and we work together, we can make big progress on something we care about."
Sounds terrifically appealing, but so contrary to 2017's culture of unhinged political anger.
You know, the one that's making America great again.
Share your opinion on this topic by sending a letter to the editor to tctvoice@madison.com. Include your full name, hometown and phone number. Your name and town will be published. The phone number is for verification purposes only. Please keep your letter to 250 words or less.
Catch the latest in Opinion
Get opinion pieces, letters and editorials sent directly to your inbox weekly!