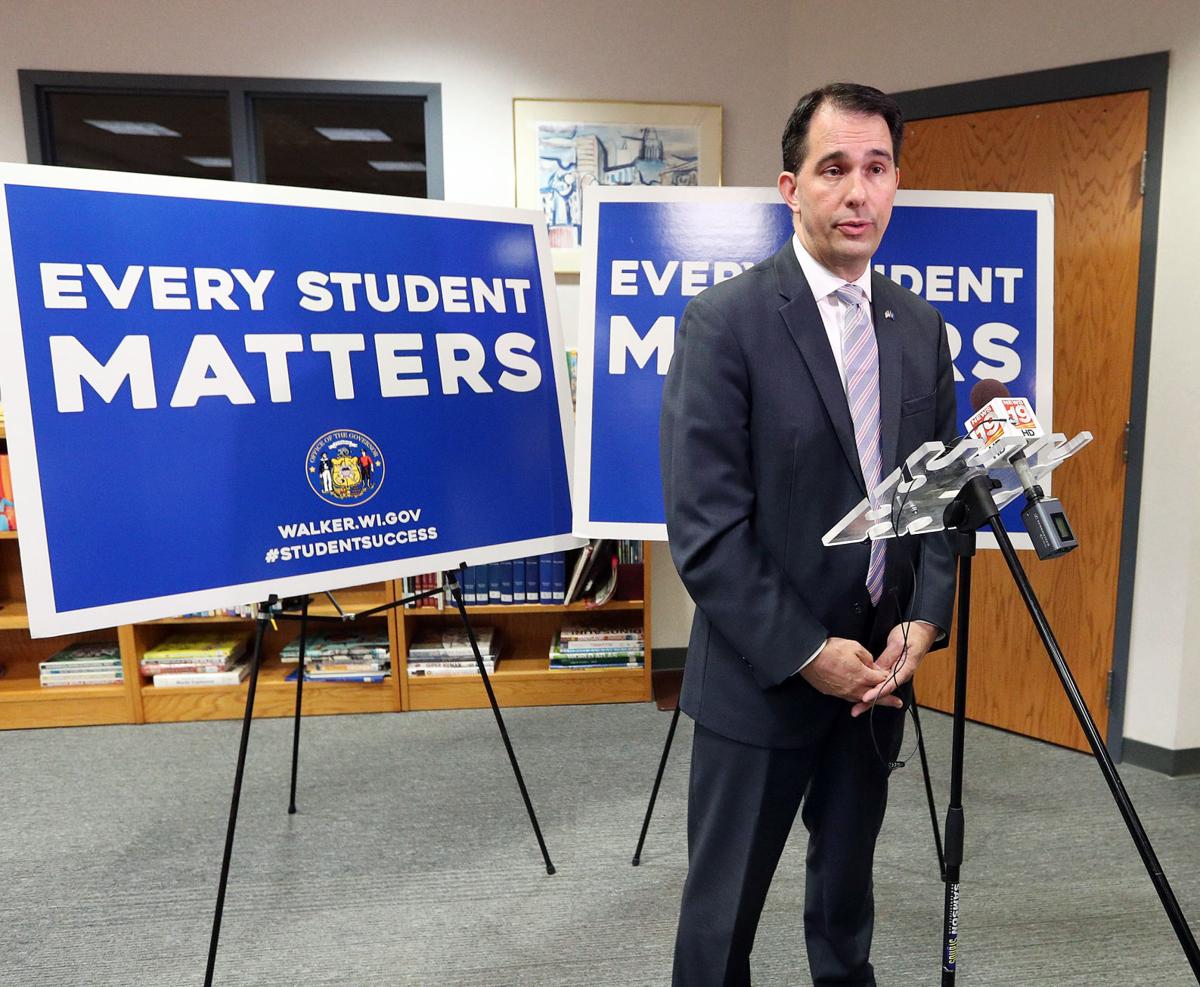 Since Scott Walker was elected governor six and a half years ago, he has sought to divide Wisconsin like no predecessor by pursuing a scorched-earth conservative ideology designed to position him to run for president.
Yet he washed out early in the Republican primaries because he is utterly uninspiring as a national candidate — scripted, stiff and charisma-free. For all his boasting about being unintimidated, he has spent this decade ducking all but fawning admirers and has failed to develop on-his-feet political skills.
Now his handlers have him facing back toward the Wisconsin electorate and, preposterously, masquerading as a moderate by adding money to support public K-12 education and even, for once, not hammering the University of Wisconsin System. It's as if the bully takes your dollar, returns a dime and expects you to thank him. And education leaders dare not call out the charade for fear of GOP reprisals.
But often lost against that backdrop is the narrative that Democrats should make the centerpiece of any 2018 campaign against Walker — that he has been an inattentive and often incompetent manager for everyone in Wisconsin.
Walker has mismanaged state agencies and programs, dismantled much of what was good and distinctive about Wisconsin, and infused state government with unprecedented cronyism and pay-for-play to serve political donors.
For all his rhetoric about acting on behalf of "hard-working" Wisconsin taxpayers, Walker has — quite simply — failed to mind the store. Put aside partisan politics for a second. Wouldn't it be nice to have a competent manager for all of us who are "hard-working" taxpayers?
What follows are 20 examples of Walker's mismanagement, not ranked in any particular order. Some have partisan underpinnings, but many just reflect neglect and a lack of interest. Several sources who are extremely knowledgeable about state government helped me compile this list. The items are not new, but when aggregated, they paint quite a picture of consistent inattention by an ideological extremist.
1. Walker promised a "laser-like focus" on jobs and promised 250,000 new ones in his first term but they haven't materialized. His jobs record — crushing public-sector unions with Act 10, "right-to-work," watering down prevailing wage requirements, and gutting attempts by local governments to require that employers provide living wages or certain benefits to employees — has worsened working conditions or depressed wages for working people. 
2. Walker has mismanaged the Wisconsin Economic Development Corporation, which he created, and has been roundly criticized in at least two state audits for, among other things, failing to properly track how many jobs are created with state assistance and for having a high percentage of delinquent loans. Much of the money flowed to corporations that provided Walker with campaign contributions. 
3. Under Walker, conditions for women have worsened. He and GOP allies eliminated all state funding for women's health centers and for family planning services, despite birth control's role in helping women avoid poverty and dependency on state welfare programs. The Walker administration made it harder for women to sue to enforce equal pay provisions. And it was slow to act to end an unconscionable state Department of Justice backlog in the testing of 6,000 sexual assault kits.
4. Walker has seemed to not know or care about deplorable conditions at the Lincoln Hills School for Boys. Red flags have been going up literally for years about the treatment of inmates there, but little seems to change. A federal judge recently issued a sweeping and highly critical decision, ordering changes. 
5. Walker has deferred to industry "experts" regarding safe levels of chemicals in our water, air and food, eliminating most science positions in the Department of Natural Resources and letting regulated entities hire consultants to write their own pollution permits. His industry-first approach is also apparent in removing references to climate change from the DNR's website and trying (and failing) to stop publication of a self-supporting and popular natural resources magazine, apparently because it might cast his policies in a bad light.
6. Walker has allowed chronic wasting disease in Wisconsin's deer herd to spread by ignoring the problem and apparently hoping it would go away.
7. The governor has pulled money out of the state parks account and forced parks to raise fees and sell naming rights to operate. Never mind that parks face a big funding shortfall, or that higher admission fees will prevent some people from visiting.
8. He signed legislation directing the DNR to provide a $500,000 grant during 2013-15 to the United Sportsmen of Wisconsin Foundation. The grant application was later determined to have errors, didn't meet certain grant criteria, and the group itself (which has raised money for Republican politicians) had little experience in hunter training, one of the purposes of the grant. The grant was later rescinded after it was reported that United Sportsmen had misstated its tax-exempt status and its president had been cited for shooting a bear in 2005 without the proper license. 
9. Walker approved legislation sought by business and large-scale agriculture directing DNR to no longer take into account the cumulative effects of high-capacity wells on streams, rivers and lakes when reviewing applications for changes to existing wells. This meant that basic information that could significantly impact whether a well permit is granted is excluded from the decision-making process, delighting Walker's big-money backers. Those also include the owners of factory farms, pollution from which has tainted many smaller wells, particularly in northeastern Wisconsin.
10. Walker reduced state public school support by a record $830 million in 2013-15, while ramping up to almost $250 million a year the amount of state tax money given to for-profit and religious choice schools. These actions were encouraged by campaign contributions to Walker from donors such as Betsy DeVos, the new and highly controversial head of the U.S. Department of Education under President Trump.
11. Walker has harmed the reputation of and therefore the economic benefits generated by the University of Wisconsin-Madison — a major state asset and world-renowned research institution. Walker has attacked it by reducing state funds, trying to curb cutting-edge stem cell research, freezing tuition, alienating faculty by gutting tenure and making an ill-fated attempt to scuttle the Wisconsin Idea and its mission to search for truth.
12. Walker continued to allow revenue generated by the state Veterans Home at King to be transferred for use in other veterans programs — rather than addressing a veterans fund that is out of balance — ignoring complaints about the care at the home and deterioration in the infrastructure there, as noted in a critical state audit following an investigation by the Cap Times.
13. Walker has let our roads and transportation system deteriorate, ignoring his own Transportation Finance and Policy Commission, just to meet a simplistic pledge to not increase taxes, instead increasing state highway debt to unsustainable levels. And during his tenure, an audit found that the Department of Transportation significantly underestimated road construction costs. 
14. Walker turned down $810 million in federal stimulus money to build a high-speed rail line between Milwaukee and Madison. Not only did the state's residents lose out on the benefits that the train would have brought for business and travel, but the state had to pay almost $50 million for rail cars that were to be built and used in the state under a contract Walker broke with the Spanish company Talgo. 
15. The train example is sadly not the only instance in which Walker has failed to capture available federal dollars, despite the fact that the state has, for years, received less money from the government than it sends in taxes. Another egregious example is his decision to reject federal money — hundreds of millions of dollars worth — to pay for the expansion of Medicaid under the Affordable Care Act. In fact, the state is unique nationwide in having used the ACA to expand Medicaid coverage while also rejecting the additional federal money made available to pay for the expansion. 
16. Walker redirected more than 80 percent of the $31.6 million awarded to Wisconsin by the U.S. government in a settlement reached with major lending banks for illegal practices they used in foreclosing on homeowners during the home mortgage financial crisis. The settlement penalized lenders and returned money to each state to help consumers harmed by the unfair practices. Walker and a former GOP attorney general agreed to use most of the money to help the state's general fund instead of helping homeowners in foreclosure. 
18. Walker has worked to dismantle Wisconsin's pioneering and respected civil service system, replacing it with one enabling significantly more patronage jobs, basing hiring not on proficiency exams but on resume screening.
19. Walker's inaction has enabled the federal Department of Justice to freeze more than $1.5 million in unspent federal grants otherwise available to Wisconsin between 2011 and 2015 because Wisconsin lacked an adequate system for monitoring juvenile detention facilities, such as local jails. A 2015 federal audit concluded the state had insufficient oversight of juvenile facilities and failed to comply with federal rules for inspection and monitoring. 
20. Finally, Walker has a long record of crony appointments to high-level state positions. (Perhaps that is not surprising given that six of his appointees while he was Milwaukee County Executive were indicted for campaigning on work time and setting up a secret email system in Walker's office to mask their activities). Nepotism and political connections have been hallmarks of Walker-era hiring in Milwaukee and Madison. 
In sum, Walker has been so single-minded about the purity of his political brand that he has been unwilling, incapable, or both, of actually managing Wisconsin's government in the best financial interests of even those in his political base.
In most jobs, such encyclopedic incompetence would result in dismissal. For Walker, we'll see.
Share your opinion on this topic by sending a letter to the editor to tctvoice@madison.com. Include your full name, hometown and phone number. Your name and town will be published. The phone number is for verification purposes only. Please keep your letter to 250 words or less.