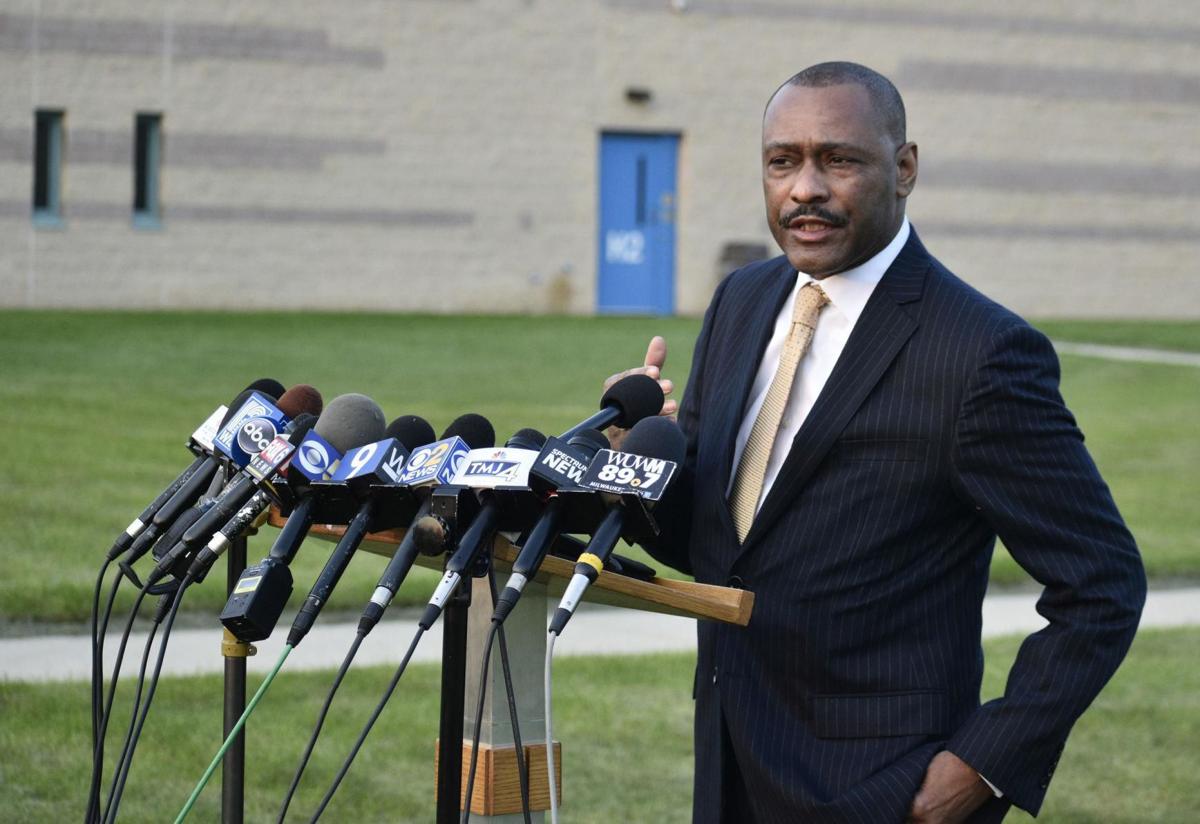 Noble Wray realized the optics would startle many — a Black former police chief recommending that a white Kenosha police officer not face charges for shooting a fleeing Black suspect.
The Jan. 5 announcement by the Kenosha County district attorney that he would not charge Rusten Sheskey, the policeman who shot Jacob Blake, was a major national story, at least until the next day, when backers of Donald Trump attacked and occupied the U.S. Capitol.
Wray, a 30-year veteran of the Madison Police Department and its chief for 10 years, had investigated the Blake shooting for the district attorney. In a wide-ranging conversation with me this week, he reflected on his Kenosha report, on his reaction to the riot in Washington, D.C., and how he sees race as central to both.
Wray has been a prominent national policing consultant since he retired as the city's top cop in 2014. He is still deeply involved on subjects related to race in Madison.
In announcing he would not recommend charges against Sheskey, Wray spoke emotionally at the Kenosha press conference: "The criminal justice system is a difficult system. It is hard. It is harsh. It is difficult. It has the history of racism on top of racism, and we are trying to work through this, but we cannot work through this by just trying to find a decision that is comfortable with people.
"We've got to find the right decision. It's got to be grounded in truth. It's got to be grounded in facts. That's the obligation that I was given when they told me to look at this. … It has been a stressful endeavor to be involved in policing for 37 years and to be an African American male, and I feel it in the worst way. That's why this is so difficult, but I was not going to step back from it."
Wray told me the key for him was evaluating Sheskey's state of mind. He said Sheskey would have been justified in shooting earlier given that Blake had a knife and was trying to flee in a vehicle with a child, and that the officer fired as a last resort. "That was compelling to me," Wray said.
"And he immediately goes in and tries to save Blake. He provides medical attention," and that doesn't always happen in shootings by police, Wray said, citing his experience in Ferguson, Missouri, and similar incidents. "There was a humanity in this person, in this officer, in the way he was thinking and the way he acted."
In the days since, Wray said he had not been directly criticized by fellow Blacks, but "I know that's out there. I think people who call me or send me things know that I would not do this unless I absolutely believe it to be true."
Still, his anguish is evident. "My hope is that, somehow, this incident would shed light on the longstanding inequities in the criminal justice system. My wife and I talked about this over and over again while I was doing the report, and all I kept coming to was this: he had a knife, he picked the knife back up and he was putting people in danger. I was hoping that I could find something in this that could move the ball forward, something that could shed some light.
"That's why I agreed to do (the investigation), because originally, like everyone else … every one of my friends that worked in law enforcement thought the same thing, 'Why didn't they just grab him?' "
Blake's lawyers have maintained throughout that he did not pose a threat to the officers. In an interview on "Good Morning America" this week, Blake himself said in the disorienting encounter, he made a mistake in picking the knife back up after dropping it, but maintained that his intent was to drop it inside his car and then allow himself to be arrested.
Wray said it was the decision to pick up the knife again that swayed him. "The more I got into it, the more I saw, I was astonished when I saw the enhanced video, and they showed him walking with that knife. I was blown away, and then, when I listened to the audiotape and listened to Blake say that he had the knife, he dropped it, and then he picked it back up, it was just hard for me to reconcile that."
The Capitol Hill riot the next day also struck a chord with Wray.
"I watched the whole thing, from beginning to end, and that was a horrible (law enforcement) response, just a terrible response," he said, citing his experience in planning for Madison protests over the years.
He said the law enforcement plan was woefully inadequate in terms of "visible strength" to discourage trouble and also fell short on "available" strength to respond to violence.
"The number of officers that they had that day was so under what was expected," he said. "There's no way you can watch that and not think it was somehow intentional."
He added that officers seemed deferential to protesters in a way they would not have been with a Black crowd. "The mindset was that these are good people, you don't want to create a problem. … There's absolutely no way, in my view, that you cannot think this was somehow connected to race. It is so obvious. People who don't generally go there or jump to that conclusion have commented that this would not have happened this way but for race."
Wray said Donald Trump's attacks on voting integrity that motivated the rioters focused on large cities with large concentrations of African Americans. "This is a story that is missed a lot of times — I could vote in Stevens Point, and my vote was not fraudulent, but when I voted in Milwaukee, it was fraudulent," said Wray, a Milwaukee native.
He is now turning his attention to working with Madison leaders on race and social justice issues. He said he thinks the Black Lives Matter movement was a start, but "needs to be tempered by lessons from the past."
He pointed to those who advocate "defunding" police. "When I talk with relatives in Milwaukee, they are saying, 'What the heck are you talking about, defunding the police department? You know it's a war zone here.' "
"Let's stop demanding things that are just on the surface, that don't move the ball," Wray said. "So, they took Aunt Jemima off the pancake box, they took down a couple statues, and nothing of substance has happened."
"We need to get to the point where there is an ongoing negotiation."
Wray said he worked with Joe Biden when he was vice president and Wray was part of a U.S. Justice Department project on policing methods.
Wray added, "I believe he is the type of person, just based on his personality, the way he does things, that I think something of substance can happen, I really do."
The same, I'd submit, can be said of Noble Wray.
Share your opinion on this topic by sending a letter to the editor to tctvoice@madison.com. Include your full name, hometown and phone number. Your name and town will be published. The phone number is for verification purposes only. Please keep your letter to 250 words or less.