Paul Fanlund: This year, honoring MLK along with women as pioneers, innovators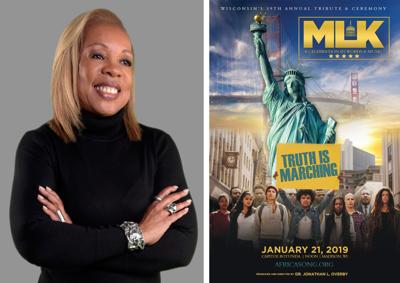 "Alexa, play NPR news," is how I start my mornings.
But during the recent holidays, I found myself interrupting National Public Radio at mid-newscast to redirect to classical music. Donald Trump news items were overwhelming what is supposed to be a season for reflection and celebration.
The incessant reports of Trump's lies and tantrums about his proposed border wall and partial federal government shutdown proved too much. Compounding it was Trump's vitriol directed at critics, one day a four-star general, and the next a former Republican presidential candidate.
So, I reasoned, why not make my first column of 2019 about something different, something uplifting. I start in the state Capitol Building Rotunda, looking ahead to the 39th annual celebration of Martin Luther King Jr. at noon on Jan. 21.
This lively yet majestic celebration of King's legacy, with its rousing music and moving speeches, has become a mainstay on the mid-winter Capitol calendar, now more than 50 years since his assassination at age 39. The title this year is "Truth is Marching." The program focuses on women as pioneers, change makers and innovators, said Dr. Jonathan Overby, the long-time producer and emcee of the event, which is broadcast on public radio and television.
(I should note that the Evjue Foundation, the charitable arm of The Capital Times, has financially supported the MLK event for 20 years, and is again this year.)
Wisconsin's celebration is the oldest official King commemoration in the nation. It has featured guests such as former U.S. Rep. Shirley Chisholm; Ambassador Attallah Shabazz, the eldest daughter of Malcolm X; Mamie Till-Mobley, the mother of Emmitt Till; the Rev. C.T. Vivian, a civil rights activist and King associate; Ruby Dee and Cicily Tyson, both actresses and activists; actor and pastor Clifton Davis; actor and activist Paul Winfield; Habitat for Humanity founder Millard Fuller, and journalists Roland Martin and Van Jones.
This year's featured speaker is Rita Coburn, an award-winning multi-media writer, director and producer from Chicago whose documentary work has garnered three Emmys. Coburn, who owns a multimedia production company, has appeared on C-SPAN and The History Channel. She co-directed and co-produced "Maya Angelou: And Still I Rise," a documentary about the late poet and civil rights activist that won a 2017 Peabody Award.
In a telephone interview, she told me she is excited to focus on honoring women as she plans her Madison remarks and wants to put the role of women in the historical context of civil rights.
"You get to become a documentarian not because that's what you are, but before that happened, you had an interest in history and the history of your people, and I've always had that. My mother is 96, and my grandfather, her father, was born into slavery.
"When I heard the stories, what I understood was how hard it is to be a black person in America, then and now," she said. "I mean, even now, it is still a sense of almost post-traumatic stress syndrome for people."
She added: "I think we need to be really aware of what we're doing when we look at racism and when we look at privilege in this country. I have always studied women. For public radio, I used to almost exclusively interview women writers, from Alice Walker, to Toni Morrison, to Shauna Singh Baldwin, to Amy Tan. I was interested in women in general and black women in particular, and so this opportunity brings that all together for me."
To prepare, she said she's rereading King's "Stride Toward Freedom: The Montgomery Story," King's accounts of the Alabama bus boycotts of 1955 and 1956. She noted King wrote the book the same year she was born – 1958.
"The reason I'm re-reading that is because it talks about the first time the marching was done, the first march, which was really the boycott. I'm looking at the women who were a part of that.
"I've been weaving the stories, and of course, I'm a writer. I have to contextualize this history as it relates to him (King), as it relates to women, and I do homework. I've looked back and seen several of your (recorded Wisconsin MLK Day) celebrations, and the one thing that I love so much is the diversity across race, across religion, and also the intergenerational (involvement) because that's what we're going to have to do to make this a better place."
She added: "Everybody should be included in a conversation that talks about how we really get forward, how my child is as important to me as your child is important to you, and if we don't really believe that, it shows in our politics, and if we really believe that, it should also show in our politics. To be silent is to be complicit, and we can't afford to do that."
Overby, who organizes the event every year with his wife, Amy Overby, and other volunteers, wants this year's event to emphasize women without being patronizing.
"Had it not been for women, the movement would not have achieved the kind of success, from Rosa Parks to Mahalia Jackson, to some of the authors and writers," Overby said.
He said the program "is a response to how women have been treated, how they've been spoken to and about, and the timing just seems like it has just come together to recognize that we need to change the pathway that we're on. And that women indeed have been the pioneers, they're the innovators of today's world."
At last year's event, I chatted on the dais with Tony Evers, then the comparatively obscure state school superintendent who was among the many Democrats hoping to face Republican Gov. Scott Walker. He suggested we should meet to get better acquainted, and we later did, in what felt like a storage room in his modest Capitol Square campaign office.
Evers will return this year, two weeks removed from his inauguration as governor, and he too will speak.
Like I said, it's a new year, and a chance to pivot to the happy and hopeful.
Share your opinion on this topic by sending a letter to the editor to tctvoice@madison.com. Include your full name, hometown and phone number. Your name and town will be published. The phone number is for verification purposes only. Please keep your letter to 250 words or less.