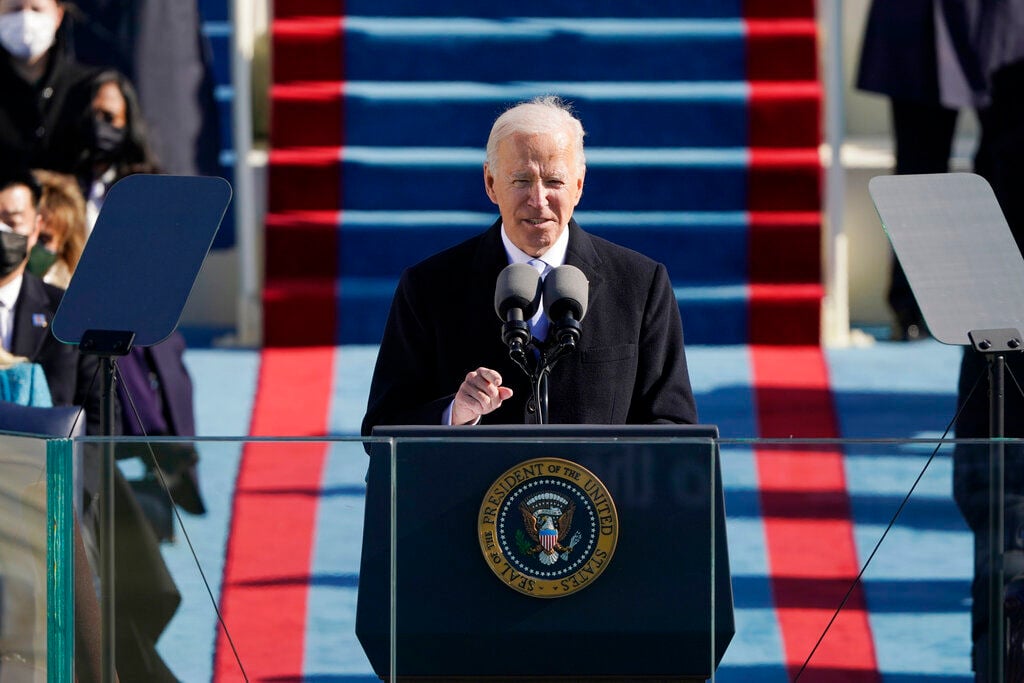 In his inaugural speech, President Joe Biden eloquently condemned racism and nativism and called for an end to America's "uncivil war." It was beautiful music to his supporters in a week that, for them, has been euphoric, exhausting, and somewhat bewildering.
We ask ourselves: How can more than 74 million Americans have chosen Trump, a tireless promoter of racial division, over Biden and his appeal to our better angels?
Sky-high hopes for Biden and Vice President Kamala Harris aside, one can imagine what many people of color must think about those Trump voters and what they reveal about America's collective capacity for racial harmony in 2021.
Two weeks before, they had witnessed the U.S. Capitol being stormed by an almost exclusively white mob and a protester toting a Confederate flag just outside the Senate floor. Historians said the flag, an enduring symbol of racial hatred, had never before appeared in the building.
At the inaugural, Amanda Gorman, a charismatic 22-year-old recited a poem she wrote, describing herself in it as "a skinny Black girl descended from slaves and raised by a single mother."
She alluded to the riot in the poem:
"We've seen a force that would shatter our nation, rather than share it.
Would destroy our country if it meant delaying democracy.
And this effort very nearly succeeded.
But while democracy can be periodically delayed, it can never be permanently defeated."
As the Biden presidency dawns, it appears evident that racial animus is the biggest barrier to better uniting blue and red America.
Looking back, it feels as if we have been trying to truly understand Trump voters since the start. Remember four years ago, in the aftermath of his shocking triumph? The media universe — at least the fact-based segment of it — sought to make amends for underestimating Trump's support in America's grievance-filled hinterlands.
Could the actual reason for the underreporting have been that simmering racial resentment is not easy to uncover?
What we got then were stories that began with anecdotes about white guys in small-town cafés having coffee with their buddies, griping about politics and hoping Trump would blow things up. Race was seldom front and center.
This election cycle, many Trump backers scream that their guy was cheated. Stunningly, a recent NBC News poll found that 74 percent of Republicans believe Biden did not win legitimately.
How, one asks, could presumably reasonable, patriotic people refuse to acknowledge that sometimes you win, sometimes you lose, and in the end we are all Americans?
Deep-seated racial animus among many Trump backers seems as likely an explanation as any.
This discussion about voter psychology is a variant on the question centrists and liberals have asked themselves for many years, and it is this: Why are rural, middle-income voters drawn to Republican politicians like Trump and former Wisconsin Gov. Scott Walker?
They present themselves as cultural allies, but their policies benefit the wealthy at the expense of the middle class. For decades, GOP leaders have peddled the notion that benefits for the rich will trickle down and help everyone. It's been great for the rich, but not so much for everyone else.
Rural voters could back candidates who support better schools, more job training, dependable health care, safer roads and bridges, cleaner water and better workplace protections. But government, Republicans always warn, will misspend money average people have made through "hard work" and "common sense."
The most troubling interpretation of this behavior is that many average white Americans have helped destroy the middle class because of their racism.
It is preferable, many Trump voters seem to think, to cling to the notion that their whiteness makes them superior and part of the "real" America. Better that than supporting leaders and policies that would lift all boats, including those of non-whites.
Umair Haque, a London-based writer, regular contributor to the Harvard Business Review and frequent critic of America, described what he called an ugly American truth in a recent essay published in Medium.
"Americans destroyed their own prosperity, upward mobility, futures, because white ones denied everyone else in America as a whole the chance to have a modern social contract, just because they did not want any other group to be equal to them," wrote Haque.
Only in recent decades has the United States had any serious racial reckoning, he wrote, and Trump set us back by scapegoating non-white groups.
"The average American, whose life had fallen apart, simply ate it up, especially the white one," he wrote. "Who was responsible for the fact that 80 percent of Americans lived paycheck to paycheck, couldn't raise a tiny amount for an emergency, lived and died in unpayable debt? Why it was those minorities."
Right to the end, Trump stoked these racial fires.
Earlier this week, his administration issued a report from its "1776 Commission" that was written by conservative activists, politicians and intellectuals. Devoid of actual historians, who sharply criticized it, the report recommended that a more "patriotic" U.S. history be taught, one not tainted by an honest look at slavery.
Biden's reaction was clear. One of 17 executive orders he issued on Inauguration Day eliminated the commission.
But we are told we need to be careful in calling out racism. "The best argument for Donald Trump is that he led and gave voice to millions of Americans who had been voiceless for decades," wrote Gerard Baker, former Wall Street Journal editor-in-chief, in an op-ed this week.
He complained that Trump's supporters are "the men and women whom the media, entertainment and corporate human resources types never meet in their local Whole Foods but deride as bigots and brutish Neanderthals."
I don't shop at Whole Foods, but I think "brutish bigots" is pretty apt for the Jan. 6 protesters.
Why are so many Trump voters said to loathe urban knowledge workers but seem acquiescent before the wealthiest Republicans who seem set on depriving them of any larger share of the economic pie?
Perhaps for many, it is racial animus — they would rather lose than see "those people" also win.
One can hope that Biden can achieve his inaugural pledge: "The dream of justice for all will be deferred no longer."
Share your opinion on this topic by sending a letter to the editor to tctvoice@madison.com. Include your full name, hometown and phone number. Your name and town will be published. The phone number is for verification purposes only. Please keep your letter to 250 words or less.