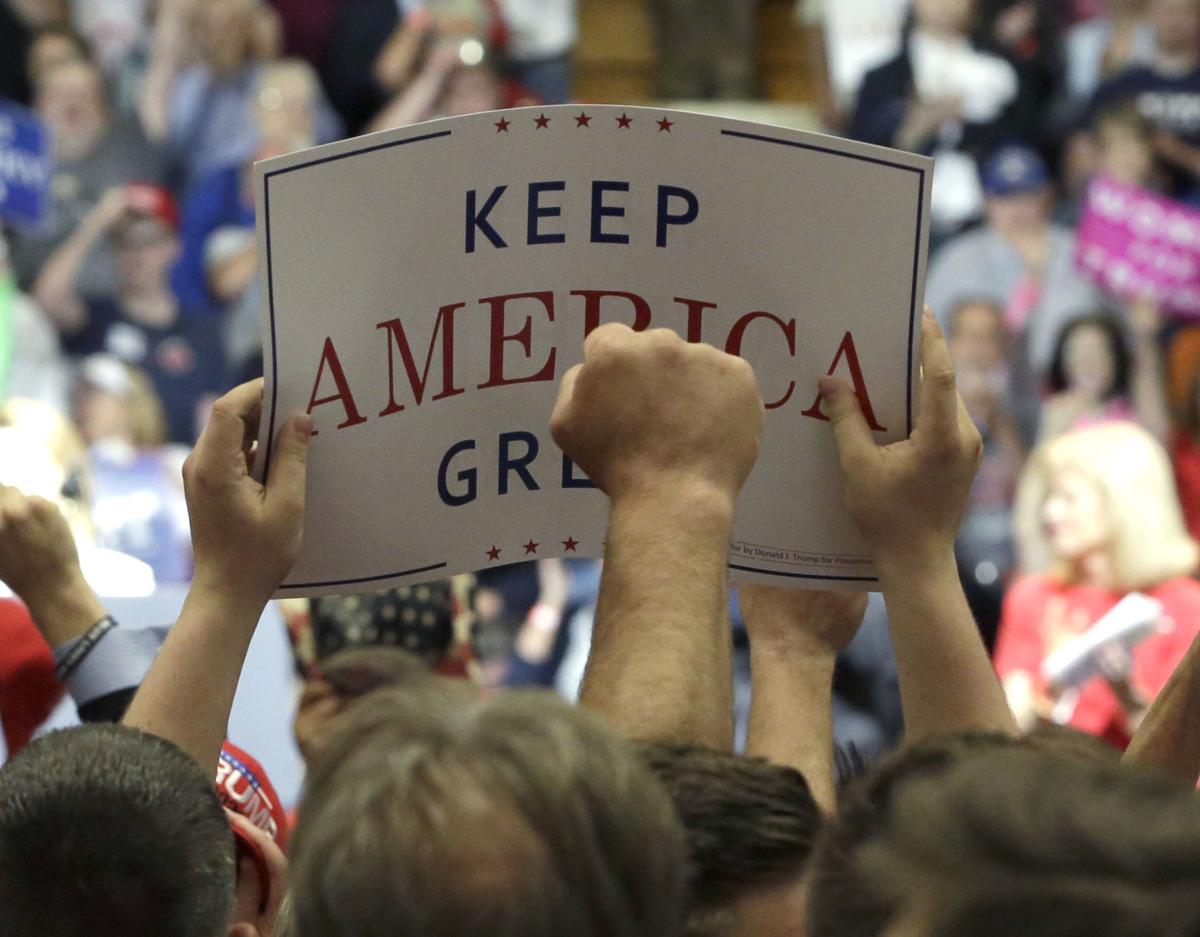 As we fume about the nightmare presidency of Donald Trump from inside Madison's liberal bubble, it's worth noting that the president's most pivotal supporters are only about 100 miles to the southwest, not some far-away conservative bastion in Texas or Montana.
And that same nearby region may well determine the duration of the Trump era.
Some background: About 100 counties that had voted Democratic in at least five straight presidential elections flipped to Trump in 2016. Almost half of them are in four states in the Upper Midwest: Wisconsin, Illinois, Iowa and Minnesota. Many of those four dozen counties line the Mississippi River.
In fact, the river town of Dubuque, Iowa — 92 miles from Madison — appears to sit near the geographic center of this cluster of Midwestern counties, as mapped in an exhaustive new report by the Washington Post.
The reasons why so many working-class white voters in that region became Trump voters in 2016 and how they feel now is the subject of a recent 15,000-word opus by Dan Balz, the Post's chief correspondent covering national politics.
His central finding is reflected in its headlines: "Loyalty, unease in Trump's Midwest. Voters gave Trump a chance. Some remain all in. Others have grown weary of the chaos."
What struck me about Balz's in-depth reporting is the absence of shrill and vitriolic voices, the kind with which we have been inundated. You know the type — the proudly antagonistic "lock-her-up" or "build-the-wall" crowd at Trump rallies wearing "Trump the bitch" T-shirts and so forth.
Balz describes down-on-their-luck, small-town and rural residents who feel disrespected by educated urbanites, especially coastal elites. But what exceeds that resentment is a quiet desperation as their local economies have receded or collapsed.
Balz writes from places like Gays Mills and Prairie du Chien in Wisconsin, Freeport and Sterling in northwestern Illinois, DeWitt and Elkader in Iowa and Austin in Minnesota, among others. He traveled the region intermittently over the first 15 months of Trump's presidency, often conducting repeat interviews of local party leaders, elected officials and citizens.
His summary: "Among the president's true loyalists, his grip remains strong. Among others who supported him, that hold has weakened," adding that nearly all of those interviewed disapprove of the president's angry use of Twitter.
"But there is a deeper unease that filters through conversations with some of those who voted for him, recognition that to gain something, they must give something — that to see policy changes they favor they must tolerate behavior they sometimes find inexcusable."
In a recent column, I quoted a prominent journalism expert criticizing national media for "parachuting" into the hinterlands with superficial reporting after being blindsided by the 2016 vote. Balz's patient, nuanced and even-handed work contradicts that charge, and feels far removed from the daily vitriol on Fox News or MSNBC.
Balz has covered nine presidential elections and has been with the Post since 1978. He's an old-school reporter in the best possible sense. He did not mention it in his story, but he grew up in Freeport, Illinois, one of the communities he reported from. He did note in his story that Freeport was famous for hosting the second Lincoln-Douglas debate in 1858. He left out that Freeport's teams were nicknamed the "Pretzels" for a pretzel factory founded by German settlers in the 1850s.
I knew that bit of trivia because I grew up in nearby Rockford, in the same athletic conference as Freeport.
I wrote that to Balz in an email, which I sent partly to thank him for agreeing to appear at this fall's Cap Times Idea Fest on Sept. 28 and 29 on the University of Wisconsin-Madison campus.
Balz will be part of a powerhouse panel hosted by David Maraniss, a Washington Post colleague, Madison native, and indispensable friend of the Cap Times. (Elliott Maraniss, his father, was once the editor-in-chief here.)
The third participant will be David Axelrod, the gifted strategist behind Barack Obama's presidential campaigns and one of the most respected, clear-eyed commentators on the national political scene. Axelrod appears frequently on CNN, runs the Institute for Politics at the University of Chicago, and has interviewed some 250 major national figures for his Axe Files podcast.
Balz responded by email that he was looking forward to appearing with "the Davids."
But to go back to his reporting project: Anyone scanning for quotes that offend could find them.
Take the 65-year-old retiree in Austin, Minnesota, who worked at the Hormel Foods meat-packing company for 38 years and who supports Trump: "I was very wary of Barack Obama and he proved me correct on that," he told Balz over coffee one summer afternoon. "I despise Barack Obama. I think primarily because I don't think he thinks very much of people like me. That's just the long and short of it."
Or the tendency to discredit the probe into Russian election interference and to dismiss criticism of Trump's leadership. Democrats, the Hormel worker and others said, are too hard on Trump, not giving him or the office the respect it deserves. (That's rich. I can't help but note, after years of Republicans infamously claiming their primary goal was to prevent Obama from being re-elected.)
But Balz's main theme concerns a desperation that made voters willing to try anything — even Trump. A Democratic congresswoman from northwestern Illinois described this voting segment as "Trump Triers."
Some of them are rethinking their choice, and many of those who have so far stuck by Trump are uneasy, Balz wrote. One Trump devotee said he feels "motion sick" over the constant headlines and chaos.
Said one local GOP official in Illinois: "It's just like the president is never happy unless he can control everybody, and he gets them to do what he wants and says," he said. "And I think people are beginning to be disappointed by those actions."
In his reporting, Balz succeeds at something noble in journalism — listening, synthesizing, presenting, and leaving the histrionics to others.
Wonder how many Trump supporters would call that "fake news" too?
Share your opinion on this topic by sending a letter to the editor to tctvoice@madison.com. Include your full name, hometown and phone number. Your name and town will be published. The phone number is for verification purposes only. Please keep your letter to 250 words or less.