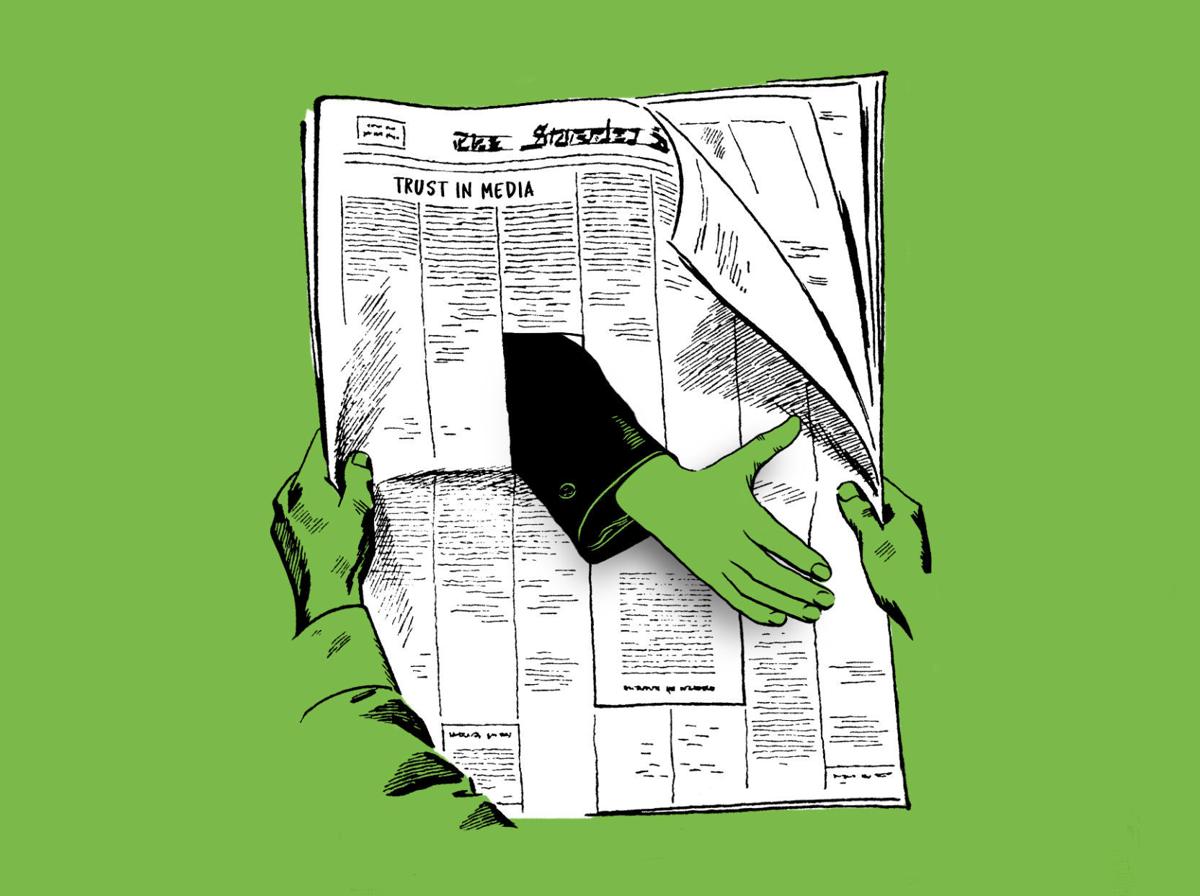 Several years ago, a Democratic operative suggested to me over coffee that the Cap Times — famous for its feisty progressive opinions — should also put a thumb on the scale in its news coverage to favor progressive politicians and causes.
Seldom have I been more sharply dismissive of an idea. That would contradict everything we stand for, I told him.
That conversation came to mind as I read a new national study exploring whether readers trust local media. The bottom line: local institutions like the Cap Times are considerably more trusted than embattled national media outlets, but that support appears somewhat fragile.
The Cap Times was born more than a century ago out of the passions of the Progressive Era. For more than half a century afterward, founder William T. Evjue used his newspaper to fight injustice — racial, social and economic — as well as to combat McCarthyism. He did so with such conviction and fury that even today people might wonder about the separation between our opinion and news operations.
I'll get to that question, but first more on the study by the Knight Foundation/Gallup partnership.
"Americans' weakened trust in the news media arguably reflects their increasingly poor views of national news sources," reads the report's conclusion. "What is often obscured in reports of declining media trust is the fact that the public continues to rate local media positively in general.
"And while Americans' more positive evaluations of local media are to a large degree driven by the low esteem in which they hold national media, they tend to give high ratings to local news' performance and coverage."
But, the conclusion cautions, this more positive regard is not overwhelming: "Relative to other local institutions, including libraries and businesses, confidence in local news is low."
To be seen as more trustworthy, the report recommended local news organizations increase their focus on local stories, many of which are nonpartisan in nature. The report said they might also make a greater commitment to "accountability reporting — reinforcing universally shared values condemning corruption, waste and abuse in local institutions."
The study found that 45 percent of respondents trust reporting by local news organizations "a great deal" or "quite a lot," compared to 31 percent who trust in national news organizations.
Respondents said local news organizations do better than national ones at avoiding bias by a whopping 66 to 31 percent. The study also found that local journalists are seen as possessing more positive attributes than national journalists, such as being more caring, for example.
Not surprisingly, the political affiliation of study respondents was pivotal.
"As our research has shown for national media, a person's political affiliation is a determining factor in how they feel about their local news outlet, with Democrats having more confidence in local (media) than Republicans," wrote John Sands, director for learning and impact at the Knight Foundation.
"In fact, the higher levels of trust in local news overall may reflect more skepticism toward national media than enthusiasm for the home team," Sands wrote.
So, why is trust for local media institutions so important?
"Research has shown that the health of local news affects the health of civic life and our democracy," Sands wrote. "Without coverage, fewer people run for office, and fewer people vote and become involved in their communities. If people don't trust these outlets, local news can't be effective at playing that key role in our communities."
And one more thing: "This new survey shows that, as local news outlets wade into coverage of controversial social and political issues, as is more common on the national level, those levels of trust could also wane."
Well, that might give us pause, given that an explicit mission of Cap Times opinions is to delve into controversial social and political topics.
So let's come right at it.
Yes, the Cap Times has progressive roots. In fact, a book published on our centennial by two of our editors was titled, "The Capital Times — A Proudly Radical Newspaper's Century-Long Fight for Justice and for Peace."
And, in our clearly labeled opinions, we are as feisty and irreverent as we've ever been in advocating for the ordinary person and against big-money interests. Those opinions are reflected in staff editorials as well as by our multiple columnists. We also open our pages to many alternative voices, where we emphasize diversity in all its forms.
No, there is nothing wishy-washy about our opinion voice.
But here's the thing — there is a firm demarcation between opinion voices of the Cap Times and our news reporters and editors.
The two parts act separately. Our reporters maintain strong and arms-length relationships with their news sources, which is as it should be, and their editors act with total independence from opinion influences.
The best reporters take great pride in being regarded as tough but fair and aspire to earn respect — even if it is grudging — among all of those they cover.
It's always mystified me that some readers think our reporters would have some partisan or otherwise nefarious motivation. That would not only be unethical and unprofessional, but it would be contrary to both their career development and the interests of the Cap Times.
Because, as a reporter, if you are not regarded as being fair, what are you left with?
The one area in which our progressive tradition might come into play is our commitment to covering all of Madison's communities, not just the historically wealthy and white power structure. The Cap Times has long been committed to devoting more staff time than most to reporting on all corners of Madison. That was a hallmark of Mr. Evjue's approach.
To sum up, the separation between news and opinion at the Cap Times is a top priority. It is real.
You might even think of it, as someone someplace said, as a big, beautiful wall.
Share your opinion on this topic by sending a letter to the editor to tctvoice@madison.com. Include your full name, hometown and phone number. Your name and town will be published. The phone number is for verification purposes only. Please keep your letter to 250 words or less.
Catch the latest in Opinion
Get opinion pieces, letters and editorials sent directly to your inbox weekly!