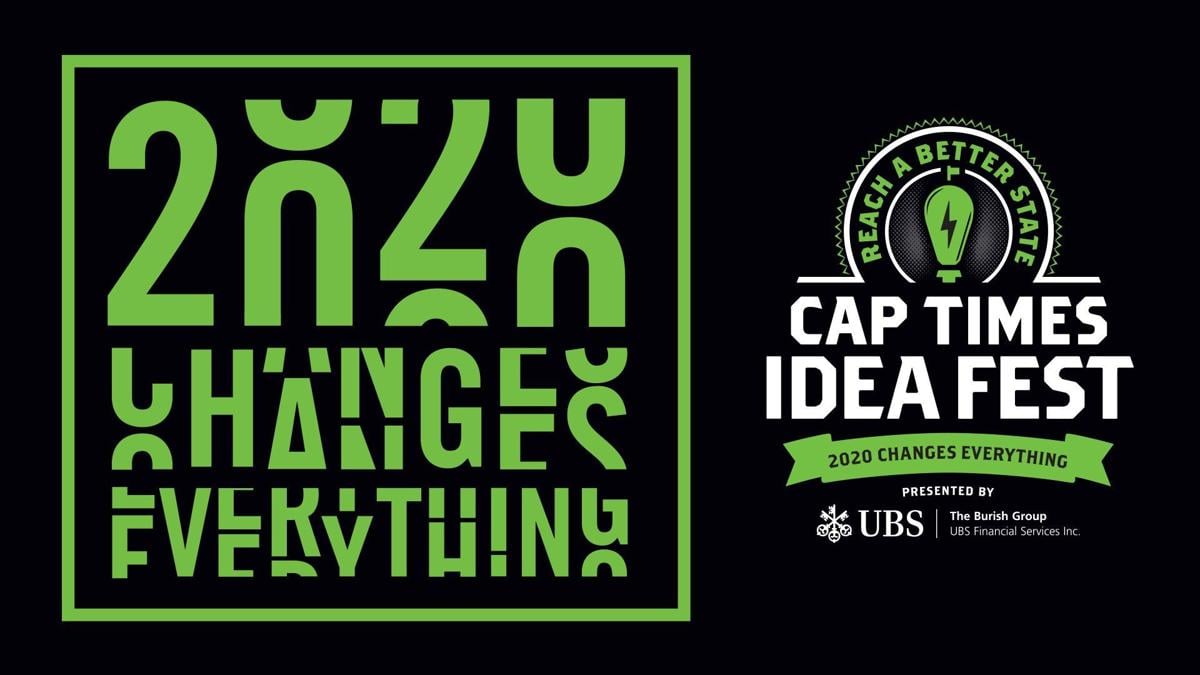 If you're like me, you are weary of watching Erin Burnett or Rachel Maddow lament the latest political atrocity by Donald Trump. The election can't get here soon enough, I imagine many of you are thinking.
Well, starting Saturday, we think we have a great respite for you, a two-week series of programs intensely focused on the future of Madison and Wisconsin.
Our fourth annual Cap Times Idea Fest, which is virtual this year, is bookended by sessions featuring two major national celebrities — former U.S. Attorney General Eric Holder to lead off and legendary journalist Bob Woodward wrapping things up on Oct. 10 in a conversation with longtime Washington Post colleague and fellow Pulitzer Prize-winner David Maraniss.
In its first three years, Idea Fest featured huge national names presented before large, in-person audiences on the University of Wisconsin-Madison campus. I suspect attendees really enjoyed being there in person last year to hear Tom Perez, Judy Faulkner and Julián Castro.
But that in-person vibe, we realized months ago, would be impossible this year. So, we asked ourselves, how can we make Idea Fest even better as a virtual event?
Our answer was to brainstorm the most pressing questions about the future of the city and state after COVID-19, after the attendant economic fallout, and after this emotional period of racial reckoning. We settled on "2020 Changes Everything" as this year's theme.
We then set out to invite the best possible moderators and panelists to talk about the local effects of these massive issues. And we have planned events with first-rate production values.
Starting Saturday and for two weeks, we will offer them on-demand on our event website — captimesideafest.com — and also on our YouTube channel. You can watch on your big-screen television, on your computer, or even on your tablet or phone.
And almost all of the sessions will be free to you and light on interruptions, courtesy of the community-minded support of The Burish Group at UBS, the financial management company that is presenting sponsor for the third consecutive year, as well as our many other sponsors.
My point in this column, then, is not to recite the biggest names, but to focus attention on the pressing public issues we'll cover. So what are examples?
One is our all-star panel led by Kathleen Falk, former Dane County executive and gubernatorial candidate, on how state leaders should best tackle climate change. We received feedback in past years that we paid too little attention to that topic. This panel led by Falk, a longtime environmentalist, seems especially well-timed given severe fires in the western U.S. and other extreme weather events.
Several sessions focus on the pandemic and what Madison might look like whenever we get to the other side.
For starters, what about Madison's post-COVID-19 economy? Our strengths in education, technology, health care and research may put it in a surprisingly strong position. We'll explore that with a panel of local experts.
What's the best hope for the post-pandemic retail scene? Which stores can rebound? Spoiler alert: Part of that conversation will be about how "experiential" shopping will be crucial in Madison.
What lies ahead for COVID-19 testing in Wisconsin? We'll have top state experts.
How have Madison's largest health-care organizations been changed by COVID-19 and how do their CEOs think about the future? We'll have Madison's three major hospital CEOs together in one program with the health care reporter for the Wisconsin State Journal.
How will the pandemic permanently change the University of Wisconsin-Madison, an institution which influences so many aspects of life here? I will moderate that conversation with Chancellor Rebecca Blank. And we'll have a panel that includes Madison's new school district superintendent with our K-12 education reporter.
We also aim to pose compelling questions around racial equity.
How might policing in Madison change after the protests? That conversation will be led by former Madison Police Chief Noble Wray, now a prominent national policing consultant, with Mayor Satya Rhodes-Conway and others.
Another session will be about how to attain overall racial progress in the city, and there will be one on how Madison might be able to attract more professionals of color, moderated by state department leader Dawn Crim.
We will also focus on the outsized impact the pandemic is having on local Latinos.
That is not to say that politics, a Cap Times mainstay for, oh, more than a century, will get short shrift.
Holder, who was mentioned earlier, leads the National Democratic Redistricting Committee and will talk about gerrymandering by Republicans in Wisconsin. That subject is crucial to determining whether the state's far-right government will ever again accurately represent our political balance.
We'll present a conversation with Gov. Tony Evers as he looks ahead, as well as one with U.S. Rep. Ilhan Omar, a Minnesota Democrat elected in 2018 who is a leader in challenging racism and militarism.
We'll have Charlie Sykes, a conservative former Wisconsin radio talk-show host who has become a major national pundit, talking with others about the future of conservatism. Another session will look ahead to the election with experts from each side plus Charles Franklin, the state's most noted pollster.
We'll host a conversation with the head of the Bradley Foundation, a powerful conservative influencer in Wisconsin and across the country.
Once again, Maraniss will bring the sizzle of national speakers to the festival, in addition to hosting Woodward on his explosive new book on Trump.
Maraniss will chat with Ruth Marcus, the prominent Washington Post columnist and lawyer. She will talk about the implications of Trump's assault on the rule of law. Maraniss will also talk with Carol Leonnig, who was here in person last year, and Philip Rucker. Those Washington Post writers are co-authors of the book titled "A Very Stable Genius" about Trump.
You can plan your viewing with our print guide, which will be published in Wednesday's print edition, or by visiting captimesideafest.com.
It's a slogan that is especially apt for this year's Idea Fest.
Share your opinion on this topic by sending a letter to the editor to tctvoice@madison.com. Include your full name, hometown and phone number. Your name and town will be published. The phone number is for verification purposes only. Please keep your letter to 250 words or less.
Catch the latest in Opinion
Get opinion pieces, letters and editorials sent directly to your inbox weekly!