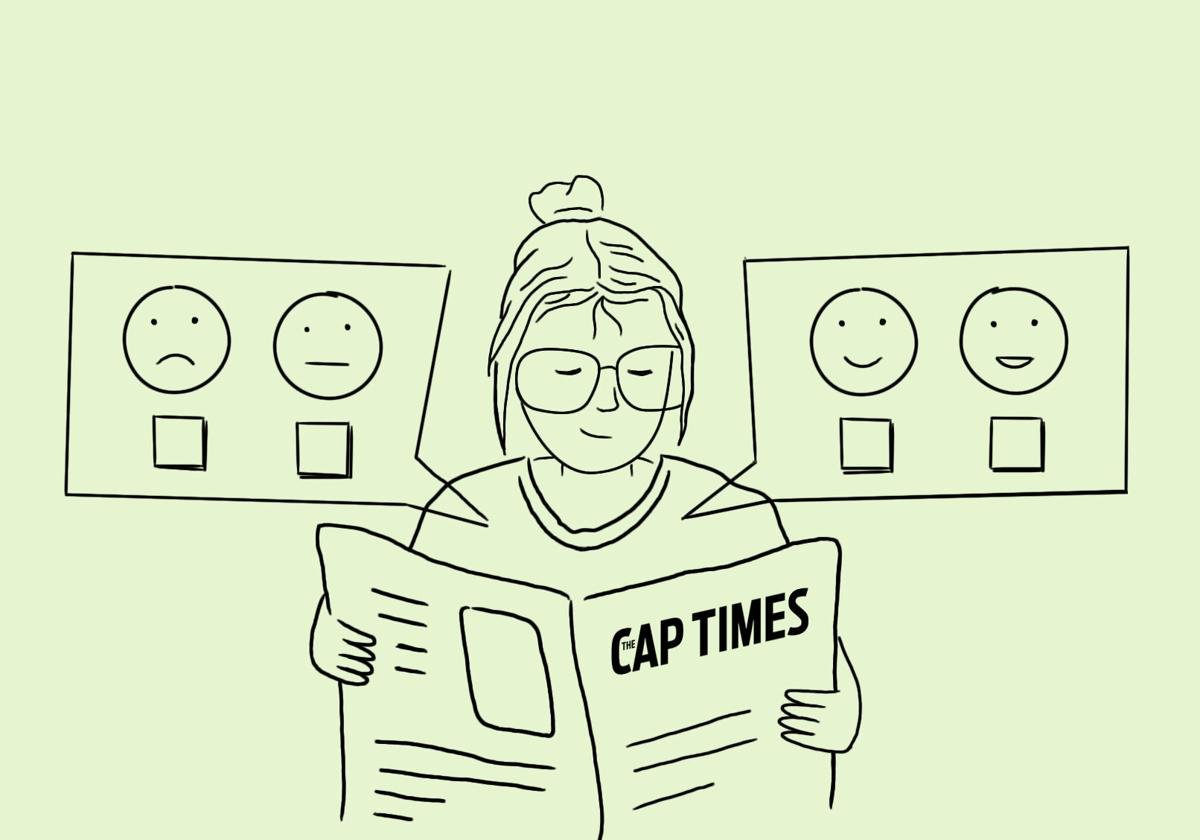 Four weeks ago — though it now feels like a year — this column focused on the present and future of the Cap Times.
As a local news organization, I wrote that in these fast-evolving times we feel as if we are on the "open water" of infinite possible directions. The metaphor was intended as a contrast to the old days, when newspapers were on the set path of a railroad journey.
Many readers did weigh in, and I will get to what they said, but so much has changed in a few weeks.
Just as across the rest of the business landscape, media outlets — especially local ones — are being hurt, even devastated. Isthmus, the city's alt-weekly since 1976, announced it would "go dark" for a time.
What that means in terms of a timetable for return and in what form Isthmus might take remains unclear, but having fewer journalistic options is a sad development for any town. The news about Isthmus was noted in a New York Times story about how local news outlets, alt-weeklies especially, are being hammered by advertising losses from the pandemic.
Doyle Murphy, editor of Riverfront Times, an alt-weekly in St. Louis, told the Times that the pandemic's decimation of food and entertainment advertising represented "a nearly perfect weapon against alternative weeklies."
Not that Capital Newspapers, co-owned by The Capital Times Co. and the parent company of the Wisconsin State Journal, is unscathed. We are scrambling in the face of declining advertising revenue as well.
Yet there are many others who have it much worse than those of us in the news media. Health care and law enforcement professionals top any list, but so do employees of restaurants, entertainment venues as well as personal care professionals like hairdressers and barbers and scores of general retailers.
At the Cap Times, editors and reporters reacted quickly when things turned in the region. Early on, we posted an editor's note at the top of every COVID-19 story that provided a portal for readers to submit questions. Those questions, which we answered, helped guide our early coverage, and we are reposting the invitation for more current questions.
This column is a follow-up about the long-term strategic path of the Cap Times, but it seemed necessary to acknowledge the pandemic as the elephant in the room.
I promised to respond to every reader email by the end of the March, which I did. What struck me was the variety and earnestness of the responses.
Almost all comments about our coverage were positive, though respondents wished we had more reporters to more completely cover the courts at all levels, especially the state Supreme Court; the environment and especially climate change; and local business that is not high-tech. And, as always, readers wished for more investigative reporting.
None of this came as a surprise, but we will be talking about these suggestions internally. We have an award-winning reporter dedicated to investigations and the whole staff is encouraged in that direction, but the notes were a reminder of the importance of such work to our readers.
Worth noting, I think, is that we do significant reporting on Madison's communities of color — its people and issues — which seems to be appreciated. (Our recent story on the Latinx community's response to COVID-19 was published online in Spanish as well.)
One writer wishes we did more on sports; another found it refreshing that we do not "overdo" sports at the expense of actual news.
As for the opinion content, the Cap Times was founded with the feisty opinion voice of its founder in 1917. Our readers today have, well, lots of opinions about our opinions.
Writers appreciated that we promoted former Capitol reporter Jessie Opoien to opinion editor last spring as part of a goal of publishing a more diverse set of voices, including her own. Her distinctive voice has already won fans.
As for columnists like Dave Zweifel, John Nichols and me, well, opinions varied. Some writers regarded me as a center-left pragmatist who reflects what many mainstream local liberals think.
Others, not so much. One fellow, for example, likened me to villainous Joe McCarthy because of my frequent criticism of Bernie Sanders.
Colleagues Zweifel and Nichols, meanwhile, were embraced by many as the modern personification of founder William T. Evjue's century-old devotion to Robert "Fighting Bob" La Follette progressivism … or, alternatively, as hopeless, unrealistic socialists, more committed to ideological purity than to winning.
It was gratifying to hear many writers lauding events like our big annual Cap Times Idea Fest, held each fall in the heart of the University of Wisconsin-Madison campus. Our other events, such as monthly Cap Times Talks and our movie chats hosted by movie critic Rob Thomas, also seemed to be popular, judging by frequent mentions.
I was a bit surprised by writers who said they appreciate such events even if they do not attend and simply read about them, as if knowing that such gatherings occur here makes them feel better about the Cap Times and Madison's reputation as a center for thought.
I was also surprised by how many were unaware of our podcasts, one around state politics (Wedge Issues), another on local issues (The Madsplainers), and a third on local dining (The Corner Table). We will try to make them more visible.
Some who responded are Cap Times members who support us financially. Theirs were among the most detailed and thoughtful notes. We will continue to seek new members and listen intently to what they want and expect.
Like all news media, we need that support. I was struck by one writer who recited how much he spends on professional, verified news and information. And then he wrote something that brought me up short: This sort of membership solicitation defeats the idea of a free internet.
I wasn't quite sure how to respond. Somehow some people think that a print newspaper was worth paying for because it was, I suppose, tangible, but excellent journalism produced by the same news professionals and delivered in a digital format is somehow not?
Anyway, that's my report. With the coronavirus crisis bearing down on us, my "open water" metaphor may seem even more apt.
Share your opinion on this topic by sending a letter to the editor to tctvoice@madison.com. Include your full name, hometown and phone number. Your name and town will be published. The phone number is for verification purposes only. Please keep your letter to 250 words or less.
Catch the latest in Opinion
Get opinion pieces, letters and editorials sent directly to your inbox weekly!