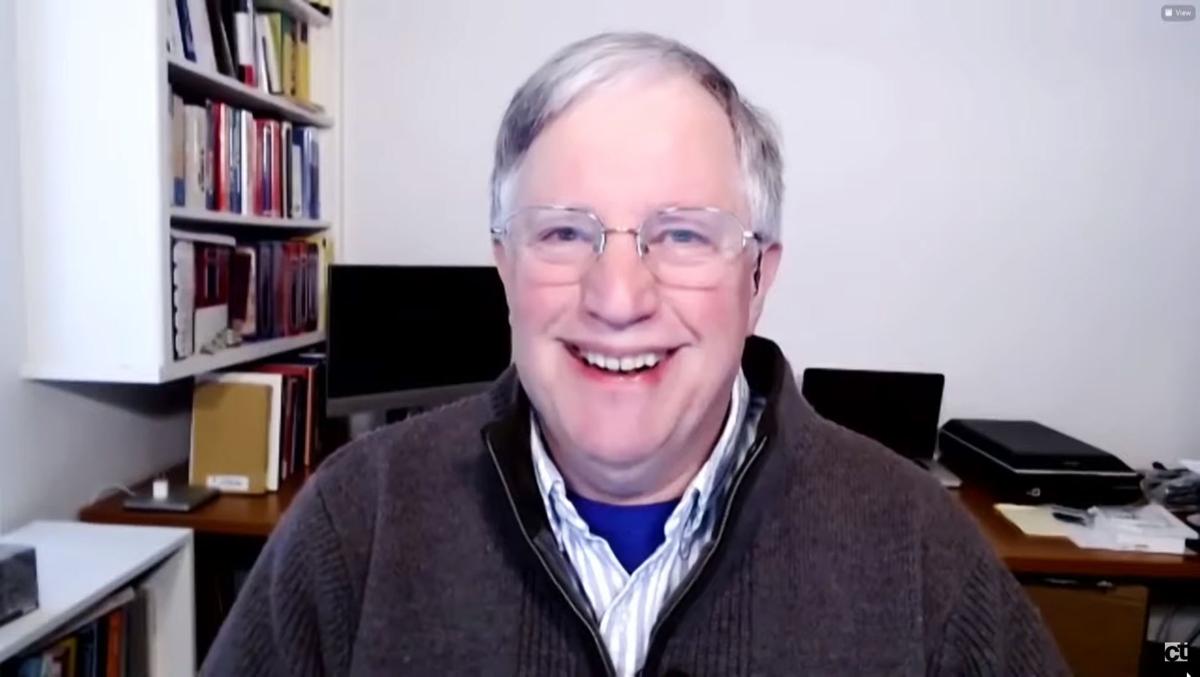 In November, when polls had once again underestimated Donald Trump's election support in Wisconsin, the New York Times sought out Charles Franklin to ask why.
The Marquette University Law School Poll, which he directs, was closer to accurate this time than in 2016. It correctly predicted Joe Biden would prevail, but by 5 percent, not the actual 1-percent margin.
Franklin told the Times he had modified his methodology after a bigger miss when Trump won the state in 2016. Still, he theorized, there are perhaps 3 to 4 percent of Trump voters who systematically refuse to participate in surveys because they are "anti-press, anti-polls, and in a lot of ways anti-conventional political engagement."
On Twitter last week, Franklin highlighted an interactive map the Times had created that allows users to drill down to granular results — even at the neighborhood level — in the fall presidential race.
Amy Walter of the Washington-based Cook Political Report asked Franklin on Twitter why Sister Bay and Sturgeon Bay had such different results even though both are in Door County. He told Walter, who is nationally prominent as a regular on the PBS NewsHour, that Sister Bay has more transplants from Democratic regions while Sturgeon Bay retains a traditional farm character and is thus more pro-Trump.
Yes, when Franklin talks, people listen, including national political experts. He's been focused on polling since 1980 and has been polling Wisconsin for 12 years. Over that time, he's shared his carefully phrased nonpartisan impressions with me, typically at a Monroe Street coffee shop, this time by phone.
He touched on what I have sorted into 10 themes from our nearly hourlong conversation. Here they are:
Non-college white men keep moving to the GOP: Franklin said this is the state's most consequential shift in the past decade, and, contrary to the perception of many, it predated Trump. The trend was evident in 2013: "It continued with Trump but wasn't created by Trump." In 2012, white men without college educations self-identified as 31 percent Republican and 24 percent Democratic. By 2020, the margin was 38 percent to 18 percent. In pollster parlance, that shift is from plus 7 to plus 20. "No other group has shifted that much," Franklin said.
That gain also poses a challenge to the GOP: "The effect of that movement is to make Wisconsin even more closely competitive that it had been, and to shift the demographic composition of the GOP in a more male and blue-collar direction," Franklin said. "That raises a question of how the business-friendly GOP co-exists with the populist inclinations of their new partisans." He asked rhetorically: "I'm not sure that (coalition) continues to hold up if now an increased segment of the party are bluer collar, non-college white men. Where does that leave them and what kind of messages from Republican candidates will appeal to them and simultaneously keep the business community happy?"
Geographic strength by party has also shifted: "The simplest version is that southeast of a diagonal from Green Bay to Dubuque (Iowa) there has been a general shift in a Democratic direction in elections for president, governor and senator since 2012, while to the northwest of that diagonal there has been a shift in a Republican direction," Franklin said. "This holds for Supreme Court elections as well, so this is not about one office or one candidate."
Democratic strength in cities is not limited to Madison and Milwaukee: "At a more granular level, cities and larger towns have become blue islands in a sea of red countryside. Since more people live in the cities, this predominately red map is actually still competitive." He pointed to La Crosse and Eau Claire as becoming more Democratic and said Democrats stand to gain because populations are growing more quickly in urban areas, but he added that the GOP's continued ability to gerrymander voting districts might limit Democrats' progress.
Close statewide elections will be the norm: "I see competitive elections like the 2018 governor's race (Gov. Tony Evers' narrow victory over incumbent Scott Walker) and the 2016 and 2020 presidential races for a long while." That said, Franklin added that there will be exceptions, pointing to Democratic U.S. Sen. Tammy Baldwin's 11-point re-election landslide in 2018. "So much can depend on the candidates and the political environment of the election year," Franklin said. "It's true that we are stuck in party ruts, but we're not quite as stuck as the politicos' conventional wisdom would say."
The battle for the suburbs trends Democratic: As Democrats continue to struggle with non-college white men, to succeed they need to solidify their grip on suburbs, which has been happening since early in the Walker administration, Franklin said. "How can they build on that growth and make that permanent rather than just a two-term rejection of Trump?" he asked rhetorically. He called it "pretty striking" how much better Baldwin, for example, performed in suburbs in 2018 versus her first senate race in 2012.
Democrats struggle to give voice to the white working class: Decades ago, Franklin said, the party was often referred to as speaking for the "working man," in precisely that gender-specific way. With the decline in labor union membership among other factors, that's changed. "Now we certainly have the interests of poor people at the table, we have the interests of various minority groups at the table, so it's not like the working class is unrepresented, but where are the non-college (white) men hearing their concerns voiced?"
Statehouse Republicans stick to their playbook: "My sense, certainly on their first comments on the (Evers) budget is they're still playing the 2010 playbook — smaller government, don't raise spending, and let's give back the surplus to taxpayers. That's a tried-and-true approach and I'm not saying it won't work in the future, but I do think that there are changes in the base of the GOP that might shift that."
Legislative Republicans seem willing to ignore polling: Franklin noted that Republicans are positioning themselves on the less popular side of public opinion polling on several issues, such as their consistent opposition to Evers' mask-wearing mandates and on legalizing marijuana, which Evers is proposing in his budget. Franklin said he finds that striking.
Republicans appear to pay no cost on gerrymandering: Democrats fiercely attack Republicans for what they call anti-democratic actions such as extreme partisan gerrymandering and voter suppression efforts. That may fire up the Democratic base, Franklin said, but he added about Republicans: "I don't know if there's any evidence that those things have actually cost the party."
Considered together, Franklin's themes presage close, hard-fought elections with the future of Wisconsin — and as a key swing state, the nation — in the balance.
Share your opinion on this topic by sending a letter to the editor to tctvoice@madison.com. Include your full name, hometown and phone number. Your name and town will be published. The phone number is for verification purposes only. Please keep your letter to 250 words or less.