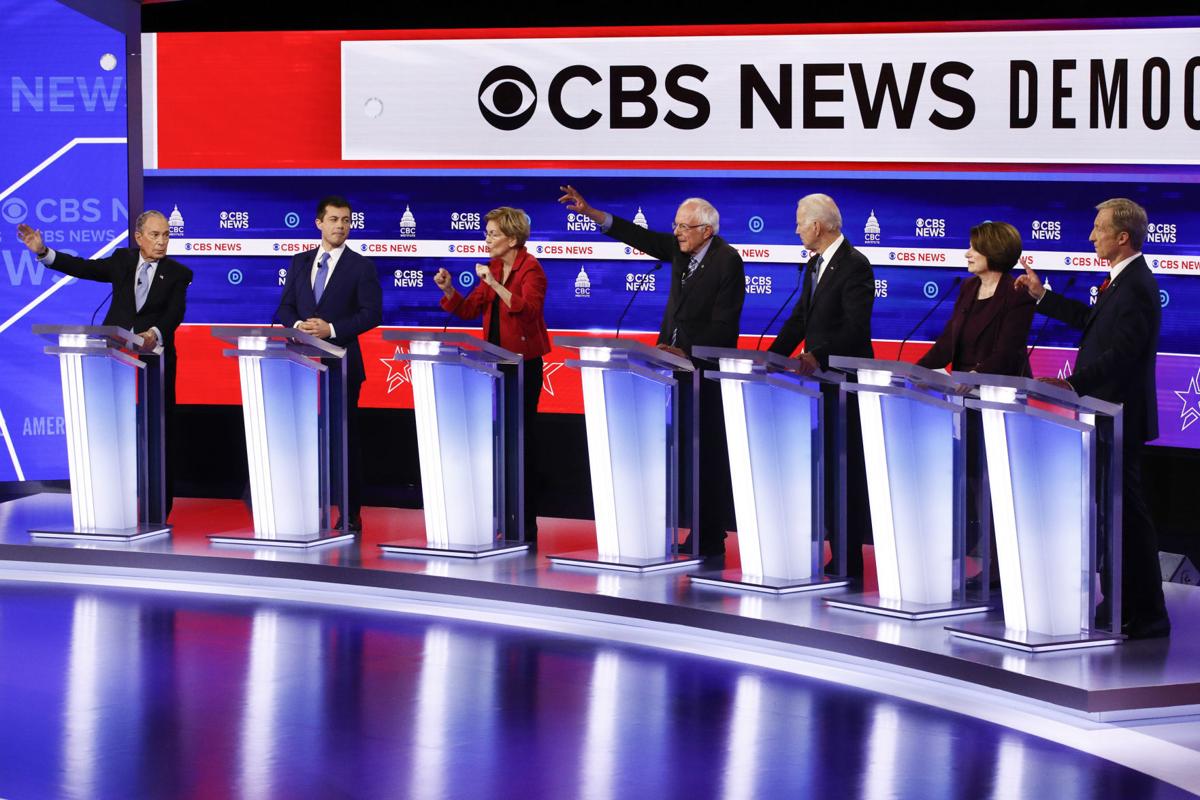 Russ Feingold attracted an enthusiastic capacity crowd the other night to a Cap Times Talk at the First Unitarian Society. Wisconsin's former Democratic U.S. senator, still wildly popular among Madison's progressives, spoke for nearly 90 minutes about his decade of post-Senate life and his immersion in environmental causes.
When moderator John Nichols, the Cap Times' associate editor, turned to politics, Feingold identified Elizabeth Warren as the candidate he would vote for at that moment. But Feingold's positive words for the phenomenon of Bernie Sanders met with warm approval from much of the audience.
Yes, many Madison progressives appear thrilled about Bernie, about how he is leading a revolution that will motivate first-time voters to offset the demotivated center and center-left voters turned off by Sanders' democratic socialism and crabby self-righteousness. Local congressman Mark Pocan is a big Bernie guy, and I know many who regard Sanders' ideological purity as refreshing and energizing.
But to many mainstream Democrats — those who support any other candidate — this election cycle must feel like 2016 all over again. Believe me, there are plenty of such left-of-center voters in Madison who, for decades, have been fighting for civil rights, the social safety net, the environment, tax fairness and so on. But that doesn't seem to count for much these days.
They were the punching bag for Donald Trump in 2016 and are apparently reprising that role for Sanders and his rabid supporters in 2020.
You have a candidate with a persecution complex, who says he alone can lead a revolution in America, who, when pressed for specifics about his agenda, points instead to his poll numbers, big crowds and social media footprint, who routinely criticizes the media as out to get him, who advances radical promises without supporting details, and who maintains that he bears no responsibility for the toxic behavior of some of his supporters.
Oh, and this candidate wants us to take his word that as a 70-something he is perfectly fit for the rigors of the job, thus his detailed health records are none of our business. And one more thing. He sees the good in murderous international tyrants.
In Sanders' case that's Fidel Castro and in Trump's it's Vladimir Putin, but aside from that, tell me what part of that description fits Trump but not Sanders. Both seem to regard folks who embrace pragmatism as an American virtue as, well, arch enemies.
Consider recent comments on behalf of Sanders by Cornel West, the serial critic of our last Democratic president who once penned an op-ed headlined: "Pity the sad legacy of Barack Obama."
West was warming up an audience at a Baptist church in South Carolina for Sanders: "The corporate media is telling lies about my dear brother Bernie Sanders: They call him a Bolshevik. That's what they said about my brother Martin Luther King Jr.," West said to a chorus of amens, according to the Washington Post. "Get ready to get lied on, rebuked, scorned, attacked, assaulted."
The "corporate media" has been withering in its coverage of all Democratic candidates, most recently in its comprehensive takedown of the late-to-the-party Michael Bloomberg.
But Bernie and his backers have complained more about media fairness than all of the other candidates combined. I devoted a column last summer to Sanders' ludicrous attack on the Washington Post, which he implied was out to get him because he'd been critical of its owner, billionaire Amazon founder Jeff Bezos.
Sanders was at it again recently. When he failed to disclose that national security officials told him weeks ago that Russia was trying to help his candidacy, Sanders was asked why the news emerged in the Post just prior to Nevada caucus voting.
Sanders pointed to a Post reporter and said sarcastically: "It was the Washington Post? Good friends."
The Post responded that it reports news as it gets it. But hey, it's not like we're living in an era when media credibility is under relentless assault, so let it rip, Bernie.
By the way, Sanders then claimed that as president he would be Putin's worst nightmare, which, of course, is beside the point. Putin sees Sanders as the Democratic nominee easiest to caricature by Trump. I bet Sanders as president never crosses Putin's mind.
Sanders' attacks on the press are just one example of his attacks on every individual and institution not unabashedly with him, including the Democratic Party, which he has never joined. In 2012, he talked about the wisdom of a primary challenge against Obama.
In truth, Sanders has been treated more gently by the media and by actual Democrats in the race than anyone. His Democratic foes appear petrified that if they take him down his backers will cast third-party ballots or stay home just to screw the party. That helps explain why so much of the debate fire until recently has been focused elsewhere.
My point is that for every Bernie person who feels empowered by their hero, there are many Democrats who feel deeply disrespected and depressed. Meanwhile, Trump is acting ever more untethered by the law and from any notion of morality. 
God knows what a second term would bring, and a Sanders defeat would be even more catastrophic if it helps reverse Democratic congressional wins in swing districts that helped the party take control of the House in 2018.
Trump, a compliant GOP Congress and a far-right Supreme Court. That sure sounds like a recipe for progressive progress, doesn't it?
In the end, maybe a Sanders zealot can answer this for me. After folding your arms and pouting, helping boost Trump over Hillary Clinton in 2016, you now malign and castigate mainstream Democrats.
Should Sanders prevail in getting the Democratic nomination, you expect your targets — conscientious mainstream liberals who disagree with you — to forgive and forget and enthusiastically climb onto Bernie's bandwagon?
Share your opinion on this topic by sending a letter to the editor to tctvoice@madison.com. Include your full name, hometown and phone number. Your name and town will be published. The phone number is for verification purposes only. Please keep your letter to 250 words or less.