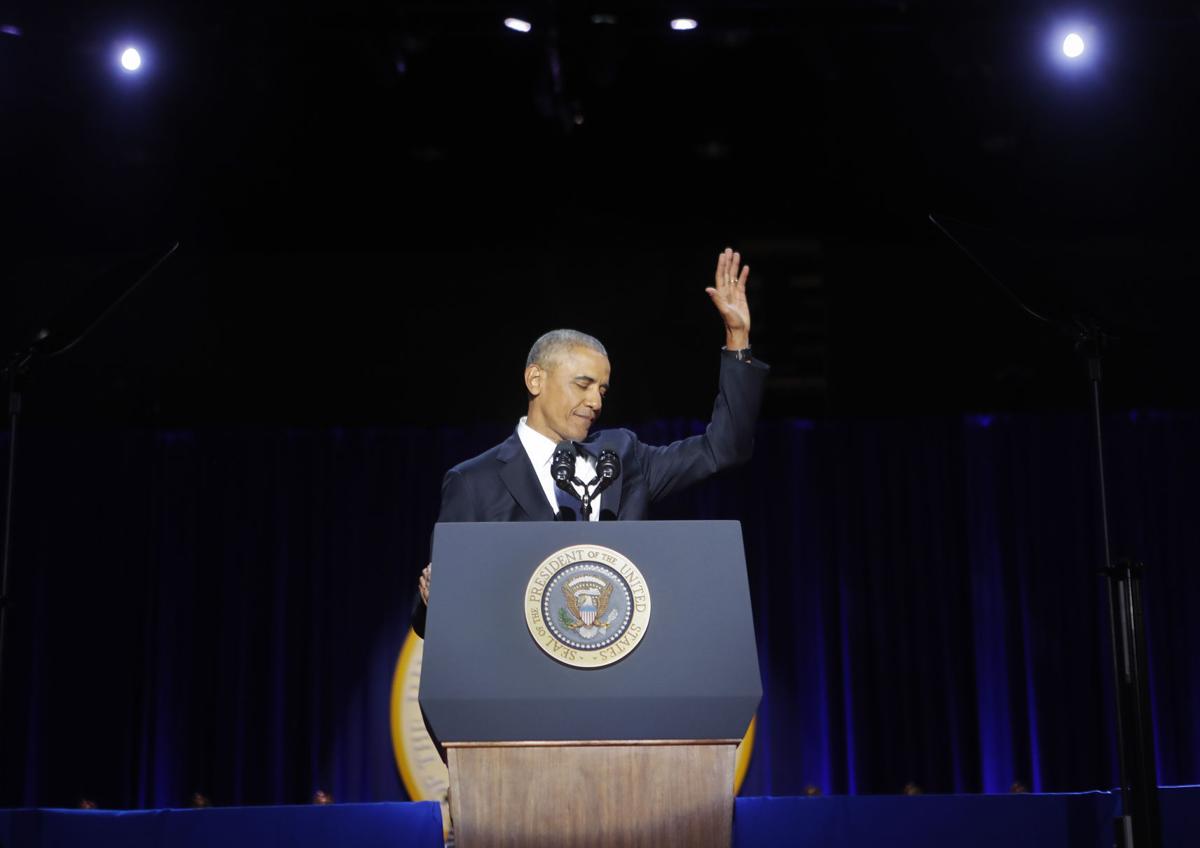 One sunny Saturday in October, I stood across from the White House in Washington, D.C. and smiled to myself.
That morning, I had read a story that included the guest list from a big party the night before on the south lawn. It was the final musical concert that Barack and Michelle Obama would host at the executive mansion.
Names on the list included Jill Scott, Janelle Monáe, Common, Usher, Bell Biv DeVoe, The Roots, De La Soul, Yolanda Adams, Michelle Williams, Kierra Sheard and Leslie Odom Jr. They were filming "BET Presents Love and Happiness: An Obama Celebration," a concert shown later on Black Entertainment Television and still available online.
Besides Odom, who played Aaron Burr in the original Broadway cast of "Hamilton," and Scott, a three-time Grammy winner, the names were mostly unfamiliar to me, but that wasn't the point.
The point for me was happily imagining the scene at the White House, a place built in part by slave labor, as the site of a raucous gathering of mostly African-Americans listening to hip hop and partying into the wee hours.
And yet, what seems clear is that the White House party would have offended many Americans, just as many were apparently unhappy that an African-American held the nation's highest office for eight years.
The mainstream Republican Party clearly got that, and used it, again and again.
As we bid adieu and assess Obama's legacy, my final exhortation is that we never forget — or forgive — how Republicans put politics ahead of country during Obama's presidency, using race as an ugly cudgel.
And I'm not talking just about the stereotypical rural whites waving their Confederate flags as a symbol of so-called "heritage." I am talking about your college-educated, churchgoing, flag-waving Republican who reveres unfettered capitalism and preaches personal responsibility.
These guys (and they are mostly guys) say they disliked Obama not because of his skin color, no, but because of his radical actions, such as extracting us from a calamitous recession, rebuilding the auto industry, and shepherding in a period of relative peace and prosperity in the wake of his hapless GOP predecessor, a white patrician.
These mainstream Republicans looked the other way when the racially charged tea party mushroomed, when a GOP congressman heckled the president by yelling "you lie" during a speech to Congress, and when the "birther" story endured despite its absurdity.
For his part, Obama speaks carefully about race, even now. "After my election, there was talk of a post-racial America," he told his Chicago audience in farewell remarks last week. "Such a vision, however well-intended, was never realistic. Race remains a potent and often divisive force in our society."
He was analytic, almost antiseptically so, in a recent podcast with former aide David Axelrod about his vision for a colorblind nation. "I think we also saw ... the resistance to that vision of America, which has always been there, was always powerful, mobilized and asserted itself powerfully. Now, I would argue that in part, very cynically, somebody like a Mitch McConnell (GOP Senate leader) or Roger Ailes at Fox News … specifically mobilized a backlash to this vision in order to accomplish pretty routine" political goals.
Obama said the GOP's race-tinged, no-to-everything strategy "from a pure tactical perspective was pretty smart and well-executed."
In my view, his color and the apparent discomfort it caused made it easier for Republicans to just say no, to paint the philosophically moderate president as exotic and unlike ordinary Americans.
I suspect many African-Americans might be amused by my outrage here and respond with some knowing variation around, "So what did you expect?" Ta-Nehisi Coates' powerful post-election cover story in The Atlantic, for example, paints the Obama years as a still barely conceivable dream in the face of our racial history.
The treatment of Obama and eventual election of Donald Trump "confirmed everything I knew of my country and none of what I could accept," Coates wrote. "I still want Obama to be right" about having faith in the country's collective wisdom. "I still would like to fold myself into the dream. This will not be possible."
The morning after Obama's Chicago speech, I sought out Milele Chikasa Anana, publisher of UMOJA magazine, a title that is Swahili for "Unity." She is perhaps Madison's senior-most expert around African-American issues, as she attended Martin Luther King's 1963 "I Have a Dream" speech at the Lincoln Memorial.
Was she surprised by how race played out under Obama? "No, because I think that opponents take any kind of vulnerability they can to make their point," said "Miss Milele," as she is affectionately known. "I was surprised he took on the race issue directly so many times. … I think there were capstone moments when he spoke directly to race and one of them was last night. He said that was one of two things that we have not solved and we have to work hard at. One was economic standing and the other one was race.
"So I think that what we expected of him was unrealistic, that because he was a black man he had all the solutions to the race issue. But my view is that white people have the solution, and until they step up to the plate it won't be solved. And the solving has to come through a sort of healing, and so we can't solve it. Black people can't solve the race problem. We didn't create it."
Maybe I shouldn't have been surprised at Obama's treatment because mainstream Republicans have been using race as a wedge issue since Democrats championed the civil rights movement in the 1960s — from Richard Nixon to Ronald Reagan to the Bushes, and now, of course, to Trump.
He eschews the "dog whistle" disguises of his GOP predecessors, exemplified in recent days by strident criticism of John Lewis, the 76-year-old black congressman and civil rights hero.
Smart, seemingly reasonable people who describe themselves as Republicans always tell me they primarily believe in smaller government, individual responsibility and unfettered capitalism. They would profoundly resent my invoking racism.
But, as the Obama years end, how can they deny they are aligned with a political party that continues to cynically leverage it?
Share your opinion on this topic by sending a letter to the editor to tctvoice@madison.com. Include your full name, hometown and phone number. Your name and town will be published. The phone number is for verification purposes only. Please keep your letter to 250 words or less.