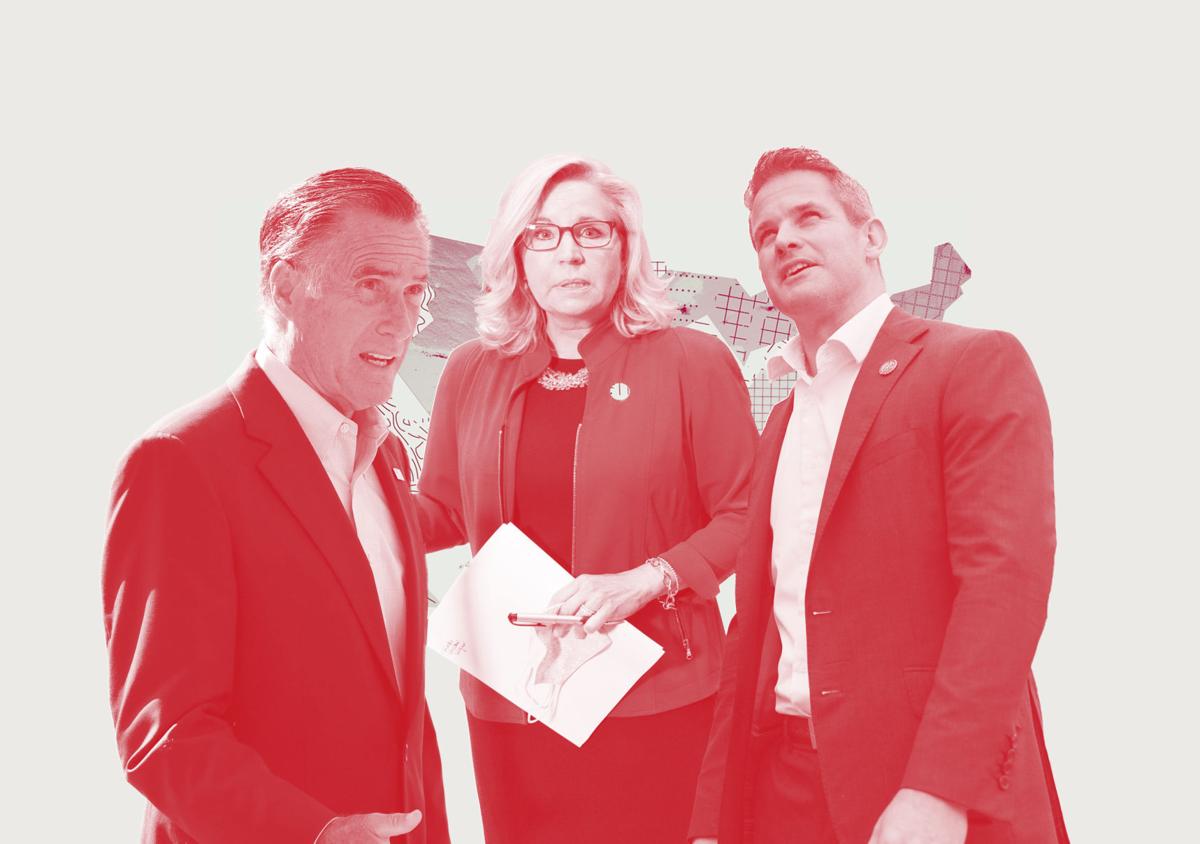 The date was Oct. 3, 2012, the place Denver, the occasion the first debate in President Barack Obama's re-election campaign. From his perspective, it could hardly have gone worse.
Republican challenger Mitt Romney abandoned right-wing talking points that won him the GOP nomination and instead presented himself as an affable moderate. Obama, who as president had not been in such a debate in about 1,400 days, came across like an arrogant professor who saw himself above the mud fight.
Even Michelle Obama was critical afterwards about how Romney had bested her husband. "It's not about David Brooks," she said, alluding to the cerebral New York Times columnist and describing her husband's wonky, almost impenetrable answers. "It's about my mother."
By the next debate, Obama rebounded and eventually won the election, of course, but Romney at that moment represented a genuine threat to the American transformation Obama had come to symbolize.
Since then, GOP politics have devolved so rapidly and radically that Romney, now a U.S. senator from Utah, deserves unfettered admiration from liberals for his sanity, patriotism and yes, for his courage.
Less than a decade later, Romney as presidential candidate seems like a quaint throwback to Republicans of another time, more like late presidents Dwight Eisenhower or George H.W. Bush than anyone today.
Romney is one of three GOP politicians deserving admiration even by those who disagree with nearly all of their positions.
The three — Romney and House Republicans Liz Cheney and Adam Kinzinger — are risking their careers by standing up against the lie that the 2020 election was stolen, and more generally by fighting against Donald Trump's continued malignant sway over the GOP.
Courage is a term used too freely, especially in politics and sports, when some outlying issue position or late-game shot is heralded as "courageous."
But what Romney, Cheney and Kinzinger are doing is the epitome of political courage, exposing themselves to wrath, ridicule and even threats from Trump and his backers.
Consider Romney. Video reports of him being loudly booed recently at a Utah Republican Party convention were everywhere. Some in the crowd even called him a "traitor" and a "communist" as he tried to speak.
"Aren't you embarrassed?" Romney asked the 2,100 convention delegates. "I'm a man who says what he means, and you know I was not a fan of our last president's character issues."
Romney was the only Republican senator to twice vote to impeach Trump, first for seeking political dirt from Ukraine on Joe Biden's son and then for inciting the riot at the U.S. Capitol on Jan. 6. Six other Republican senators also voted to convict Trump for his role in the January insurrection.
"You can boo all you like," Romney told the convention crowd. "I've been a Republican all my life. My dad was the governor of Michigan and I was the Republican nominee for president in 2012." Romney only narrowly avoided being censured later in a convention vote.
Then there's Cheney, a Wyoming conservative, who as the third-ranking House Republican is also being ferociously attacked for criticizing Trump. She is likely to be removed soon from her leadership position.
"We can't embrace the notion the election is stolen. It's a poison in the bloodstream of our democracy," Cheney reportedly said during a recent closed-door conference in Georgia. "We can't whitewash what happened on Jan. 6 or perpetuate Trump's big lie. It is a threat to democracy."
Cheney, daughter of former Vice President Dick Cheney, spoke in what was an off-the-record interview at the annual retreat of the American Enterprise Institute, a conservative think tank, CNN reported.
But Cheney has also been outspoken on the record about Trump. Earlier that day, she sent this tweet: "The 2020 presidential election was not stolen. Anyone who claims it was is spreading THE BIG LIE, turning their back on the rule of law, and poisoning our democratic system."
She also said this in a Washington Post op-ed: "History is watching. Our children are watching. We must be brave enough to defend the basic principles that underpin and protect our freedom and our democratic process. I am committed to doing that, no matter what the short-term political consequences might be."
My third profile in courage is Adam Kinzinger, a Republican who represents a sprawling northern Illinois district that includes the east side of Rockford. Like Romney and Cheney, Kinzinger has drawn Trump's wrath for criticizing his lies about a stolen election.
Cheney and Kinzinger were among only 10 House Republicans to back the second impeachment vote. Kinzinger recently released an upbeat video titled "Opportunity," a stark departure from the dark and combative norm currently dominating the Republican Party. In it, Kinzinger advocates "honest conversations" about inequality of opportunity.
"If we're honest, do we really believe kids born in the inner city or rural town or well-off suburbs all have the same opportunity?" Kinzinger says in the video. "It sure doesn't feel that way sometimes."
Kinzinger also blames Democrats, but his main target is pretty clear. "Our politics doesn't reward finding solutions. It rewards blaming the other side … scoring political points and constant fundraising through fear and division."
Kinzinger's disloyalty to Trump sparked the predictable blowback. He already has a primary opponent next year who promised that "Fake Republican Adam Kinzinger won't put AMERICA FIRST — I will."
Kinzinger, a former Air Force pilot who still serves in the Air National Guard, told CNN last month: "Even if I don't survive long in this job, the reality is (that) I will have been part of history. Like in warfare, until you're willing to put your life on the line — when you're willing to put your job on the line, then you're free."
Why devote a column to these three Republicans?
Because, for all of their ideological differences with Democrats, Romney, Cheney and Kinzinger share with many Democrats a vision of hope for America. In that way, they resemble President Biden and Wisconsin Gov. Tony Evers, both traditional center-left problem-solvers and optimists.
Given the existential threat to democracy that the country faces, outspoken anti-Trump Republicans deserve deep respect.
Share your opinion on this topic by sending a letter to the editor to tctvoice@madison.com. Include your full name, hometown and phone number. Your name and town will be published. The phone number is for verification purposes only. Please keep your letter to 250 words or less.