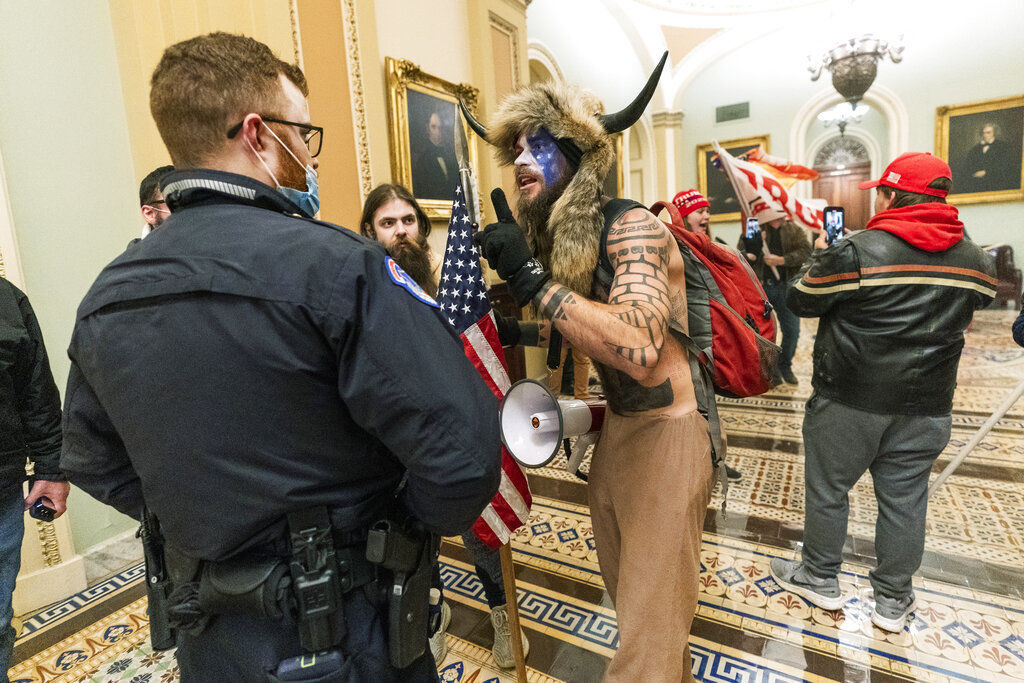 Yes, even inside Madison's liberal bubble, we've heard how conventional Republicans rationalize their deal with the devil.
"Nobody thinks Donald Trump is a nice guy, but I like his policies and I sure like what his tax cuts have done for my portfolio."
"He's a straight shooter. Maybe he tweets more than I'd like, but I like that he's not a career politician."
"Trump blows things up. He's a man's man and says what he means. And I couldn't stand Hillary Clinton."
On Wednesday, as I watched Trump's band of domestic terrorists swarm and occupy the U.S. Capitol, I thought about such Republicans and would have loved to hear their thoughts.
So guys — and you are predominately guys — how do you like him now? And how about those Georgia results?
Much of the blowback after Wednesday's spectacle will focus on GOP politicians who coddled and enabled Trump, including Wisconsin's own U.S. Sen. Ron Johnson, but my focus is on the millions of conventional Republicans who were among his 74 million voters in November.
You know who you are. Whether you held your nose or not, you helped make Wednesday possible. And you were rooting — in vain it turns out — for at least one of the Republican U.S. Senate candidates to win in Georgia. That hopeful "divided government" theme was rampant.
Your reasoning? If you had to tolerate Joe Biden as president, then at least you wanted a bulwark so Democrats in both legislative houses could not, you know, help poor people get health insurance, rebuild American infrastructure or aggressively combat climate change.
Contrary to GOP propaganda, you conventional Republicans know that Biden is no more a socialist than you are, but you were OK with the distortions. You just didn't want anyone to fiddle with the deeply regressive corporate tax rate reduction that was at the heart of the 2017 Trump tax plan.
The consequence of your support for Trump finally played out in televised images of sedition and insurrection in Washington, D.C.
During my lifetime, there have been few news images as shocking: The assassinations of John Kennedy in 1963 and the Rev. Martin Luther King Jr. in 1968; Richard Nixon's ignominious departure from the White House in 1974; the frantic fall of Saigon in 1975; the Challenger explosion in 1986; and the horrific terror attacks in 2001.
The spectacle of a U.S. president headlining a rally that became a violent assault on the U.S. Capitol was obviously not the end game you imagined, was it, conventional Republicans?
And what a scene it was — it looked like an all-star revue of the most off-kilter of the Trump devotees who have gathered for years at Make America Great Again rallies. Yes, as Ivanka Trump tweeted and then deleted Wednesday, the president saw these as "American patriots," even with their "Pelosi is Satan" and "Trump all of them bitches" signs and the many Confederate flags.
Don't tell me these poor souls were impressionable and simply misled in their fanaticism. There is so much legitimate and readily accessible news and information, they had to want to have their prejudices and grievances reinforced again and again by Trump.
So, conventional Republicans, maybe it is time to pause and think about what you have wrought. Was the damage to democracy worth it?
Spare me the false equivalencies that will flow from the right as the nation picks up the pieces. The theme will be that political extremes on both sides are culpable for this mayhem, as if protests of police shootings of Black people is remotely similar.
Hugh Hewitt, a right-wing columnist for the Washington Post and long-time Trump enabler, has already done just that, seeming to blame the "violent fringe" on both sides. He told readers after the riot that we need to discriminate between those who "embrace violence" and those who reject it. Like that logic ever applied when Trump and his crew were talking about Black Lives Matter protests. "Lock them all up" was their message, as I recall.
Can you just imagine how differently the far-right media ecosystem would have reacted if Black Lives Matter rioters had penetrated the Capitol's legislative chambers and posed for pictures in those fancy chairs?
But who thinks they would have gotten that far without scores of them being shot to death?
Van Jones, a CNN commentator and former Obama official who is Black, sounded incredulous, delivering a passionate soliloquy as the screen showed some of the most troubling late-afternoon images of violence.
What would have happened, he asked rhetorically, if thousands of Black people or Muslims had stormed the Capitol? We know the answer.
It is happily appropriate, then, that it was Jim Clyburn, a Black South Carolina Democratic congressman, who resurrected Biden's presidential campaign before Super Tuesday last spring. Then it was massive support by Black voters that helped Biden defeat Trump in November. And on the night before the Capitol Hill riot, the Rev. Raphael Warnock, a Democrat, became the first-ever Black person elected to the U.S. Senate from Georgia.
So for once in American history, you had Black people dictating the direction of the nation and thousands of angry white people relegated to protesting. Pause on that realization.
But back to those who voted for Trump.
Maybe the twin defeats in Georgia and the historic and horrific spectacle in Washington, both caused by Trump, will finally break the spell of Trumpism and regular GOP voters can tell us how, gosh, they never saw any of this coming.
They can proclaim their revulsion at Wednesday's images. That rioting is just not who they are.
To the contrary, in recent years, that has been precisely who they are.
Share your opinion on this topic by sending a letter to the editor to tctvoice@madison.com. Include your full name, hometown and phone number. Your name and town will be published. The phone number is for verification purposes only. Please keep your letter to 250 words or less.