Paul Fanlund: Gender politics and Amy Klobuchar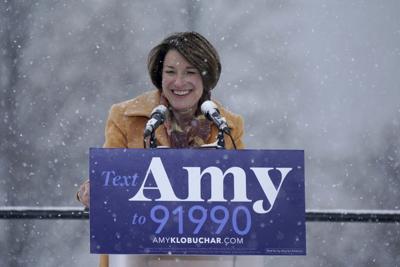 As I approached, Amy Klobuchar sat studying papers at an out-of-the-way table in the Gordon Dining and Event Center on a Saturday morning in fall 2017.
She had just spoken to a student group from the University of Wisconsin-Madison's La Follette School of Public Affairs. I introduced myself, thanked her for accepting our invitation to Cap Times Idea Fest, and explained the logistics of her appearance before what would be a large and appreciative audience that day.
In that encounter and during her public remarks, she was self-deprecating, funny and the epitome of the "Minnesota nice" for which she is known. The first woman elected to the U.S. Senate from her state, she seemed to get along with the male aide who accompanied her. She was also gracious later as she slipped into a car waiting to take her to a Tammy Baldwin fundraiser.
Now, as she announces her candidacy for the Democratic presidential nomination, I come to learn just what kind of monster she's allegedly been to work for, if you believe the anonymous sources.
That's the takeaway from the breathless, and, in my view, sexist reporting from HuffPost.
Klobuchar, a third-term senator who has won her state by wide margins, kicked off her campaign Sunday on a snowy day before a boisterous crowd on the banks of the Mississippi River.
The New York Times' characterization was typical of the media coverage, saying Klobuchar "entered the race ... hopeful that her moderate politics, Midwestern roots and carefully cultivated history of bipartisanship can appeal to a broad swath of voters in contentious times."
Later in the story, the Times, like others writing about her announcement, alluded to reports that Klobuchar has long been regarded as hard to work for.
The Times reported that "despite Ms. Klobuchar's friendly public persona, she's said to be a difficult boss. A survey of senators by the website LegiStorm (which measures staff turnover among other things) revealed that from 2001 to 2016 her office had the highest turnover in the Senate. 'I have high expectations,' " she told the Times by way of response last year.
This, of course, delights Republicans. "She has virtually no grass-roots backing and even her own staff is complaining that she's 'intolerably cruel,' " a spokesman for the Republican National Committee said in a statement reported in the Times.
Pause on that: the party of Donald Trump complaining that a Democratic politician manifests intolerable cruelty.
Back to HuffPost's journalism and what it describes as its "scoop."
Its initial story, timed days before her formal announcement, quoted anonymous sources and proclaimed in a headline that her "mistreatment of staff scared off candidates to manage her presidential bid."
The story did not appear to break much new ground. Politico had previously mentioned Klobuchar in a story about the "worst bosses" in Congress, citing the LegiStorm numbers. The Politico story added this: "But LegiStorm declined to guess whether the high turnover stems from a toxic work environment or employees simply advancing in their careers."
HuffPost followed with a story two days later based on "multiple unnamed sources" that was headlined: "Harry Reid Rebuked Amy Klobuchar for Mistreatment of Staff." Reid, the retired Senate Democratic leader, said in the story he did not recall such a conversation and called Klobuchar "one of the most brilliant, hardest-working members of the Senate."
By the day of her formal announcement, HuffPost was back with a self-congratulatory newsletter post sent to its "Must Reads" subscribers. It described the senator as "dogged" by the accusations against her.
In that Q&A, one of the reporters, Molly Redden, described a divided reaction to the HuffPost reporting: "There are tons of readers who think the coverage is sexist," she said. "They're asking us, 'How come these stories are never written about men?' "
She acknowledged that "everyone in the news chain ... is probably more accommodating of a bad boss who's a man," and says she already has a "list going" about bad male bosses.
Wonder if those stories about bad male bosses will be published at the precise moment those guys are announcing for president?
A woman quoted by the Times at Klobuchar's announcement got to the essence of it: "When a woman is demanding and wants something and wants people to perform, it's seen as difficult. I've had a lot of demanding bosses, male bosses, in my life, and nothing was said of them. They were told they were great leaders."
The sexist treatment, to me, recalls the false equivalencies of 2016 between Hillary Clinton and Trump, when Clinton's email problems and standoffish persona somehow equated to Trump's all-embracing awful character.
Washington Post columnist Jennifer Rubin aptly summarized Trump in a recent column: "President Donald Trump bragged about sexually assaulting women; was accused by numerous women of sexual harassment or assault; endorsed a candidate for Senate who was credibly accused of child molestation; praised an aide despite photographic evidence supporting accusations of spousal abuse; directed that hush money be paid to women in advance of the 2016 election (arguably in violation of federal campaign finance laws); and routinely smeared and insulted women.
"He refused to divest his business properties, leading to widespread conflicts of interest and receipt of potentially unconstitutional emoluments. He repeatedly interfered with an ongoing investigation and was forced to close his foundation after discovery of widespread financial impropriety."
And oh, by the way, Trump's willingness to humiliate staff — including former senior military officials — is legendary.
Thinking about Klobuchar, I was reading the latest edition of Bloomberg Businessweek magazine and its cleverly headlined cover story: "Did Foxconn Con Wisconsin?"
Deep in the story about how Terry Gou, the Foxconn chairman, had out-maneuvered Trump and former Wisconsin Gov. Scott Walker, is this reference to Gou's leadership style: "Gou, a demanding leader notorious for punishing underperforming managers by making them stand for long periods during meetings, is an aggressive negotiator who in an interview once described Genghis Khan as his personal hero."
Trump, in remarks at the Foxconn site last summer, said this of Gou, according to the transcript: "I want to be thanking Terry Gou, chairman of Foxconn and a friend of mine. One of the most successful businessmen in the world. Very few people even close. And I want to thank him for investing in Wisconsin and investing in the United States."
Nope, there's no sexist double standard for Klobuchar.
Share your opinion on this topic by sending a letter to the editor to tctvoice@madison.com. Include your full name, hometown and phone number. Your name and town will be published. The phone number is for verification purposes only. Please keep your letter to 250 words or less.