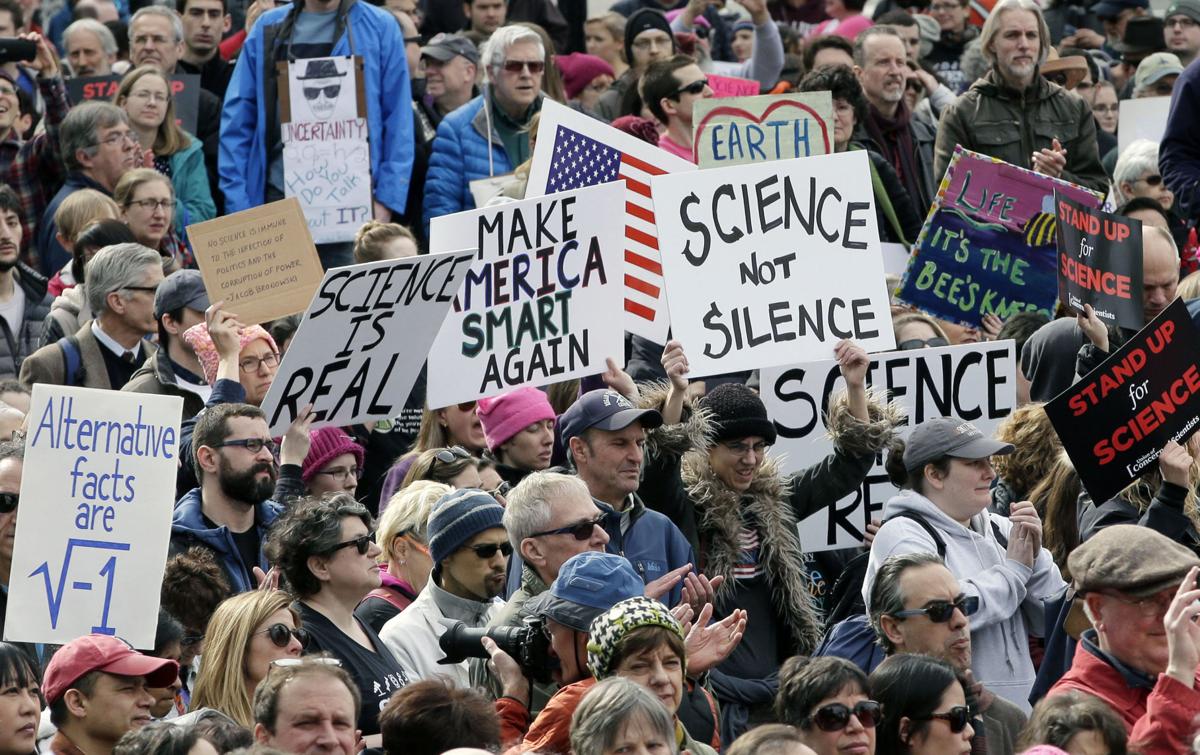 When a president denies science as consistently as President Trump does, what's a scientist to do?
Trump's Twitter targets may be unpredictable, but his disregard for science is anything but. He has appointed climate-change deniers to two key cabinet positions — as the heads of the Environmental Protection Agency and the Department of Energy. He has pledged deep, potentially crippling cuts to public research budgets and the physicist rumored to be his top candidate for science adviser has said global warming is "a good thing."
Questions surrounding science seem especially pertinent here, a city teeming with scientists and scientists-to-be.
The city's University of Wisconsin campus has more than 1,200 faculty in the biological and physical sciences, plus an uncounted number of academic and university staff who are scientists, according to UW spokeswoman Meredith McGlone. And as of last fall, there were more than 19,000 students, including graduate students, in those sciences out of a total of some 43,000.
These days, it occurs to me that most of those scientists and science students might be inclined to take to the streets.
That's precisely what's planned for April 22, which is Earth Day, when hundreds of thousands around the globe are expected to be part of the "March for Science" movement. Events are planned in Madison and Milwaukee. The headline for the Madison event's website exhorts: "Science, not silence."
The first such science march was in San Francisco in December, followed by one in Boston last month, where hundreds, many in white coats, carried signs such as "Scientists speaking truth to power" and "Scientists pursuing truth saving the world." The Boston event coincided with the annual meeting of the American Association for the Advancement of Science, not exactly a hotbed of political activism.
Dietram Scheufele was at the conference as a presenter, and you can count the UW-Madison science communications professor among the skeptics of the wisdom of aggressive demonstrations. "We had long discussions about the sense and nonsense of a march for science," he told me in an interview.
It's been nearly a year since I last wrote about Scheufele. Back then he was cautioning UW against lashing out at what many regarded — and still do — as anti-education policies by the politicians who control state government.
The key, Scheufele said, was for UW to win the hearts and minds of political noncombatants by, for example, showing how UW research propels the state's economy and improves life through medical research.
This nuanced approach, I must say, sounded more reasonable pre-Trump.
Yet others share Scheufele's concern. "Is the March for Science bad for scientists?" asks a recent headline in The New Republic. Most scientific organizations, including the group that met in Boston, are backing the effort, but some are hesitating or declining, according to a new report on the website Science. Their worry is that the scientific community might be dismissed as another liberal interest group.
Scheufele explained his reticence and predicated it on fragmentation in the media. He said people are increasingly exposed only to information sources that reinforce their preconceptions. For the scientific community, that makes it harder to reach those who are not immersed in politics or only lightly committed to Trump.
"My Google search results are based on prior searches on where I am on other things. I'm not getting the best, most accurate information. I'm getting, basically, the most popular information for people like me, and so, A, it's the selectivity, and then, B, it's even if the information reaches me, I have ways of rationalizing it away.
"And I think scientists have done a fairly effective job at increasing the probability their findings are interpreted as politicized."
He added: "I think the March for Science — and I know this is not a very popular view — the real danger with it is exactly that. If you looked at the pictures that came out of the Boston march, there were signs like 'Keep your little grubby hands away from my data.'
"It was clearly an anti-Trump sign, and there were other signs, and again, this is like Kathy Cramer going into one of the coffee shops in upstate Wisconsin and saying, 'So why do you hold these stupid views?' "
Scheufele was referring to the UW-Madison political scientist who gained acclaim by spending several years building rapport with regular Wisconsin residents to inform her book "The Politics of Resentment."
If she had opened conversations that way, Scheufele said, "Her book would've never gotten written, right? The same thing is true here. We're going out, and we're basically saying, 'Oh, there's Trump, that idiot, and look at all the things that he does,' and then we're so surprised that the Trump voters are upset at us and think that we're political players."
While Scheufele advises bridge-building and nuance, fearing a widened rift between average people and scientists, others defend the march as the correct tactic.
The website for the Madison march says this: "The mischaracterization of science as a partisan issue, which has given policymakers permission to reject overwhelming evidence, is a critical and urgent matter. It is time for people who support scientific research and evidence-based policies to take a public stand and be counted."
Yet David Lovelace, a UW-Madison geologist and an organizer of the Madison event, also sounds careful, saying the march will extol science and not protest Trump.
"This isn't a protest, and that's kind of the first key factor, that we aren't protesting as much as we are coming in to celebrate science," said Lovelace, a vertebrate paleontologist at the Geology Museum on campus.
"What we're hoping for and looking for is to have truly bipartisan support in making it a non-political issue because our point is that we're bringing information, cutting edge, current information, the best information to bear on whatever problems are arising.
"Science has typically taken the stance of: 'We provide the data, the politicians provide the morals, the economics.' They're the ones making the choice, but at least make the choice off of informed information."
I can understand this abundance of caution even though it pains me. "Alternative facts" may be the popular phrase these days, but "alternate universe" is the notion that comes to mind when I ponder how experts like Scheufele and Lovelace need to tread so carefully. Someday, perhaps, ignorance will be less fashionable.
Share your opinion on this topic by sending a letter to the editor to tctvoice@madison.com. Include your full name, hometown and phone number. Your name and town will be published. The phone number is for verification purposes only. Please keep your letter to 250 words or less.