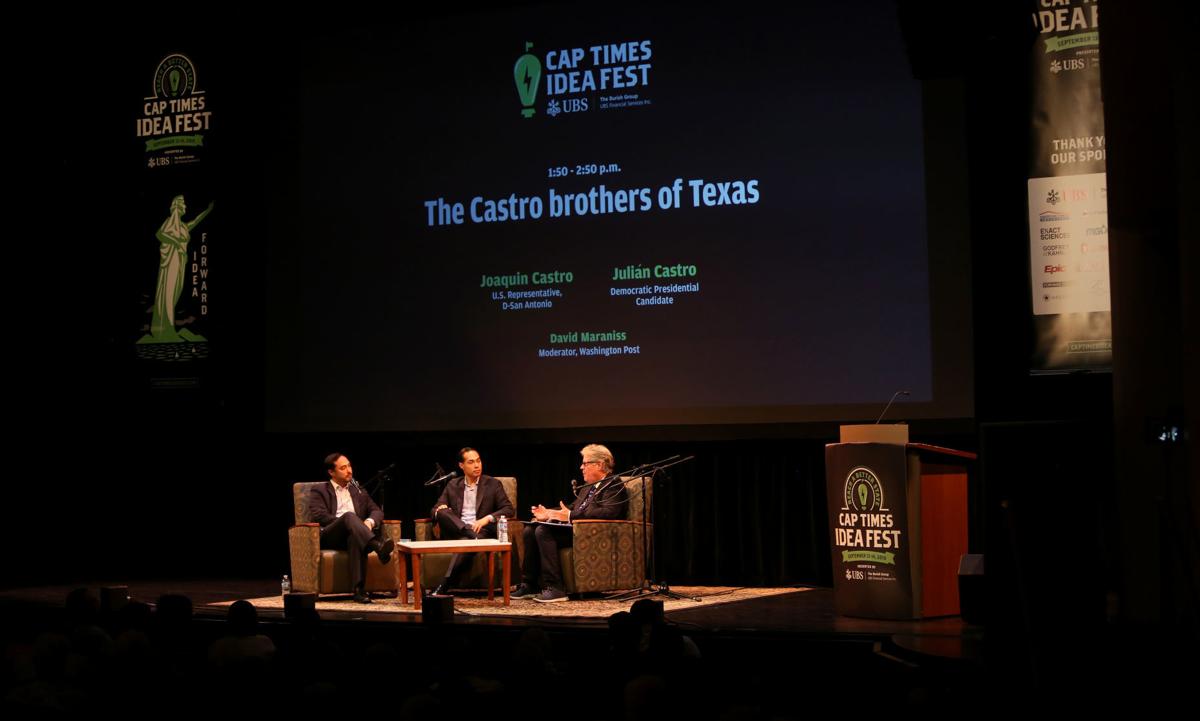 This much is certain. Madison and Wisconsin will be forever altered by 2020 — months of coping with COVID-19 followed by racial turmoil after a murder by a police officer in Minneapolis. And, oh yes, there's that presidential election.
What we don't know is what our future will look like. Most importantly, how might we think about and influence it?
That's what this fall's fourth annual Cap Times Idea Fest will be about, two dozen or so sessions over more than two weeks leveraging the Cap Times' ability to bring together exceptional speakers with a cadre of superb journalists, together shedding light on our new world with the focus on our city and our state.
Since Idea Fest debuted in 2017, "Reach a Better State" has been its mission, and that overarching descriptor still fits.
But there will be some key differences this year.
Perhaps the biggest is that this year's event will be virtual. Past festivals have featured keynote sessions with hundreds of people gathered together at venues at UW-Madison, but that would not be safe (and quite possibly not even permitted) with the continued presence of COVID-19, so we have made the decision to go digital.
And also unlike past festivals, in which some sessions featured more general conversations, this Idea Fest will be driven by sessions that touch, in some way, on today's unprecedented terrain.
Here are some possible themes we could cover:
How might the coronavirus transform Madison? Forbes Magazine recently listed Madison among the 10 U.S. cities most likely to recover quickly and well. Important if true, but is it, and why?
Beyond that, what might COVID-19 mean for Madison as a regional health center, and also as a center of health-care technology? What do some of the top local medical research minds suggest we should be thinking in this changed COVID-19 world?
Speaking of changed worlds, how can Madison make actual progress on racial equity? What would that look like? We've been talking about race in Madison for decades. But what should we do now?
Will the aftermath of Minneapolis and the experience of the coronavirus foster an era of deeper and richer human relations? How can we not retreat more deeply into isolated camps?
Huge questions confront higher education. How will the University of Wisconsin-Madison reassert itself as a world-class research institution? Will its current financial challenges become crippling, or will a newfound respect for scientific research usher in a new golden age?
How will these historic crises around the coronavirus and race influence a desperately needed focus on climate change?
Politics will again be a central component of Idea Fest, as it has been since the start.
We will continue to have national-caliber experts. Madison native and award-winning author David Maraniss will be back and will talk with journalists Carol Leonnig and Philip Rucker, who, like Maraniss, work at the Washington Post. Leonnig and Rucker co-authored "A Very Stable Genius," a New York Times No. 1 bestseller about President Trump. They can reflect on their book and what has happened with Trump just weeks before the election.
Maraniss will also talk with Ruth Marcus, an acclaimed Post columnist, about the pre-election landscape.
We also will focus on the outlook for the fall's state legislative elections and of course what the prospects are for the presidential election given that Wisconsin is a crucial battleground state.
And even in these challenging times, we will have fun at Idea Fest, with trivia competitions and other entertainment.
But as we have in the past, we will also talk about the culture of entertainment and how that landscape has changed in 2020. Madison is packed with distinctive restaurants, for example, so we might convene a session discussing what the dining out experience will look like going forward, and what restaurants will need to do to prosper.
The Overture Center and American Players Theatre in Spring Green, just to name two of many institutions, have allowed the Madison area to punch way above its weight for high-quality, in-person entertainment. How are key arts leaders thinking about the future?
And, of course, Badger sports often dominate the local entertainment scene. UW is remodeling an end zone at Camp Randall as an upscale oasis. But with lingering concerns about people being in close proximity — and high-definition home-viewing options — will fans continue to fill high-priced seats?
Our conversations will be powerful, moderated by experienced journalists from the Cap Times and elsewhere, asking and answering the important questions.
The fact that the sessions will be virtual in 2020 will be in some ways a strength. Previously, a challenge with our in-person format was that we would sometimes have four or more compelling sessions at the same time.
This new format will allow us to present content in easier bites. We will also develop creative ways for audiences, especially Cap Times members, to directly participate and have an in-person feel. Look for members-only sessions, too.
Our goal is to make news and to break ground. And with many topics, we hope to uncover next steps to tackle our challenges. We will announce dates and details and program specifics as soon as we have them.
Our promise is this — you will emerge with new thoughts about the public affairs topics that matter most to Madison and to Wisconsin.
Share your opinion on this topic by sending a letter to the editor to tctvoice@madison.com. Include your full name, hometown and phone number. Your name and town will be published. The phone number is for verification purposes only. Please keep your letter to 250 words or less.