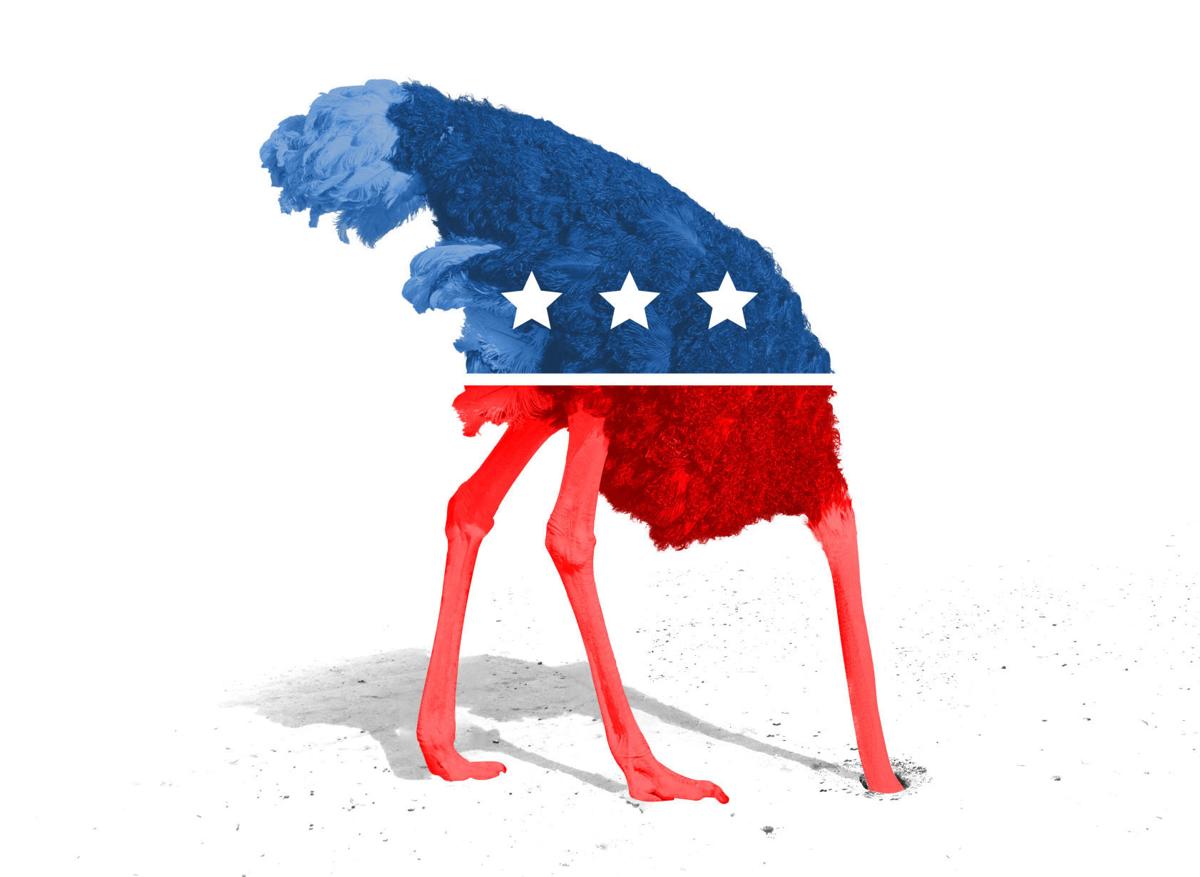 After the most recent Democratic presidential debate in Des Moines, Iowa, it was impossible to avoid the video showing Elizabeth Warren refusing to shake hands with Bernie Sanders.
A day later, CNN found audio from the exchange. Warren had accused Sanders of calling her a liar on national television and Sanders was evasive, dismissively waving her off and turning away. The crux was whether Sanders had told Warren in a private conversation last year he didn't think a woman could defeat Donald Trump. She said he did; he denied it.
Unlike many debate moments, it had the virtue of being authentic.
In the debate's broader aftermath, many commentators described it as a ho-hum affair and offered an array of opinions about winners and losers. Depending on whom you like, you could find someone writing or saying that your preferred candidate was awesome.
That same evening in Milwaukee, Donald Trump was doing what he always does — spouting hate, telling lies — and simply being bizarre. "Trump went on another rambling rant about 'worthless' new dishwashers, weak showers, and lightbulbs that make you 'look orange' at a Milwaukee rally," said the Business Insider headline.
Two asides. One, does he really think it's lightbulbs that make him look orange?
Two, I recall covering President Ronald Reagan's speech many years ago in the same Milwaukee arena. Reagan was relentlessly sunny, all optimism and opportunity. Trump has moved the GOP 180 degrees — it's all about anger, illusory threats and grievances.
It was another in a seemingly endless string of rallies in which Trump surrounds himself with sycophants. Borrowing a passage from Shakespeare's Macbeth, Trump's was a "tale told by an idiot, full of sound and fury, signifying nothing."
Sadly, the Democratic debate also signified little. It was another tedious, mixed-decision event that probably attracted the already decided and few others. I'd imagine many here were tuned instead to Badgers basketball as they beat Maryland on a last-second shot.
I wonder how much this Ground Hog-day repetition — Democrats squabbling and Trump spewing — matters? Are the eligible voters who will ultimately decide Trump's fate this fall — by voting or not voting — paying any attention at all?
On this topic is a story by Crooked Media, a group of irreverent Obama administration alums. Jon Favreau, Barack Obama's former top speechwriter, conducted four 10-person focus groups, including one in Milwaukee, and wrote his impressions under the headline: "What voters want in 2020."
His conclusions are instructive: "More than anything else, what stayed with me after the focus groups was the overwhelming cynicism these voters have towards almost every American institution. What unites most of them isn't just disgust and disappointment with Trump, but with a political system that only seems to work for a shrinking number of people who aren't them.
"The cynicism also extends to both political parties, even though I'd argue that it's largely been Republican politicians and right-wing media personalities who've degraded our institutions and divided the country for profit," he wrote.
"But because their strategy has succeeded, here we are, and in order for Democrats to reach the kind of voters I spoke to — to reach most voters, really — I think it will require something more than a critique of Trump, more than a critique of Republican policies, and even more than a vision of progressive government that would tangibly improve their lives."
Favreau continued: "Democratic candidates will have to persuade these voters that this vision is actually possible — that they'll run a government that functions and delivers for people; a government that is ethical and honest and staffed with public servants who respect the rule of law. Democrats will also have to persuade voters that they'll do their best not to wallow in the pettiness and nastiness of politics — that they'll skip the small, stupid fights that dominate Twitter and cable news to focus on the big, hard fights that truly matter to people — the cost of health care, the epidemic of gun violence, the existential threat of climate change."
Favreau wrote in summary: "A populist desire to upend the political system might seem to conflict with a hunger for leaders who will try to heal the country's divisions, but from the perspective of voters who are tired of endless political warfare that doesn't ever seem to result in much progress, it makes sense."
That will be an imposing challenge for any Democratic nominee, as reflected in this Vanity Fair headline: " 'Like, I'll tune in when there's two weeks left': Why Trump has a huge advantage over Dems with low-information voters."
In the story, Peter Hamby wrote: "Not since Barack Obama have Democrats had a figure compelling enough to overwhelm the informational divides in our culture, to appear on all screens at all times and capture the attention of people who don't usually follow politics: black people, Hispanics, young people, low-income voters, and people who just think politics sucks. Democrats need them.
"But at this stage of the race — still early, yes — Democrats aren't even close to grabbing the hearts and minds or even the eyeballs of the drop-off voters who stayed home on Election Day in 2016. In fact, it's worse: Many of those voters can't even tell you who is actually running for president. This doesn't mean voters are dumb. It means they're normal — and that Democrats have serious work to do to reach them."
It's always mystified me how someone could vote for Barack Obama and then for Donald Trump, but Hamby's is the most convincing analysis I've seen.
Where does that leave us? For now, Democratic candidates have no choice but to dwell in the messy primary ecosystem. Who knows, maybe one of them can capture the country's imagination later.
After all, Obama came through that gauntlet as an inexperienced U.S. senator with an odd name and doubts around his electability because of race yet later emerged as the iconic and inspiring BARACK OBAMA, political and cultural rock star.
This time, one can only hope — for all our sakes — someone else can meet that challenge.
Share your opinion on this topic by sending a letter to the editor to tctvoice@madison.com. Include your full name, hometown and phone number. Your name and town will be published. The phone number is for verification purposes only. Please keep your letter to 250 words or less.
Catch the latest in Opinion
Get opinion pieces, letters and editorials sent directly to your inbox weekly!