Paul Fanlund: By rejecting divide and conquer, Wisconsin turns the page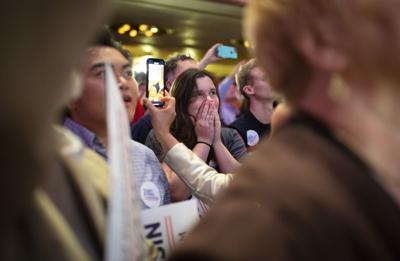 It's impossible to overstate how much those who yearn for a return to a more united Wisconsin owe to Tony Evers, our humble and bookish governor-elect, and U.S. Sen. Tammy Baldwin, a routinely underestimated liberal from Madison with steely optimism and Midwestern authenticity.
Last night in Wisconsin, each proved politics does not have to be a blood sport.
Who knew? You can still win by being nice, as well as smart, earnest, and focused on the concerns of everyone, not always trying to win by caricaturing and demonizing political adversaries.
Theirs, of course, is a night-and-day contrast to the bellicose style of Donald Trump. His is the national version of the divide-and-conquer politics practiced for two terms by Gov. Scott Walker and during the past year by Baldwin's GOP opponent, state Sen. Leah Vukmir.
Sure, Evers faces a Legislature controlled by Republicans, one that may be as hostile to his efforts at collaboration as Congress was to President Obama.
And Baldwin returns to a U.S. Senate whose Republican majority grew even as the national focus will turn to the U.S. House, where a new Democratic majority will restore some accountability in Washington, D.C.
But Evers and Baldwin strike me as two leaders temperamentally well-suited to the challenges and opportunities ahead.
Each is positioned to be in the vanguard of a national Democratic movement that prizes problem-solving and collaboration over, as Evers said in his victory remarks Tuesday night, governance by picking fights.
By demonstrating such leadership, they can play lead roles in making theirs the party of compassion and collaboration against the GOP's brand of hate and divisiveness.
Remember, it wasn't that long ago that Republican Tommy Thompson won four gubernatorial elections — once with 67-percent support — by being authentic and endeavoring to represent everyone.
Now, some voices on the far left will be eager for payback. One understands that emotion after eight years of the smug and dictatorial Walker, posing as "courageous" while afraid to appear outside controlled settings. (It might have been easier to get Vladimir Putin to a public forum in Madison than Scott Walker.)
Here is why I would resist such impulses:
Seven years ago over coffee, I was stunned when Baldwin, then a congresswoman, revealed for my column that she was launching her Senate bid at a time when the tea party typhoon was at full force. Since winning in 2012, she has represented Wisconsin with strength, good humor and humility, and was rewarded last night with an easy victory despite all the money spent against her.
In a way, she's a model for Evers.
Last week, I quizzed former senior state officials, partisan and otherwise, about what an Evers victory might mean. Based partly on their input, it seems he might organize his new job in three baskets.
The first requires him to pursue bipartisan solutions through good-faith efforts to work with Republicans, unless and until they refuse. His areas of initial focus should be the three pillars of his campaign — education, health care, and transportation.
Education was and will continue to be an important — and winning — issue. As he pledged in the campaign, Evers should work to phase in state funding of two-thirds of the cost of public schools while phasing out support for charter schools (read religious white schools.) As a career educator, his will be an administration that respects and values teachers and the central role they play in our future economy.
Health care is another list-topper. The no-brainers include withdrawing the state's support of the lawsuit against the Affordable Care Act, seeking a law that mandates coverage of pre-existing conditions in Wisconsin, looking to expand the state's high-risk insurance pool and pursuing the federal Medicaid money that Walker rejected. The politics of it aside, affordable health care should be a moral crusade.
On transportation, Evers should push a comprehensive plan with a modest gas tax increase that recognizes two undeniable truths. Roads under Walker have crumbled — a state audit found the percentage of state highways in "fair, poor or worse" condition more than doubled under Walker — while debt payments on transportation also doubled through borrowing. Truly, Walker "kicked the can down the road" on this issue (given their condition, the can may not have traveled far) and it is time to pay up for what we need.
The second basket includes issues crucial to Wisconsin's clean government tradition — the gradual return of fair play and integrity. That includes blocking the kind of extreme partisan gerrymandering that has made Wisconsin infamous nationally, reversing race-tinged voter suppression efforts and instead pursuing measures to make it easier to vote, exploring restrictions on campaign contributions, reversing curbs enacted to protect politicians from Joe Doe probes, stopping the pay-for-play pipeline of corporate polluters and other donors who have dictated state policy, and reversing a trend of deepening patronage in state bureaucracy.
A third basket includes areas of gigantic but under-advertised opportunity for Evers to act unilaterally.
Look, Walker and Republicans have gutted the Department of Natural Resources. A strong cabinet secretary should act within existing law to stretch interpretations that prioritize science over campaign contributions. Groundwater permitting, climate change and chronic wasting disease all need sharpened focus and could advance with science-based administrative leadership.
Elsewhere, Evers, whose core personal brand is education, can help bring an end to the era of using the University of Wisconsin System as political punching bag, routinely underfunded and micromanaged. Research needs more budget support. The apocalyptic fear — that some future Madison chancellor would be a meet-a-payroll business type eager to turn globally renowned UW-Madison into a big trade school — is allayed.
One could go on. Evers should name a corrections secretary eager to gradually reduce the state's excessive prison population while protecting the public. There will almost certainly be more diversity in Evers' cabinet and a recognition that, yes, black lives actually do matter. The city of Madison will not have its local control further diminished as part of the GOP vendetta against this hotbed of political foes.
Large corporate donors will no longer have the governor on speed dial and dictate state tax policy. Instead, Evers can emphasize family farms, small businesses and high-tech industries. He can counter the tired narrative that Democrats raise taxes by targeting income-tax relief to the middle class in part by quantifying how the big winners under Walker were those already at the top.
When one ponders the importance of the Evers and Baldwin victories to helping truly making Wisconsin "great again," it is surreal and almost overwhelming.
Each deserves our deepest admiration — and our thanks.
Share your opinion on this topic by sending a letter to the editor to tctvoice@madison.com. Include your full name, hometown and phone number. Your name and town will be published. The phone number is for verification purposes only. Please keep your letter to 250 words or less.