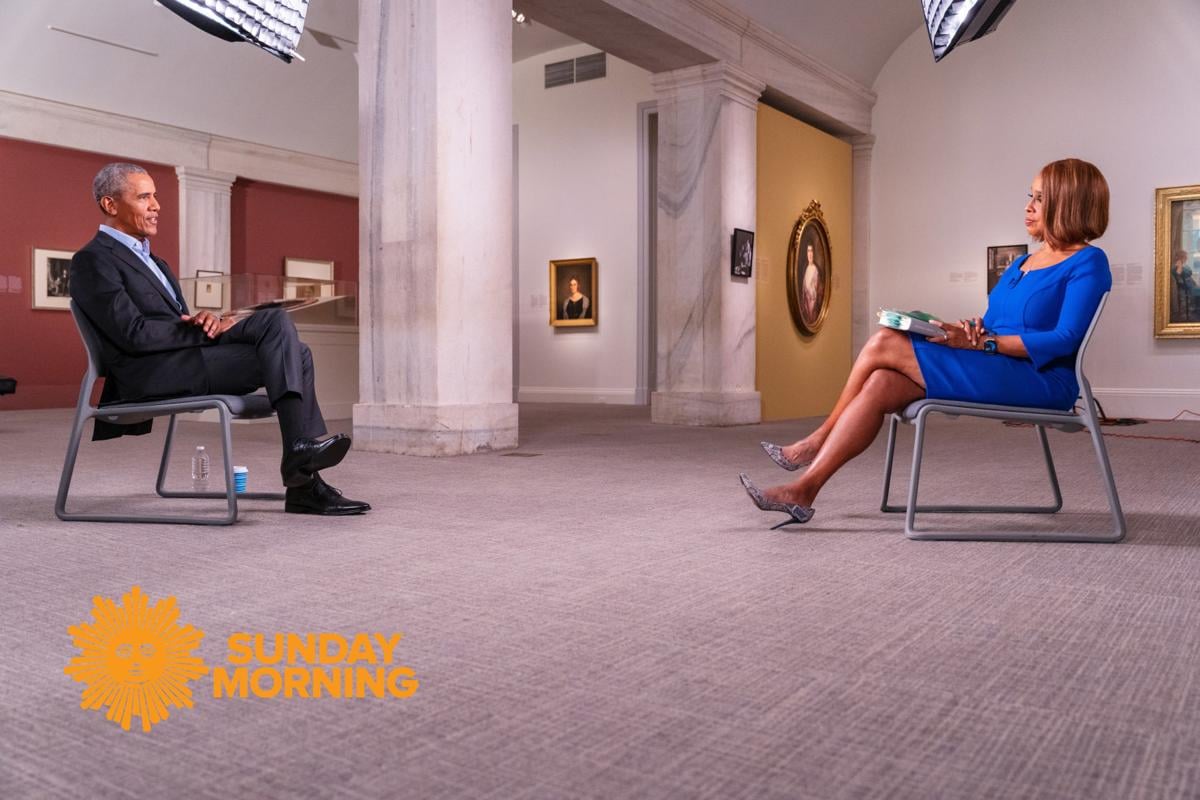 In a flurry of interviews about his new book, Barack Obama can't seem to stop talking about how our news and information ecosystem is the biggest cause of the poisonous divide in American politics and culture.
"Obama's book tour doubles as a warning about 'deeply divided' media landscape," said one CNN headline.
Meanwhile, Fox News, until recently the go-to propaganda arm of Donald Trump and the Republican Party, is being attacked by Trump and his allies for demonstrating inadequate fealty. A breaking point was the network's election-night call that Joe Biden would win Arizona's electoral votes, which turned out to be true but beside the point. Trump was reportedly apoplectic.
Stepping back, this trend of distrusting professional journalists who provide a generally agreed-upon set of facts to debate has been happening for decades — so long that the traditional concept feels almost quaint.
When you mention legendary television anchorman Walter Cronkite to some younger people, you anticipate eye rolls. Isn't it great, some counter, that the internet has "democratized" the flow of news and information so that gatekeepers like Cronkite no longer exist?
Yeah, right, because the 2020 media landscape is just so good.
Growth of the internet is not the only factor. The far right has long been more nimble than the left at inventing cult-like systems to spread misinformation and seed conspiracy theories. We should have seen that coming in the 1990s because there never has been a successful left-wing Rush Limbaugh.
Another factor, of course, has been the downward pressure on newspaper staffing, especially for those without the national digital revenue models of the New York Times or the Washington Post.
Promoting his book titled "A Promised Land," Obama seems to obsess about the news media. In an interview with The Atlantic magazine, for example, Obama said the nation now lacks a "common narrative" that once was provided by major television anchors and newspapers.
"I come out of this book very worried about the degree to which we do not have a common baseline of fact and a common story," Obama said. "We don't have a Walter Cronkite describing the tragedy of Kennedy's assassination but also saying to supporters and detractors alike of the Vietnam War that this is not going the way the generals and the White House are telling us. Without this common narrative democracy becomes very tough."
Later, he added: "I think it is the single biggest threat to our democracy. I think Donald Trump is a creature of this, but he did not create it. He may be an accelerant of it, but it preceded him and will outlast him. I am deeply troubled by how we address it."
The populist wave, Obama said, was abetted by Fox News and other right-wing media outlets and encouraged to spread by social media companies that won't acknowledge their impact on democracy.
"I don't hold the tech companies entirely responsible," he said, "because this predates social media. It was already there. But social media has turbocharged it. ... The degree to which these companies are insisting that they are more like a phone company than they are like The Atlantic, I do not think is tenable. They are making editorial choices, whether they've buried them in algorithms or not. The First Amendment doesn't require private companies to provide a platform for any view that is out there."
Obama told National Public Radio: "If you watch Fox News, you perceive a different reality than if you read the New York Times and that didn't used to be as stark because you had local newspapers and you had people overlapping in terms of where they got information. But now, partly because of social media and sort of the echo chamber, a lot of the people who voted for Donald Trump do not believe that in fact COVID was mishandled."
On CBS News, Obama was asked what it says about America that 72 million people voted for Trump. "Well, what it says is that we are still deeply divided," he replied. "The power of that alternative worldview that's presented in the media that those voters consume, it carries a lot of weight."
Obama described how different things were as recently as 2008, when he ran for president.
"I went into a small town, there's a small-town newspaper, and the owner or editor is a conservative guy with a crew cut, maybe, and a bow tie, and he's been a Republican for years," he told The Atlantic. "He doesn't have a lot of patience for tax-and-spend liberals, but he'll take a meeting with me, and he'll write an editorial that says: 'He's a liberal Chicago lawyer, but he seems like a decent enough guy, had some good ideas.' "
Many of those newspapers are now gone, Obama said, and a right-wing network like Fox is on in the barbershop or the VFW hall, which makes it difficult to "break through."
Meanwhile, the current fight between Trump and Fox is deeply ironic. Fox, in what some see as a jab back at Trump, has a new slogan: "Standing up for what is right." Trump is furious at Fox and urging followers to move to more conspiratorial and, believe it or not, less responsible pro-Trump outlets like Newsmax or One America News Network.
Trump tweeted recently: "Very sad to watch this happen, but they forgot what made them successful, what got them there. They (Fox) forgot the Golden Goose. The biggest difference between the 2016 Election, and 2020, was @FoxNews!"
A major network is being threatened for being insufficiently irresponsible even as the mainstream media is told the concept of professional journalists as gatekeepers is obsolete.
Admittedly, this is self-serving, but it is hard for me to see how this gets better unless people become more discriminating and seek out professional reporting of the kind we do locally at the Cap Times, reporting that isn't driven by some kind of organizational partisan agenda.
For those too young to recall, Cronkite signed off his newscasts each night by saying "and that's the way it is." It appears both Obama and I miss Cronkite's era of media. That's the way it is.
Share your opinion on this topic by sending a letter to the editor to tctvoice@madison.com. Include your full name, hometown and phone number. Your name and town will be published. The phone number is for verification purposes only. Please keep your letter to 250 words or less.
Catch the latest in Opinion
Get opinion pieces, letters and editorials sent directly to your inbox weekly!