How could a job offer, any job offer, save a family? Sounds hyperbolic, but it happened.
For former Cap Times editor-in-chief Elliott Maraniss, his wife, Mary, and their four children, his start at the Cap Times in 1957 rescued a family that was both beleaguered and nomadic.
The Maraniss saga is recounted in a brilliant new book by Elliott's son David, a Pulitzer Prize winner and editor at the Washington Post, titled: "A Good American Family: The Red Scare and My Father."
The book, which won't be released until mid-May but is available for pre-order on Amazon, is the epic story of how the Maraniss family persevered during a dark era in American history. At its heart is Elliott, whose poignant writing about what it means to be a real American still resonates today.
David writes about how his father and mother, after youthful connections to communism, struggled for years to escape the stigma in the era of Wisconsin U.S. Sen. Joe McCarthy.
David describes how his father was summoned to appear at a House Un-American Activities Committee hearing and fired from a Detroit newspaper in 1952, then was dogged by the Federal Bureau of Investigation until he was able to settle in Madison in 1957, rescued by Cap Times founder William T. Evjue, a fierce critic of McCarthy's anti-communist hysteria.
"It had been five years since my father was identified as an un-American" at the Detroit hearing, David writes in describing the family's move to Madison. "Five years, five cities, four kids, eight homes, two papers that fired him, three papers that folded."
Elliott brought his family to Madison and didn't just survive, he soared, attaining the Cap Times' top job, transforming the newsroom and leaving a rich legacy in local journalism.
In the book, David describes how it happened.
Evjue's "Hello Wisconsin" column appeared in a labor paper in northeastern Iowa where Elliott worked until it folded. Elliott wrote to Evjue and was invited to Madison, to the old newspaper building on South Carroll Street near the state Capitol. Elliott was hired on the spot, at $114 per week. The house the family found was on Chandler Avenue near the Henry Vilas Zoo. "My first concern was whether I would be eaten by a lion or a tiger," writes David, who was eight years old at the time. "But at least the FBI was no longer following us."
The book quotes from an FBI memo from that year suggesting it was pointless to continue surveilling Elliott, in part because he had no communist contact for five years, and in part because the Cap Times was "considered unfriendly to the bureau."
That, as they say, would be an understatement.
Elliott moved up the ranks at the Cap Times as city editor, managing editor and finally as its top editor, retiring in 1983. He was a powerful force for investigative reporting, hired our first African-American staffers and promoted women from the society pages to news reporting.
In my Fish Hatchery Road office that Elliott once occupied, I display a framed job inquiry response that Elliott sent me, a recent journalism graduate, in 1975. I didn't actually join the Cap Times until decades later, but I saved the letter because of Elliott's encouraging words amid a deluge of curt rejection letters in the post-Watergate glut of would-be baby boom journalists.
Elliott's Madison salvation is how David's story ends, but what about this communism thing?
David writes that both of his parents had youthful connections to communism. While those connections are revealed throughout the book, I asked David to summarize them.
He said his mother was in the Young Communist League and then the Communist Party USA from about 1940 until 1952. He adds: "Elliott was a radical at the University of Michigan from 1936-40 when he was at the Michigan Daily newspaper and later after WWII wrote for the Michigan editions of two Communist Party-related newspapers, first the Michigan Herald and then the Michigan Worker, from about 1947 to 1952. They (his parents) were motivated by their beliefs in economic and racial equality."
In his book's first chapter, David writes about the paradox of his father: "It is hard for me to overstate what a force for good he was not only in my life and those of my siblings, but also in the lives of scores of newspaper people, professional acquaintances, and friends of the family who were heartened and encouraged by his intuitive intelligence and positive nature over many decades."
He adds: "But there was a time when Elliott Maraniss was a communist. I say this without hesitation, without shame or pride. There are aspects of his thinking during that period that I can't reconcile, and will never reconcile, as hard as I try to figure them out and as much of a trail as he left me through his writings." David's reference is to communist oppression of that era and that his father apparently abided it.
David's book effectively exposes the hypocrisy of his father's congressional accusers, profiling the House committee members, one of whom had belonged to the Ku Klux Klan, and others who had impeded civil rights progress.
One chapter is entirely devoted to the statement Elliott submitted but was not allowed to deliver at that House Un-American Affairs Committee hearing.
In it, Elliott likened the hearings to the Spanish Inquisition or the Salem Witch Trials. The committee's "attempt to enforce conformity of political or economic thought is a long step toward dictatorship that holds the greatest danger to the entire American people."
Later, he wrote: "I am confident that the American people will not allow our traditions and freedom to be transformed in the image of fascism."
Who, he was asking, were the true Americans?
Elliott died in 2004, at age 86. Mary, who died two years later at age 84, told an obituary writer that Elliott's experience in a segregated Army fueled his lifelong antipathy for war and social injustice. (Elliott was a captain who commanded a unit of black soldiers in the Pacific during World War II.)
She said, "He kept that capacity for indignation at wrongs until the day he died."
Evjue and the few others in Madison who knew Elliott's history moved on from it, knowing he had evolved and was a brilliant man and consummate journalist. David writes near the end of the book: "He wanted Madison and the world to see and define him for who he was, who he had become, not who he once had been — and at that he succeeded."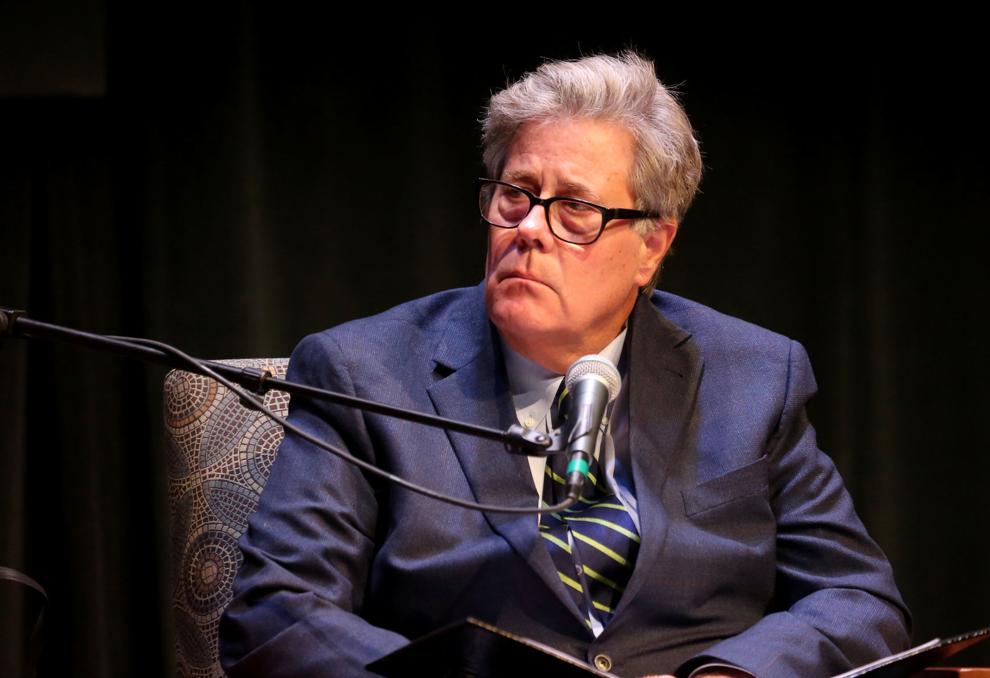 Elliott left a powerful legacy in Madison, and David and his wife, Linda, continue to spend part of the year here in their home off Monroe Street. He helps us every year through his speaker recruitment and appearances at the annual Cap Times Idea Fest (one session this fall will be about this book), and he was the driving force behind the creation of the David and Elliott Maraniss journalism scholarship at the University of Wisconsin-Madison. The person who wins that scholarship each year interns at the Cap Times in the summer.
It may be accurate that — as David describes it — the Cap Times saved his family all those decades ago. But the Cap Times — and Madison — have been repaid many times over.
Share your opinion on this topic by sending a letter to the editor to tctvoice@madison.com. Include your full name, hometown and phone number. Your name and town will be published. The phone number is for verification purposes only. Please keep your letter to 250 words or less.