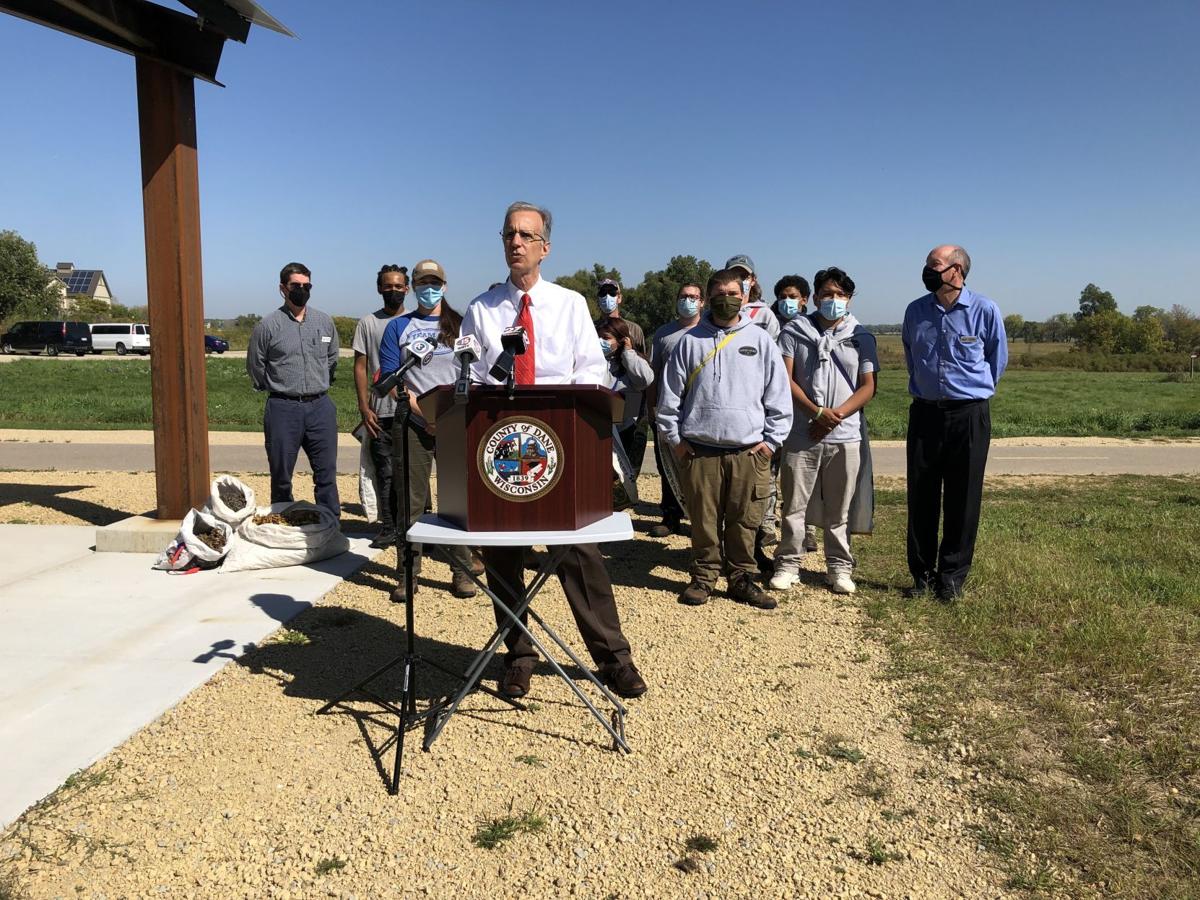 The Republican war on government dates back at least four decades to the aw-shucks venom of Ronald Reagan and his "welfare queen" imagery.
To protect its wealthy constituents from taxes to support roads, clean air and a social safety net, the party portrays public servants as greedy and lazy and all forms of government as wasteful and corrupt. Former Wisconsin Gov. Scott Walker built his political career on that fiction. With his laughably ironic references to the "swamp" in Washington, D.C., so did Donald Trump.
But this column is not about that. It's about how government should work.
In Dane County government, most elected officials actually want the system to solve problems for ordinary people, which is what an overwhelming majority of constituents want from them.
Enter Joe Parisi. Born and raised here, he's now 60 and has been county executive since 2011. He's soft-spoken, earnest and no one's idea of a rousing public speaker.
But he has not been seriously challenged since his first election and by all indications is widely popular. He received 79 percent of the vote this year and was unopposed in 2017.
Parisi recently proposed his 2022 county budgets: $659.6 million for operations — about 42 percent of that for human services — and another $88.2 million for capital spending. The Dane County Board appears unlikely to substantively alter his plans in its budget review.
I asked Parisi about this apparent lack of political drama and mentioned that the board, like him and the county itself, is dominated by left-leaning but still moderate people.
"I do think the proposals are in line with what the majority views as what needs to be done, and you're right, the board is a reflection of the greater community, definitely progressive-leaning. There will be people on both ends of the spectrum who probably won't like certain parts of (the budget), but I'm OK with that."
Parisi explained that his budget priorities fit into three "buckets" — the pandemic, mental health and climate change.
"First and foremost," Parisi said, "is to continue to keep people safe during the pandemic through our eviction prevention funds, our work on homelessness, on providing food, on small business, and that we're able to continue with many of those programs with the pandemic stretching on."
He pointed to success with COVID restrictions directed by the public health department jointly run by the city and the county.
"Our rates of transmission have been lower than surrounding communities, and our hospitalizations and our death rates have also been lower," Parisi said. "When I look back, there's not much differently I think we could've done."
In fall 2020, Parisi and Rebecca Blank, chancellor of the University of Wisconsin-Madison, disagreed publicly when Parisi wanted students in dorms sent home and the UW refused. Today, Parisi praises the UW.
"The relationship … has improved immensely," he said. "The university is now a leader in the work that they are doing to combat the spread of COVID. Their vaccination rate is outstanding. If the rest of the nation had the vaccination rate that UW-Madison faculty and staff have, we'd probably be on the other side of this pandemic, so I've been really impressed with their efforts."
The latest UW-Madison figures show that 94.4 percent of its employees and 93.2 percent of its students are fully vaccinated.
Parisi's second "bucket" is resources to treat mental health. "It's really important that we provide more access to mental health and addiction services, diverting people from the criminal justice system," Parisi said.
Debate has simmered for years over how to remodel the Dane County Jail, and adequate mental health treatment is a key, Parisi said.
"I think we should do everything in our power to keep people from entering the jail in the first place, but once they're there, we should move them through as quickly as possible, and whenever possible, deal with root causes that landed folks there," he said. "That said, there are people who are a threat to people's safety and have to go to jail."
Parisi's budget includes $10 million to build and another $1.5 million to operate a "crisis triage center," envisioned as a one-stop facility to provide mental health services to keep people out of the criminal justice system.
The climate crisis is Parisi's third bucket.
"Obviously, Dane County alone can't change the trajectory of what's going to happen with our climate, but at the same time, we can help by doing everything we can do and providing an example for others," Parisi said.
"We can implement changes that are necessary to reduce greenhouse gas emissions, and in our case, be on a course to be carbon neutral in our operations and help spread that knowledge throughout other communities."
The U.S. Environmental Protection Agency, Parisi noted, recently recognized Dane County with one of only five national "green power awards" for its work on reducing greenhouse gases.
I asked Parisi to reflect on his job during the pandemic.
"I'm very protective of the people in this community, and this has been my home forever," he responded. "I know I keep saying this and it almost sounds corny, but it comes back to it being an honor to be in this position throughout the pandemic and to be able to, hopefully, provide some help and a little hope for my community."
With the tone of most politics ranging from snarky to vicious these days, isn't it nice to know that there is a government that seems to be working just fine, one that looks out for the entire community?
Criticisms from outside frequently cast Madison and Dane County as an out-of-touch, left-wing enclave filled with a bunch of socialists.
If getting to live in a place with earnest, unflashy leaders like Parisi who push a vision for unselfish communitywide betterment that continues to resonate with most citizens, critics can call us whatever they want.
Share your opinion on this topic by sending a letter to the editor to tctvoice@madison.com. Include your full name, hometown and phone number. Your name and town will be published. The phone number is for verification purposes only. Please keep your letter to 250 words or less.