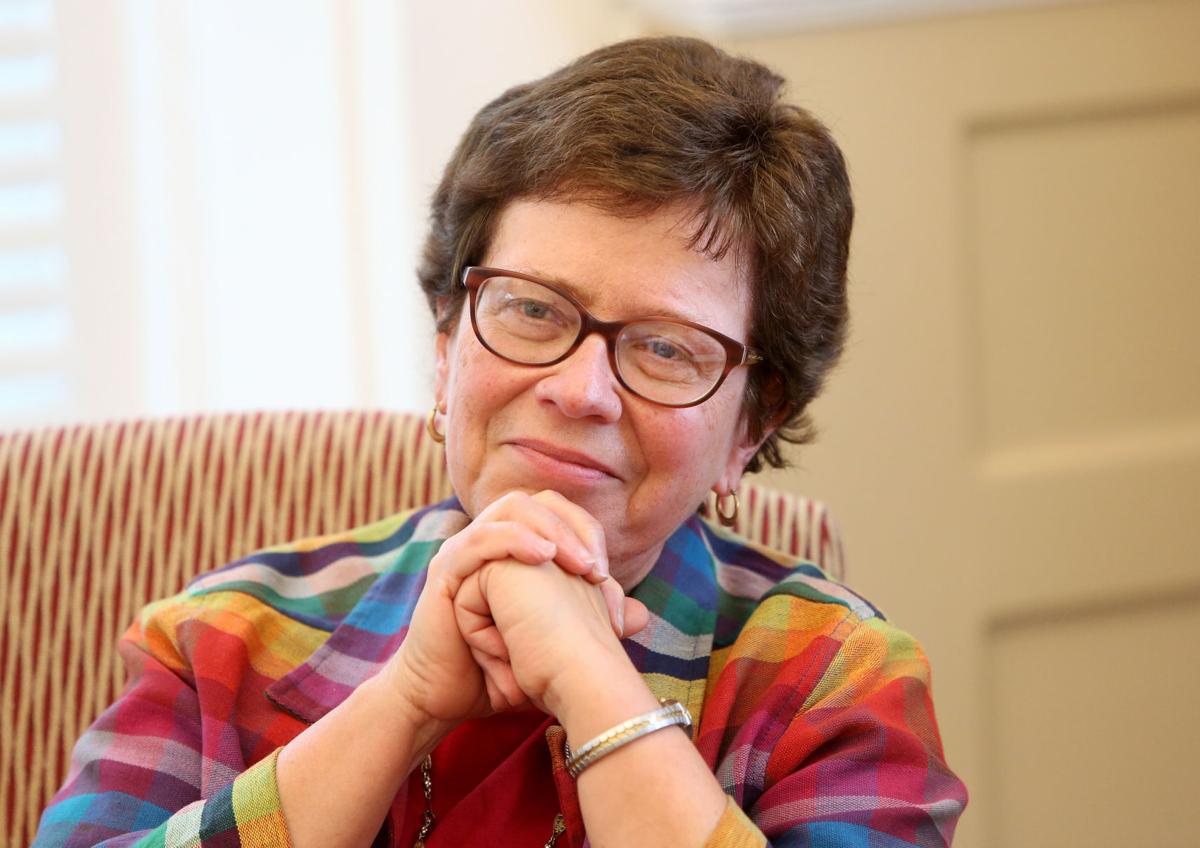 "Those are two incredibly consequential women in Badger red," I remember thinking to myself as I sat in Camp Randall Stadium. Barry Alvarez was being deified yet again for his impact on Badgers athletics in a halftime ceremony during the Oct. 2 Wisconsin-Michigan football game.
Rebecca Blank and Donna Shalala chatted on the sideline.
Shalala, chancellor of the University of Wisconsin-Madison three decades ago, helped hire Alvarez in 1990, which launched the glory days that followed.
Blank, who announced Monday she is leaving to become president of Northwestern University in 2022, was named chancellor here in February 2013 when she was acting secretary of commerce under President Obama.
Now she is leaving, and the consensus among insiders I spoke with Monday was that (a) she's done an excellent job of navigating UW through exceptionally challenging times and (b) finding a replacement of her stature may prove profoundly difficult.
To the first point, Blank, an economist, is regarded as being terrific at managing the finances of the university both in operating budgets and on campus building plans. Among many deft maneuvers, she coped with a tuition freeze imposed by the Legislature by bringing in more out-of-state students who pay higher tuition rates.
Blank is credited with being a pragmatist with a sharp intellect, capable of commanding details across many topics. "Becky always has a plan," was how one insider put it.
Another strength of Blank's, according to people I spoke with, has been her unflappable nature. "She always kept her cool when I would have blown up," was how one prominent former UW leader put it.
A longtime professor told me Blank has demonstrated a keen instinct for what he called the "art of the possible." He said that while some on campus may not regard her as a "visionary" leader, her record in simply defending and even modestly strengthening the flagship Madison campus through these politically fraught times is worthy of massive praise.
The chancellor job is unlike most any other.
It's nothing like being a CEO, whatever conservatives might want to claim. There is no hierarchy. (I've heard it said that being Madison's chancellor is like trying to run an organization with about 2,300 often egotistical independent contractors working across 13 schools and colleges joined by their desire for decent on-campus parking.)
And yet she has pulled it off with political savvy and the academic credibility that comes with her Ph.D. in economics from the Massachusetts Institute of Technology.
One topic that has been sensitive for Blank, and will be for whomever succeeds her, is race. She is credited with narrowing the gap in graduation rates between white students and students of color, with requiring every freshman to get diversity training, and for a tuition program to support prospective students from lower-income backgrounds, among other efforts. Still, one professor who acknowledges that progress maintains Blank struggled at times with messaging on a campus where Black and brown students can feel isolated.
Now to Part B – replacing Blank.
This is where the blood sports politics of Wisconsin comes into play. One longtime campus leader noted that statehouse Republicans have over many years tried to cut funding for the university, but it has only been in recent years that the GOP has also made UW a target of its populist, anti-intellectual messaging.
When Blank got the job in 2013, my column described her as needing to "overcome" the Obama connection. I wrote then: "The final hurdle, something the (Board of Regents) committee had to 'get through,' was the fact that she was a member of the Obama administration. Gov. Scott Walker … and other Republicans were reassured that she was a 'policy wonk' in her Washington, D.C. role, not a political player."
As I noted then, Blank was a Democrat but her husband had worked for a Republican-leaning think tank and, while she was at the University of Michigan, she raised money for a public policy school named for Republican President Gerald Ford.
In the intervening years, things have become even more political.
Republican antagonism toward the UW System, especially the elite Madison campus, has increased as Donald Trump and his acolytes promote contempt for public institutions. It is no surprise that a world-class research university based in this liberal enclave has been in their crosshairs.
Last summer, the topic was UW's right to enforce its COVID restriction policy without approval of the many scientific experts among Republicans in the Legislature. (Yes, I wrote that tongue-in-cheek.)
Anyway, Blank is probably far too savvy to acknowledge the appeal of a job at a private university like Northwestern, a place where she was the first woman to attain tenure as an economics professor and from which her daughter graduated in 2018.
On Monday, the Northwestern website alluded to her success in Madison: "She is widely credited for forging new relationships with (the) legislature and state government that enabled her to take multiple new steps to improve the university's finances."
Blank was certainly recruited for many jobs over the years. Had Democratic Gov. Tony Evers not won in 2018, one wonders whether she would have lasted this long.
Does anyone wonder why, at 66, Blank would choose to leave UW-Madison?
Let me think: Northwestern is a world-class, private Big Ten university in a blue state. She will never have to worry again about humoring Republicans in the Wisconsin Legislature.
As for UW-Madison, it's hard to know how this will end, especially considering the search for a permanent UW System president is ongoing.
For now, let's give thanks to Rebecca Blank. She has been an A-teamer.
And let's hope UW-Madison does not face a B-team future.
Share your opinion on this topic by sending a letter to the editor to tctvoice@madison.com. Include your full name, hometown and phone number. Your name and town will be published. The phone number is for verification purposes only. Please keep your letter to 250 words or less.