Paul Fanlund: In Wisconsin Supreme Court vote, geography is key to progressive optimism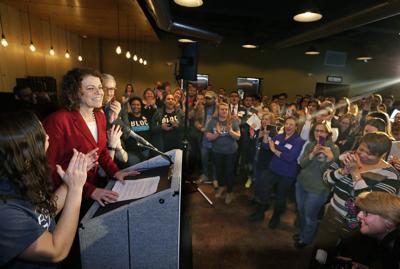 In late-night Twitter rants Tuesday, Scott Walker sounded absolutely presidential, but then the two-term governor has been caricaturing and demonizing foes longer than Donald Trump has.
"The Far Left is driven by anger & hatred — we must counter it with optimism & organization," he tweeted shortly after Rebecca Dallet, a Milwaukee County Circuit Court judge, soundly defeated Sauk County Circuit Court Judge Michael Screnock, who was Walker's pick, for election to the state Supreme Court.
In the wake of the high court race, widely viewed as a referendum on Walker and fellow Republicans in the Legislature, Democrats are exultant that the worm may finally have turned.
Tuesday's vote follows a January Democratic victory in a state Senate special election in a northwest Wisconsin district that strongly favored Trump in 2016. Now, this more meaningful statewide election could signal an end to the Republican dominance in Wisconsin politics that began in 2010.
Dallet won 81 percent of the Dane County vote, but it was results in non-urban congressional districts that most caught my eye. Sure, the 2nd Congressional District that includes Madison voted deeply blue, and the 5th District that encompasses GOP strongholds including Waukesha voted deeply red, but the real story lies elsewhere.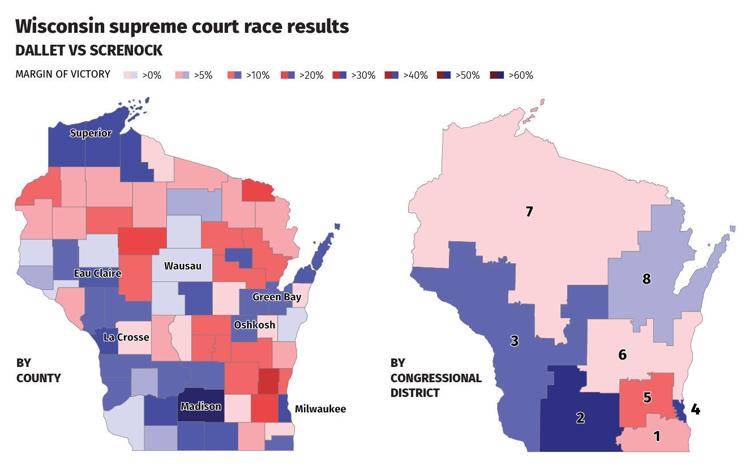 For example, Dallet only narrowly lost the massive 7th District across northern and northwestern Wisconsin — 49.9 percent to 50.1 percent. Republican U.S. Rep. Sean Duffy has held that seat for the past eight years and voters there chose Trump over Hillary Clinton by a 58-37 percent margin in 2016.
Dallet dominated in the 3rd District along the Mississippi River and was competitive in other districts that the GOP has won easily in recent elections.
So, which party's master narrative will prevail?
Progressives see Tuesday as foreshadowing a tidal wave driven by pent-up anger toward Walker's politics of division and a repulsive GOP president who divides us even more than Walker does along racial and gender lines.
In this narrative, Walker is a self-obsessed political opportunist (see his failed hard-right presidential bid) willing to put his political interests first, always. As a result, our education and transportation systems, as well as our economy, have suffered. He wants it to still be about union bosses and Act 10, but you know what they say about generals always fighting the last war.
Predictably, Martha Laning, chair of the state Democratic Party, sees it this way. In an interview Wednesday, she said the Supreme Court election and the defeated GOP effort to eliminate the state treasurer's office demonstrate failed leadership.
"The state budget hasn't funded schools properly, so referendums have had to pass all over the state for communities to keep the doors open," she said. "Our roads are deteriorating and people are asking: 'How are we going to keep our economy and get our economy really thriving if our roads are crumbling? How is that going to attract business?' "
And Laning said her party has changed: "The Democratic Party really needed to make changes. You know we needed to come back to our grass roots. The Republican Party pours money into elections and we tried to raise money and compete on ads, but we really weren't leveraging our greatest strength, which is people, and that's what we're doing now, getting that message to the people."
She said the party is recruiting first-rate candidates throughout the state, an effort that will be made easier by the Dallet victory.
And what is the preferred Republican narrative?
I'll try. These election results represent timely and motivating wake-up calls for complacent Republicans accustomed to winning. The GOP will have the statewide organization and money to "define" (i.e. bludgeon via negative ads) whichever Democrat emerges in August from a crowded gubernatorial field. Walker's inner circle likely thinks there is little they can do to boost impressions of him, so they will use their go-to method of highly personal negative branding for his eventual opponent.
As a reality test after Tuesday's election, I talked Wednesday to a noncombatant, Charles Franklin, director of the Marquette University Law School Poll and the state's pre-eminent polling expert.
What impressed Franklin about Tuesday's vote?
"I was surprised at the size of the victory, because most of our Supreme Court races have been a good deal tighter than this one," he told me.
"I was also struck by the way Dallet made inroads in places that have been solidly Republican in recent elections," notably southwestern Wisconsin and Winnebago County in east-central Wisconsin. "I think the victory was pretty wide and showed gains in areas that are substantively important for Democratic or liberal wins in the state."
Franklin added: "Her performance in Dane County was astonishing (81 percent of the vote). That's just phenomenal for a geography as large as the county. There are individual cities that routinely might push 80 percent, but for a county with a central city but big suburbs and rural parts of the county as well, that was an overwhelming victory for her."
Franklin speculated that recent headlines about Walker and allies seeking to delay elections to fill vacant legislative seats might have offended some voters. He also said he was struck by Walker's strong Twitter language — words like "anger" and "hatred." "It's not his only rhetoric, but when he's faced adverse circumstances like this before he uses it to rally his base rather than simply rail against the outcome."
Franklin did caution Democrats against euphoria, pointing out that an April election is different from one in November. But he paused, and added, "That said, I think you'd be hard pressed to find an indicator in the state that is showing anything other than a Democratic resurgence."
It was Hunter S. Thompson, the iconoclastic journalist, who once wrote: "Good news is rare these days, and every glittering ounce of it should be cherished and hoarded and worshipped and fondled like a priceless diamond."
In Wisconsin, after nearly a decade of Walker exacerbated by the outrages of the Trump presidency, it seems like, for now, some cherishing and fondling are in order.
Share your opinion on this topic by sending a letter to the editor to tctvoice@madison.com. Include your full name, hometown and phone number. Your name and town will be published. The phone number is for verification purposes only. Please keep your letter to 250 words or less.