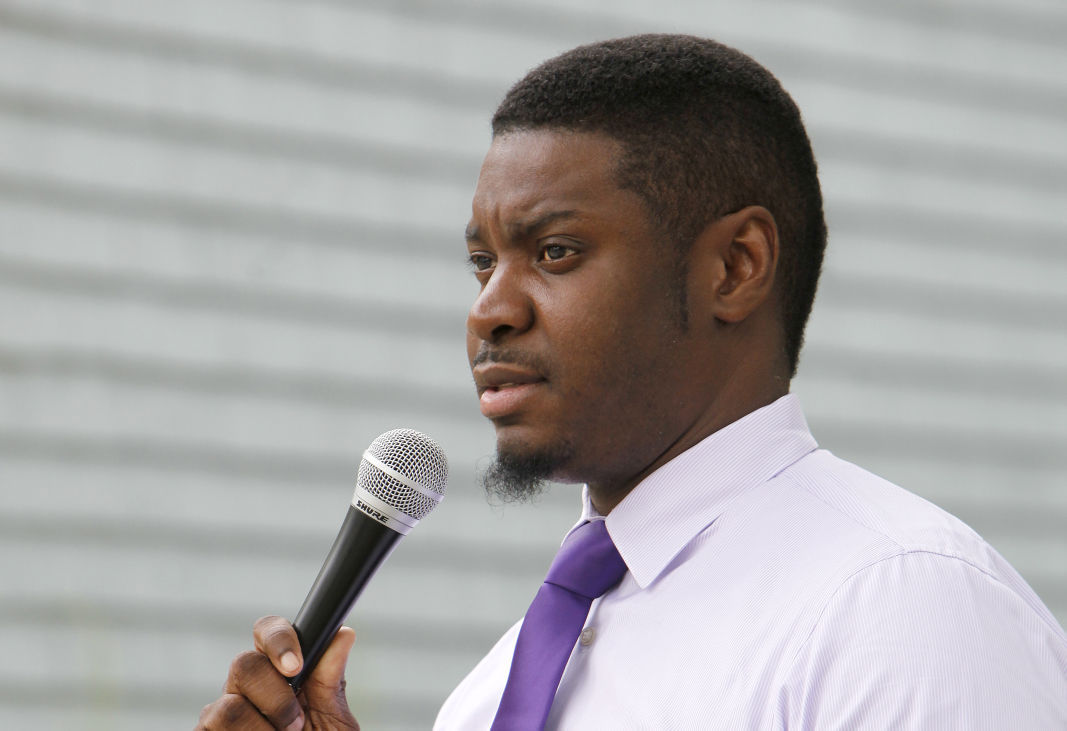 MediaTrackers, a right-wing website, is filled with gotcha stories aimed at the University of Wisconsin's flagship Madison campus.
Its targets are predictable, ranging on one recent day from outrage over researchers using tissue from aborted fetuses to what it described as a "Marxist" professor pursuing "useless knowledge."
Much less predictable was its recent story about Everett Mitchell.
At a Madison panel discussion on policing practices last month, Mitchell, UW's director of community relations, was videotaped by MediaTrackers commenting on the aggressive prosecution of shoplifters at "big box" stores.
In addition to working at UW, Mitchell is the pastor at Christ the Solid Rock Baptist Church in Madison and a former Dane County assistant district attorney. He is also one of city's most important civil rights leaders. The same day as the policing forum, he received a community award for advancing civil rights, justice and compassion.
After watching the brief video excerpt from the two-hour event and then interviewing Mitchell, it is clear he could have framed his intended message more clearly.
In an interview, Mitchell told me he meant to point out how "over-policing" in minority neighborhoods can contribute to racial profiling and discrimination against African-American youth. I understood and agree with his point, that aggressive prosecution for offenses like shoplifting can start black youths on a domino-like downward spiral.
That comes through to some degree in the video, but this is what he actually said: "I just don't think that they should be prosecuting cases ... for people who steal from Wal-Mart." Mitchell added that he didn't believe Target and other big box stores with insurance should be using "the fact that people steal from there as justification to start engaging in aggressive police practices."
While reasonable people might scratch their heads at his choice of words, Mitchell has said since that he didn't intend to condone stealing.
The underlying issue has been fully documented, most recently by a Wisconsin State Journal report that a black person is 10 times more likely than a white person to be arrested in the city.
But what this column is really about is "Bob" — and people like him — who contacted Mitchell directly or have written about him since this episode began.
Mitchell said he got this email — and brace yourself, because it is vile: "You really are one dumb nigger. And we pay you? Bob"
Pause on that one for a second.
Next time I think I have an evolved understanding of what it feels like to be black, I will think of Mitchell and how I would react to receiving that email.
I asked him about the overall volume and tone of the responses: "Well, I've been getting emails every day since the article hit. I was getting phone calls, messages to my church and messages on my home voicemail.
"They found my cell phone number and found my home number. Most of the messages were 'How could you do this?' You're ignorant, stupid. Why don't you just tell your people not to steal and maybe there wouldn't be any need for police activity."
Mitchell said it was the initial MediaTrackers headline that ignited the controversy: "UW Director of Community Relations Says Shoplifting Not a Crime."
"I did not say shoplifting was not a crime," Mitchell said, "yet this headline disturbed enough people that I was flooded with hateful and racist emails and phone calls both at my job and at my church."
He continued: "As a black man living, working, contributing and educating in Wisconsin, I guess I naively assumed that if I did all the right things, worked hard, obtained degrees, and embraced the American dream, even in moments of controversy, people would disagree with my ideas, but still see me as a human being."
Mitchell continued: "I realize now that when I made this statement at the forum … my thought was not clearly communicated, that to a broader audience that statement on its own, pulled out of context … made it seem as though I have no respect for law, businesses or property.
"Let me be crystal clear: stealing is wrong and criminal. If someone is caught shoplifting from any store, he or she should be prepared to deal with the consequences. The example of big box stores was meant to highlight how communities can address non-violent offenses differently from simply sending people to jail."
He said that as an assistant district attorney, he prosecuted people and courts convicted them for stealing: "Sometimes the people I had to prosecute were not stealing because they wanted to enrich themselves. Some were trying to feed their families, put diapers on their babies or get school supplies for their child.
"Yes, there are people in our community who are that poor. Was it wrong for them to steal rather than find a local resource? Yes. Was there another way possible to deal with the harm they caused? Perhaps there is. I believed then, as I do now, that there needs to be another option than putting non-violent offenders in jail.
"One option I advocate is the use of a Community Restorative Court that looks at an individual holistically rather than just through the lens of the crime a person committed. A restorative justice court provides an opportunity to address the crime committed while also examining employment, housing, support, and treatment needs of low income and communities of color while also maintaining the possibility of productive future."
Mitchell said the insulting emails calling him stupid or ignorant prevent any constructive dialogue: "Those few words from Bob are a reminder that there are people who do not see the world as I choose to see it. And that is fine. I will continue to work tirelessly to ensure that all of our children in our community are treated as human beings. My hope is that the Bobs of the world stay in the minority."
Some readers will fire back at me — and at Mitchell — and say that Bob is an anomaly, that you can always find racist outliers. But I carefully scrolled through the comments under the YouTube video of his excerpted remarks. It was genuinely disturbing, the tone of vitriol and unbridled racial hatred one might expect on the message board of some white supremacist group.
In the end, the right wing will continue its attacks on UW, on its researchers, on its professors and on its administrators. The frontal assault on public education and, more broadly, knowledge in all forms is central to the right-wing brand and will continue. It is what they do.
But my lesson here is that it truly gets ugly and personal when the target is also African-American. Good to know.
In our conversation, Mitchell referenced a quote from celebrated author James Baldwin: "Not everything in the world can be changed. But nothing can be changed until it is faced," to which Mitchell added he may not change Bob's opinion of him, but he will face inequities with courage and "hope that our collective passion will offer Madison and Dane County a different way, a better way, a more just way."
Share your opinion on this topic by sending a letter to the editor to tctvoice@madison.com. Include your full name, hometown and phone number. Your name and town will be published. The phone number is for verification purposes only. Please keep your letter to 250 words or less.
Catch the latest in Opinion
Get opinion pieces, letters and editorials sent directly to your inbox weekly!