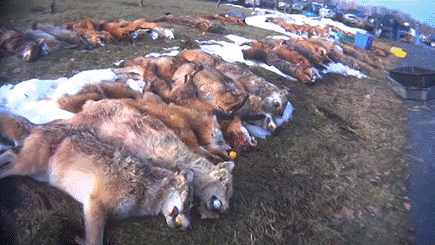 "(H)unting is my passion, killing is my obsession. Those of us that hunt, enjoy the hunt, but at the end of the day it's the kill we want. Don't be just a hunter. Be a killer." ~ Steven Davis, killing contest participant 
In the Dec. 12, 2018, article "A Death of Ethics: Is Hunting Destroying Itself?" lifelong hunter Todd Wilkinson calls out predator-killing contests and the methods of killing (any) that can be used on wolves, coyotes, mountain lions, bobcats, raccoons, and even crows and mourning doves. Hunters treat predators as worthless vermin.
Predator-killing contests are held all over the country, including Wisconsin. The contests go on for days and hundreds of wildlife are killed to win prizes like guns and cash. Those who kill the most wildlife — the biggest, the fastest — win.
There are at least 13 known predator-killing contests in Wisconsin, according to Project Coyote, and another 10 contests to kill raccoons, crows and mourning doves or other species. 
Project Coyote has created a documentary called "The Killing Games" to awaken the public to the urgent need to protect our vulnerable coyotes and predators. The trailer can be seen here.
Moondog Madness advertises itself as a major Wisconsin coyote-killing contest. Their third kill fest was hosted by Mojoz Saloon in Cambria in 2017. Dates in 2019 are hosted by Silent Outdoors in Sparta and Recobs in Prairie du Sac. The dates are Jan. 4-6 and 18-20, with Feb. 1-3 the final killing spree in Cambria.
Manipulating wildlife with distress calls of their babies exploits their natural love for their young and family, to draw them out for easy kills, often at night. Lights are used to blind and confuse the animals. This is not just condoned but enabled by the DNR and legislative policies that allow year-round persecution of coyotes using packs of dogs and semi-automatics, ATVs, snowmobiles, traps, snares. Anything goes. 
Moondog Madness credits its sponsors for supporting its events — sponsors like "Made For Killing," bragging they could not hold the events without them. The MFK site highlights the hunters who use MFK's wildlife-calling products, like Brandon Helms of Texas, pictured holding up two dead bobcats. He writes that he started killing predators when he was 15: "There's nothing like late nights and bright lights and the glow of eyes coming to a call."
Daniel Wright of Wisconsin, on the MFK website, is pictured with 13 freshly killed Wisconsin coyotes hanging behind him. He writes, "Over the years, my true passion has become predator hunting … I can't think of a better group of killers to be a part of. SOUND BETTER KILL MORE!!!"
Hunting has devolved into the worst imaginable animal cruelty. Wilkinson makes the point that if deer or elk were treated this way, perpetrators would likely be charged using animal-cruelty laws.
Trapping hundreds of thousands of wild animals is not gruesome enough for these wildlife haters — they want to experience a different adrenaline rush. Here is not an undercover video but a proud self-promotion by a hunter running over coyotes repeatedly with snowmobiles working in groups. Then he picks up a run-over coyote by the tail to swing him, bashing his head repeatedly against the snowmobile, then races off to run over other coyotes.
More depictions of running over coyotes and killing them is on the Instagram account chasin_fur . 
Argonne, in Forest County, situated at the edge of the Chequamegon-Nicolet National Forest in northern Wisconsin, advertised their killing contest to some controversy in 2016. A poster by Main Street Ed's, host of the contest, read: "Come for the bloody carcasses, stay for supper!"
The blog of Scott Slocum, who identifies himself as an independent scientific/political commentator, commented on the contest: "Wildlife live in reality, and in that reality, the wild families are being terrorized. For those who know them, they're not 'quarry,' but mother, father, family member — ally in a wild struggle to survive. They're tracked and run to exhaustion by hounds, mauled if caught, killed if necessary, or released to recover or die. If they're spared, they're chased another day. If they're killed, they're killed inhumanely; if they're wounded and left to live or die, they're wounded inhumanely. If they're misidentified as 'coyotes,' they're shot without caring that they're wolves."
Dave Parsons, a retired career wildlife biologist with the U.S. Fish and Wildlife Service and Project Coyote Science Advisory Board member said: "These contests are symptomatic of a broader problem of misguided wildlife governance by state agencies that fails to recognize and value the crucial ecological roles of native predators."
California banned killing contests in 2014 and Vermont followed in 2018.
With all my fellow mortal animal being, I stand against these atrocities. But it is only you, Wisconsin citizens, who can end them.
---
The Humane Society did an undercover study of a New Jersey killing contest, picturing men grinning in front of hanging dead foxes. The group is offering a toolkit for citizens to help.
HSUS petition to states to end killing contests is here.
Please contact the Tony Evers campaign to send them this column and request action to end killing contests, and request a humane appointment to secretary of the DNR: EversInfo@wisconsin.gov and 608-267-2560.
Share your opinion on this topic by sending a letter to the editor to tctvoice@madison.com. Include your full name, hometown and phone number. Your name and town will be published. The phone number is for verification purposes only. Please keep your letter to 250 words or less.