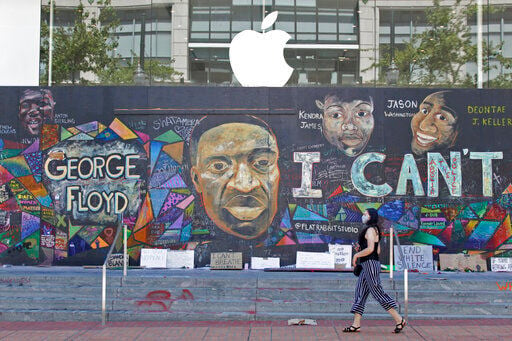 Acts of violence, looting and using fire-bombs by political extremists, tragically and dangerously play into the hands of Donald Trump's reelection strategy and his followers.
In our fight for racial and economic justice in the post-truth era of Trump, we must condemn all use of violence, which includes looting, breaking windows and using Molotov cocktails by political extremists.
Those who defend or justify the fire-bombing of Madison Police offices in the Madison's City-County Building are tragically mistaken to think this violent act is going to advance the Black Lives Matter cause and win the hearts and minds of Dane County residents.
Recalling the illegal arrest of Freddie Gray, who died in police custody in April 2015, the mass media and the vast majority of the general public were outraged and supported the urgent need to change the racist culture of police where ever it exists.
Gray's tragedy turned into a national movement. But once the rioting, the violence and looting started, people got scared and our enemies politically exploited the violence, the looting and mayhem — and the BLM movement stalled.
Five years later, the tragic murder of George Floyd once again reignited the BLM movement, with mass media and general public support. But tragically, a handful of political extremists are once again resorting to violence, looting, breaking windows and using fire-bombs — that are damaging moral credibility.
Martin Luther King, Jr., Malcolm X, Gandhi, Nelson Mandela and John Lewis — all knew peaceful protests in the face of police brutality would flash across the TV screens of America — and would win the hearts and minds of the general public and force our elected officials to act.
They also knew that any acts of violence by protesters would also immediately play into the hands of those who we're opposed to the civil rights movement — which is why they all publicly condemned acts of violence.
That's why We Are Many - United Against Hate, will continue to condemn all hate crimes and advocate for getting all hate groups placed on the Homeland Security domestic terrorists watch list; work with elected officials in a bipartisan effort to break down the barriers of systemic racism; immediately speak out against police brutality when it occurs; and take part in non-violent and all peaceful demonstrations.
Nino Amato is policy chair of We Are Many - United Against Hate.
Share your opinion on this topic by sending a letter to the editor to tctvoice@madison.com. Include your full name, hometown and phone number. Your name and town will be published. The phone number is for verification purposes only. Please keep your letter to 250 words or less.