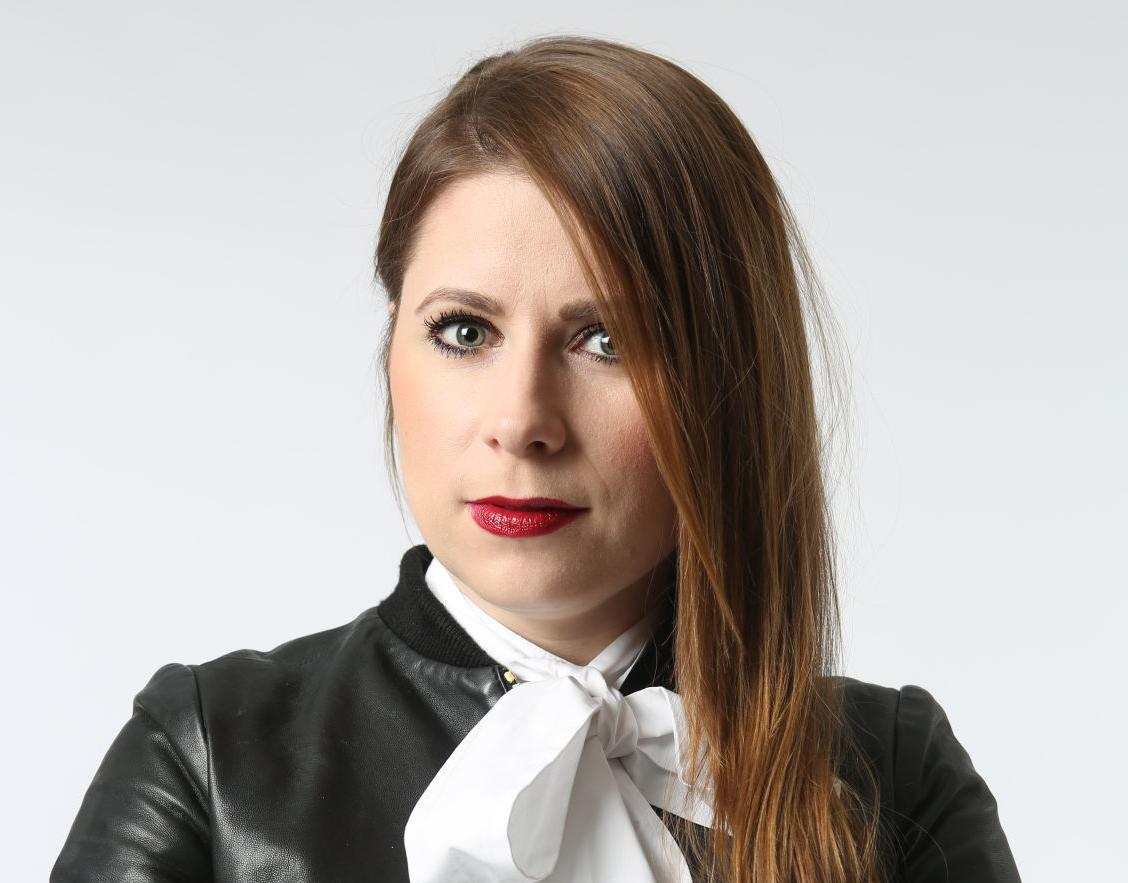 "Zdravo svima I hvala sto ste dosli." In Serbian, that means: "Hello and thank you for being here."
Serbians believe in greeting people with warmth and a smile. We also love color. For example, the color red symbolizes fertility and wholesomeness, which is why our folk costumes include bright red lipstick worn with multicolored embroidery — all of which gives me hope. There have been times I needed that hope. That bit of vibrant color. When I was in high school, I needed some form of hope during the NATO bombings in the civil war that consumed my country. Among many other things, this war also took away my identity. Born to a Croatian father and a Serbian mother and raised in Belgrade, Serbia — the Capitol of then-Yugoslavia — I was nobody's child. I spent two years without a nationality because neither Serbia nor Croatia wanted me as a citizen.
Not long after the war, I fell in love with a man who I thought would love me in all the ways a young girl dreams of being loved. It was that hopeful love of color! We married and lived in the Middle East, which certainly provided lots of color. The bursting taste of Raman (pomegranate), red and ripe, or the crimson balah fruit, sweet and heavy. But behind that colored veil I lived in a world of physical abuse, fear and anguish. I was trapped in a place where it was accepted that husbands could prohibit their wives to work or to drive, just as I was. It was also there that my husband began to physically abuse me.
That was a dark time; I had no right to a voice, at least not a voice that was heard. My heart was broken, and it took me years to even imagine finding a way to leave my marriage. We lived in Egypt and Kuwait, and I knew that if I tried to leave him, I wouldn't be able to take my children with me. Thankfully in 2013, we came to the United States. When I arrived in New York, it was a gloomy day. The clouds were swimming around my head like worn-out cotton. The air was salty with hope. And then there it was. The Statue of Liberty. It appeared in front of me in all of its magnificent vigor — tall and heavy. And tears just started falling down my cheeks. I knew I was free. I didn't know yet how or when I would be able to fully grasp that freedom, but I knew freedom was on the horizon.
For the first time in a long time, I felt freedom was possible. I was excited to find ways to show my independence. We had been living in the U.S. for about a year when I tried on red lipstick — like that used in the Serbian costumes — for the first time. It made me feel powerful. I was anxious as to how my husband would react, but hey — it was just a lipstick. No big deal, right? His look sent shivers down my spine. The silence in my head allowed for a sharp focus on the sounds around me: I could almost hear his teeth grinding. His hand was starting to close into a fist, his instrument of power, and he ordered me to wipe it all off. That was the first time I said "no."
"NO." That is the greatest gift this country has given me. The right to say "no." It took me another year to finally get away from him. After years of struggle, I am here today, so grateful.
My journey from survivor to advocate has been a long one, with many turns and detours. I came from a place where I had essentially no rights — as a woman, as a survivor. By living without those rights, I have seen how essential they are — for those experiencing domestic violence, and for all who become victims of crime.
I am proud the next step on my journey of survival is as a passionate advocate for Marsy's Law for Wisconsin, a bipartisan proposal to amend the Wisconsin Constitution to grant equal rights to crime victims. This proposed crime victims' constitutional amendment will appear on Wisconsin's April ballot, and, if approved by Wisconsin voters, will strengthen the rights of Wisconsin crime victims. It will give crime victims a stronger voice in the criminal justice process that I believe will help survivors of all kinds of crimes recover from the trauma they've faced.
I would like to leave you with these thoughts. You've now heard part of my survival story, and maybe you've heard the stories of other survivors. The reality is that one in three women have been victims of some form of physical violence by an intimate partner within their lifetime. Unfortunately, too often this abuse is unseen and these stories go unheard. It was only after I came to the United States that I finally had the opportunity to come forward and leave my abuser. Too many still fear coming forward. They do not feel like they have rights or a voice in a process that they were thrown into through no fault of their own.
With this amendment, we will make it that much easier for victims and survivors to feel seen, and to be heard. You can learn more about Marsy's Law for Wisconsin and see what rights are included in the proposed constitutional amendment at www.equalrightsforwi.com. I hope you will join me in voting yes to amend Wisconsin's constitution to give crime victims additional rights.
Nela Kalpic is an advocate for domestic abuse victims. She was awarded the Courage Award by Gov. Scott Walker and serves on the Governor's Council on Domestic Abuse.
Share your opinion on this topic by sending a letter to the editor to tctvoice@madison.com. Include your full name, hometown and phone number. Your name and town will be published. The phone number is for verification purposes only. Please keep your letter to 250 words or less.
Catch the latest in Opinion
Get opinion pieces, letters and editorials sent directly to your inbox weekly!